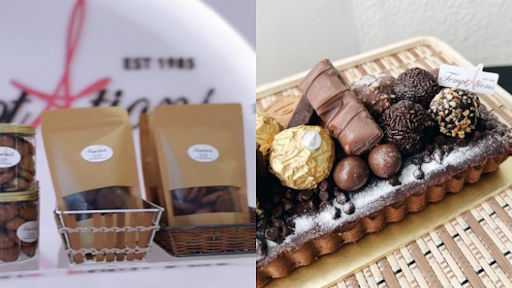 Welcome to Yio Chu Kang, where culinary delights harmonize with picturesque landscapes to create an unforgettable experience. This charming neighborhood, nestled in the heart of Singapore, boasts a vibrant food scene that caters to the most discerning palates. From sizzling street food stalls to elegant dining establishments, Yio Chu Kang has something to offer every gastronomic adventurer. But among these culinary treasures, one gem stands out, ready to satisfy your sweetest cravings - Temptations Cakes Delivery.
While not having a physical store within Yio Chu Kang, Temptations Cakes Delivery has become the ultimate destination for those seeking exquisite cakes that redefine indulgence. Through its convenient online cake-ordering service, Temptations Cakes Delivery has made the joy of savoring delectable cakes effortless and accessible. Join us in the world of Temptations Cakes Delivery, where the absence of a physical store is replaced by a seamless online experience that brings gourmet cakes right to your doorstep.
Let's embark on a delightful journey through the delectable world of Temptations Cakes Delivery, where the absence of a physical store is no obstacle to savoring its sweetest creations.
Exploring Tempting Cake Flavors
Temptations Cakes Delivery doesn't just offer cakes; it crafts edible masterpieces that redefine the art of dessert. Our commitment to quality and innovation shines through in every slice.
Unveiling Unique Creations
Immerse yourself in the allure of our Red Velvet Cream Cheese Cake. This regal delight starts with a velvety sponge gently embracing luscious cream cheese frosting layers. The result is a cake fit for any celebration, where each bite is a harmonious blend of rich, moist sponge and the creamy decadence of cream cheese. It's not just cake; it's a taste of royalty.
The Strawberry Bagatelle is a testament to the exquisite artistry of our bakers. Cream cheese frosting envelops delicate red velvet cake crumbs while layers of soft red velvet sponge delight your senses. Each slice is a picture-perfect creation that's as delightful to behold as devour. It's the embodiment of a cake that transcends expectations.
Our Rainbow Cake is an explosion of joy on a plate. Adorned in vibrant rainbow hues, this moist sponge cake is crowned with delicious frosting, creating the epitome of celebratory decadence. Every bite is a testament to its extraordinary taste and visual delight. It's more than just a cake; it's a celebration captured in every slice.
These delectable cakes represent just a glimpse into the world of flavor waiting to be explored at Temptations Cakes Delivery. Each creation is a testament to our dedication to delivering exceptional taste and visual appeal, making your moments of indulgence truly memorable.
Convenience of Online Cake Ordering
In Yio Chu Kang, time is a precious commodity, and online cake ordering brings convenience directly to your doorstep. Here's why choosing online cake ordering with Temptations Cakes Delivery is a game-changer:
Time Efficiency
Time waits for no one, and neither should you. With our online cake ordering, you can skip the long queues and order your favorite cake in minutes. No more wasting time on unnecessary delays.
24/7 Availability
Cravings can strike at any hour. Our online platform allows you to order your cake whenever the mood strikes, day or night.
Delivery Options
We offer flexible delivery options, ensuring your cake arrives precisely when and where you need it. Whether it's a surprise birthday party or any celebration, we've got you covered.
Contactless Experience
Our online ordering system prioritizes your safety in an increasingly contactless world. You can order and pay for your cake without leaving the comfort of your home.
We believe ordering a cake at Temptations Cakes Delivery should be a breeze. Our website is designed with you in mind, offering a seamless browsing experience that's as delightful as our cakes:
Intuitive Interface
Our website's intuitive layout ensures you can navigate our extensive cake selection effortlessly. Finding the perfect cake for your craving is just a few clicks away.
Detailed Descriptions
Each cake comes with detailed descriptions, including flavor profiles and ingredient lists. We believe in transparency, helping you make informed choices.
High-Quality Imagery
Visual appeal is paramount for cakes. We provide high-quality images that showcase the craftsmanship and beauty of our creations, allowing you to appreciate the artistry that goes into each cake.
Easy Customization
Tailor your cake to your heart's desire. From selecting flavors to choosing decorations, Temptations Cakes Delivery puts the power of creation in your hands. Our user-friendly customization options make it easy to design your dream dessert.
With Temptations Cakes Delivery, online cake ordering isn't just convenient; it's a delightful experience from start to finish. We've taken every step to ensure that your journey with us is as sweet as the cakes we offer.
Swift and Reliable Delivery Services
The Promise of Punctuality
When you entrust your cake order to Temptations Cakes Delivery, you trust a team committed to excellence in every aspect of the cake journey, including delivery. Here's why you can rely on us for a punctual cake experience:
1. Efficient Logistics
Our delivery process is a well-oiled machine. From when your order is confirmed to the instant it reaches your doorstep, we have a streamlined logistics system that ensures swift and reliable cake delivery.
2. Prompt Dispatch
We understand that the excitement of receiving a cake is often tied to timing. Rest assured, we dispatch your cake promptly, ensuring it embarks on its journey to you without delay.
3. Real-Time Tracking
Want to watch your cake's journey? Our real-time tracking system lets you monitor your order's progress, giving you peace of mind about its arrival.
Timely Turnaround
At Temptations Cakes Delivery, we recognize that timing is of the essence, especially for special occasions. We're committed to ensuring your cake arrives precisely when you need it:
1. Guaranteed Timeliness
We understand that life is full of important moments that deserve to be celebrated with cake. That's why we guarantee timely delivery, so you never have to worry about your cake arriving late and missing the celebration.
2. Adherence to Schedules
Our team takes pride in adhering to delivery schedules rigorously. We plan and execute every delivery with precision to ensure your cake reaches you exactly when it should.
3. Peace of Mind
With Temptations Cakes Delivery, you can say goodbye to the anxiety of waiting for your sweet treat. Your timing is covered, whether it is a birthday surprise or a spontaneous dessert craving.
Testimonials Speak Volumes
We don't just promise punctuality; we have a track record of delivering on our commitments. But don't just take our word for it; our satisfied customers have spoken:
1. "On-Time Every Time"
Our customers have praised us for our prompt deliveries, with many noting that their cakes arrived exactly when expected, adding an extra layer of joy to their celebrations.
2. "Cakes in Perfect Condition"
We take utmost care in packaging and handling your cakes. Our customers consistently mention that their cakes arrived in perfect condition, ready to be enjoyed thoroughly.
3. "Reliable and Trustworthy"
Our customers have repeatedly described Temptations Cakes Delivery as reliable and trustworthy when delivering their sweet surprises.
Your satisfaction is not just our promise; it's the foundation of our reputation. When you choose Temptations Cakes Delivery, you're choosing punctuality and reliability you can rely on, leaving you with nothing to do but savor every delectable bite of your cake.
Quality Ingredients and Expertise
Ingredients that Inspire
At Temptations Cakes Delivery, we believe that exceptional cakes start with extraordinary ingredients. Here's why our commitment to using only the finest ingredients sets us apart:
1. Premium Selection
We meticulously select the highest-quality ingredients for every cake we create. From the flour we use in our sponge to the rich, creamy butter in our frosting, each component is chosen to inspire the most delightful taste experience.
2. Freshness Guaranteed
Our commitment to quality extends to freshness. We source our ingredients from trusted suppliers to ensure every cake has the freshest, most flavorful elements, enhancing the overall taste and texture.
3. Flavors that Shine
Our dedication to using top-tier ingredients means that the flavors of our cakes truly shine through. Whether it's the decadence of chocolate, the subtlety of vanilla, or the richness of cream cheese, you'll taste the difference in every bite.
Baking Mastery
Crafting exceptional cakes isn't just about ingredients; it's about the artistry and expertise of our bakers. Here's why our baking mastery is at the heart of every cake we create:
1. Experience Counts
Our team of bakers brings years of experience to the kitchen. They've honed their skills over time, perfecting the art of creating cakes that are not only delicious but also works of art.
2. Attention to Detail
Baking is a science; our bakers are meticulous scientists. They pay attention to every detail, from measuring ingredients precisely to monitoring baking times carefully, ensuring consistently exceptional results.
3. Passion and Dedication
Our bakers don't just bake; they pour their passion and dedication into every creation. Our cakes' taste, texture, and presentation show this commitment to excellence.
A Premium Experience
When you choose Temptations Cakes Delivery, you're not just choosing a cake; you're choosing a premium cake-eating experience. Here's why our cakes are a testament to our commitment to quality:
1. Artistry and Elegance
Each cake is a work of art, meticulously crafted to embody flavor and elegance. We believe that a cake should not only taste exceptional but also be a visual masterpiece.
2. Attention to Every Detail
From the first layer of the sponge to the final decoration, we pay attention to every detail. Every element of our cakes is designed to contribute to a premium and unforgettable cake-eating experience.
3. Consistency
When you order from Temptations Cakes Delivery, you can expect consistency in quality. Whether you've requested from us once or a hundred times, you'll always enjoy the same premium experience.
Catering for Special Occasions
At Temptations Cakes Delivery, we understand life is filled with memorable moments worth celebrating. That's why we're not just here to offer cakes; we're your dedicated partner in making these moments extraordinary. Here's how we cater to your celebrations:
Customization
We specialize in crafting custom cakes as unique as your occasion. Whether it's a birthday, anniversary, wedding, or any other special event, our talented team can turn your vision into a delicious reality. From themed decorations to personalized messages, we create cakes that add joy to your celebrations.
Flavor Variety
Your celebration should reflect your tastes and preferences. That's why we offer a wide variety of flavors and fillings, ensuring that your cake is not just a treat for the eyes but a delightful experience for your taste buds.
Size Options
No celebration is too big or too small for us to handle. We offer cakes in various sizes to accommodate your guest list and ensure everyone gets a taste of happiness.
Ordering Process Walkthrough
Ordering your favorite cake online in Yio Chu Kang with Temptations Cakes Delivery is as simple as savoring a slice of cake. Here's a step-by-step guide to satisfy your sweet tooth with ease:
Step 1: Browse Our Mouthwatering Selection
Begin your journey by exploring our mouthwatering selection of cakes. From classic favorites to unique designs, we have something to suit every craving.
Step 2: Customize Your Cake to Perfection
Once you've found the cake that speaks to your heart, it's time to customize it to perfection. Choose your preferred size, flavor, and any special decorations or messages you want to add. This is where your cake becomes uniquely yours.
Step 3: Add It to Your Cart
With your customized cake, simply add it to your cart. You're one step closer to indulgence.
Step 4:Choose Your Delivery Option
We offer flexible delivery options to fit your schedule and preferences. Select the one that works best for you, whether a specific date and time or an express delivery for those last-minute cravings.
Step 5: Make Secure Payments
Your satisfaction and security are our priorities. Our secure payment system ensures a hassle-free and safe transaction so you can complete your order with peace of mind.
Step 6: Track Your Order in Real-Time
You can track it in real-time once your order is confirmed. Keep an eye on your cake's journey from our kitchen to your doorstep, ensuring you're always in the know.
We understand that the ordering process should be as smooth as the frosting on our cakes. Here's how we ensure that your experience is seamless:
1. Convenient Payment Options: We offer a range of convenient payment alternatives to cater to your preferences. Whether you prefer credit card payments, digital wallets, or other methods, we have you covered.
2. User-Friendly Tracking System: Our user-friendly tracking system is designed with you in mind. It provides real-time updates on the status and location of your order so that you can anticipate its arrival with excitement.
3. Pro Tips for a Seamless Experience: To make your ordering experience even more seamless, consider these pro tips:
a. Plan for Special Occasions: We recommend placing your order in advance for special occasions, especially those with high demand. This ensures that your cake is ready to make your celebration unforgettable.
b. Double-check your Delivery Address: Accuracy matters when it comes to deliveries. Double-check your delivery address to ensure your cake reaches the right destination.
c. Stay Connected: Keep your phone handy, especially on the day of delivery. Our updates will ensure you're ready to receive your cake as soon as it arrives.
With Temptations Cakes Delivery, we offer delectable cakes and a user-friendly and efficient ordering process that puts your satisfaction first. Your journey from craving to indulgence has never been smoother.
Explore Your Sweet Adventure at Temptations Cakes
In conclusion, Temptations Cakes Delivery is not just a cake delivery service; it's a gateway to a world of delectable delights in Yio Chu Kang. From the sumptuous Red Velvet to the vibrant Rainbow Cake, our offerings are a celebration in themselves. Every bite is a journey through the artistry of taste, and every cake is a masterpiece crafted with care.
We invite you to explore our offerings, indulge in the perfect blend of taste and artistry, and experience the joy that Temptations Cakes Delivery brings to every occasion. Let our cakes center your celebrations, turning ordinary moments into extraordinary memories.
At Temptations Cakes Delivery, our commitment to convenience, quality, and variety sets us apart as the sweetest choice in Yio Chu Kang. We pride ourselves on delivering not just cakes but premium experiences that delight the senses. With us, you can always expect the perfect blend of convenience, unmatched quality, and a variety that caters to your unique cravings.
The journey to sweet indulgence awaits! Visit Temptations Cakes today and treat yourself to these divine creations. Indulge in the excellent blend of taste and artistry that only our cakes can offer. Order now and experience the joy of Temptations Cakes Delivery. Your sweet adventure begins with a single click. Don't resist the temptation; embrace it!