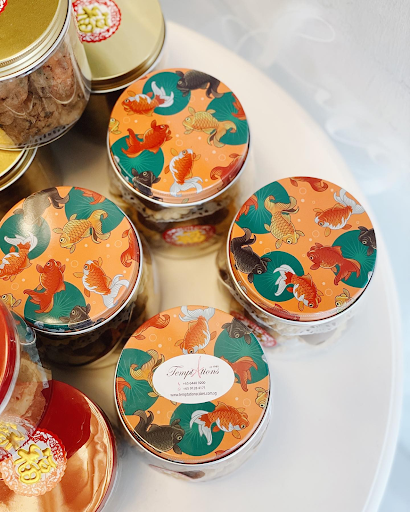 In the vibrant city of Canberra, where culinary experiences abound, there's an online gem awaiting discovery. While Temptations Cakes doesn't have a physical store in Canberra, the city's residents can still savor the exquisite flavors delivered right to their doorstep. Join us as we unveil the charm of Temptations Cakes Delivery, where a world of delectable delights is just a click away.
Are you ready to indulge in a journey through the culinary world of Temptations Cakes Delivery? Delve into our blog and explore various flavors designed to captivate your taste buds and elevate your celebrations.
Tempting Cake Flavors
Now, we will explore an assortment of cake flavors to make your taste buds dance joyfully.
Experience the allure of the Red Velvet Cream Cheese Cake, a masterpiece with velvety layers and dreamy flavors that melt in your mouth. Crafted to perfection, it's ideal for any occasion, and now, Canberra residents can order this heavenly delight online. With moist cake layers paired with silky-smooth frosting, it's not just cake; it's edible art that tantalizes both eyes and palate. Surprise loved ones or treat yourself to this symbol of appreciation and thoughtfulness, and rest assured, Temptations Cakes Delivery ensures it arrives fresh and on time. Don't wait; indulge in the Red Velvet Cream Cheese Cake today and savor a symphony of flavors that will leave you craving more.
Experience the taste of summer all year long with our Fresh Mango Splash Cake! Delight in each forkful of this exquisite dessert, where pillowy layers of vanilla sponge cake harmonize with an abundance of juicy mango chunks and velvety cream. Crowned with the irresistible allure of fresh mango slices, this cake invites you to immerse yourself in a tropical paradise of flavors. Satisfy your mango cravings and elevate your dessert experience today!
Satisfy your sweet cravings with our Signature Chocolate Mousse Etoile Eggless, available for online purchase in Canberra. Every mouthwatering bite is a tantalizing journey through the world of rich, luscious chocolate flavors, transporting you to a dessert paradise like no other. Indulge in the velvety bittersweet Belgian chocolate mousse, delicately layered between moist chocolate sponge cake. As if that's not enough, our masterpiece is smothered in decadent chocolate ganache and adorned with a delightful crunch of nuts.
Convenience of Online Cake Ordering
Ordering cakes online in Canberra has never been easier. Temptations Cakes Delivery provides a user-friendly website and an intuitive ordering process to streamline your cake selection.
Personalization is vital when it comes to celebrating special moments. Temptations Cakes Delivery offers customization options, allowing you to tailor your cake perfectly to match your preferences and the occasion.
Swift and Reliable Cake Delivery
We take immense pride in our efficient cake delivery services at Temptations Cakes Delivery. When you entrust us with your order, rest assured that it will arrive promptly and pristine, meticulously adhering to our delivery schedules.
But don't just take our word for it—listen to the voices of our satisfied customers who have experienced our service's excellence firsthand. Their glowing testimonials serve as a testament to our unwavering commitment to making your celebrations nothing short of exceptional. Join the ranks of those who have savored the convenience and reliability of Temptations Cakes Delivery, where punctuality and quality are our promises to you.
Quality Ingredients and Craftsmanship
Premium Ingredients
At Temptations Cakes Delivery, we understand that the foundation of a remarkable cake lies in the quality of its ingredients. We are committed to using only the finest and freshest ingredients, ensuring that every bite of our cakes offers an exquisite experience, bursting with flavor and freshness.
Artistry in Every Bite
Behind Temptations Cakes is a team of skilled bakers and artisans passionate about their craft. We go beyond merely baking; we create edible masterpieces that are both visually stunning and delicious. This dedication to artistry is the well-guarded secret behind our brand's enduring success.
An Exquisite Cake Experience
When you choose Temptations Cakes Delivery for your celebrations, you choose more than just cake; you're selecting an extraordinary cake experience. We take enormous pride in delivering not just cakes but pieces of edible artistry that will leave an exceptional impression on you and your guests.
Perfect Cakes for Every Occasion
At Temptations Cakes Delivery, we recognize that every life moment is unique and deserves to be celebrated in style. Whether it's a birthday, anniversary, or any special occasion, our cakes can be customized to match your event's spirit and theme perfectly.
Our cakes go beyond the traditional realms of birthdays and weddings. We take pride in offering diverse designs and flavors, ensuring a perfect Temptations cake for every moment worth celebrating. Whether it's a corporate gathering, a baby shower, or a simple get-together with friends, our cakes will add sweetness to your special moments.
Ordering Process Walkthrough
When ordering a delightful cake from Temptations Cakes Delivery, convenience is key. We've designed a step-by-step guide that takes you on a seamless cake journey, ensuring that your online ordering experience is as easy as pie, or in this case, cake!
Step 1: Explore Our Delicious Selection
Start your cake adventure by exploring our delectable selection of cakes. Whether you're seeking the rich chocolatey embrace of a Velvet Dream Cake, the zesty burst of a Citrus Burst Delight, or any other tempting creation, we've got something for every palate and occasion.
Step 2: Customize to Perfection
At Temptations Cakes Delivery, we believe in the power of personalization. Once you've chosen your cake, it's time to make it uniquely yours. Select from various customization options, from choosing your preferred size and flavor to adding a special message or design. Tailor your cake to match the spirit of your celebration flawlessly.
Step 3: Secure and Convenient Payment
We understand the importance of secure transactions. Rest assured, our online payment options are designed with your security. Choose your preferred payment method, whether a credit card, digital wallet, or other secure options, and proceed confidently.
Step 4: Order Tracking for Peace of Mind
Once your order is approved, you can sit back and relax. Our order tracking feature keeps you informed every step of the way. You will receive real-time updates on the status of your cake, from preparation to delivery. Never wonder when your sweet masterpiece will arrive; with Temptations Cakes Delivery, you'll always know.
Step 5: Savor the Moment
Finally, the moment you've been waiting for arrives. Your customized cake, made with love and care, is delivered right to your doorstep, ensuring it's as fresh and delightful as when it left our bakery. It's time to savor the moment, celebrate, and enjoy every bite of our creation.
With our step-by-step guide, ordering a cake in Canberra has never been easier. Let Temptations Cakes Delivery be your partner in creating sweet memories and delightful moments.
Indulge in Temptations' Culinary Delights
Temptations Cakes Delivery offers a unique experience just a few clicks away. We've explored the enticing flavors, seamless ordering, and commitment to quality that make us the go-to choice for cake lovers in the city.
We invite Canberra residents to explore Temptations Cakes Delivery's online offerings and elevate their celebrations with a slice of perfection. Experience the convenience, quality, and variety that define us today.
From the moment you taste our cakes, you'll understand why Temptations Cakes Delivery has become synonymous with delight in Canberra. It's time to savor the temptation.
Experience the delight of Temptations Cakes' online cake options! Perfect for Canberra residents seeking flavor and convenience. Order now and elevate your celebration with a slice of perfection.