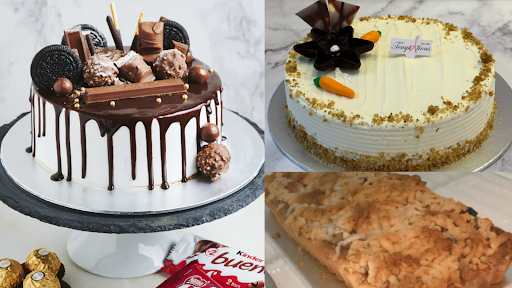 Convenience has become a commodity that's highly sought after. This holds for every aspect of our lives, including satisfying our sweet tooth cravings. Temptations Cakes, a renowned name in confectionery, understands this need for convenience and has brought its delectable creations to your doorstep. This blog post delves into Temptations Cakes and their online cake delivery services, specifically catering to the Woodlands in Singapore. Let's embark on a journey of flavors and convenience as we explore the delectable offerings of Temptations Cakes.
Getting your hands on a mouthwatering cake no longer requires a trip to a physical store. Temptations Cakes brings the store to you through our online cake delivery service. While we might not have a brick-and-mortar shop in Woodlands, our online presence and dedicated delivery services bridge the gap seamlessly. This means you can enjoy the most indulgent cakes from the comfort of your home.
Benefits of Online Cake Delivery
Let's delve into the captivating advantages that this innovative approach offers, making it a genuinely irresistible choice for Woodlands residents.
Time Efficiency: Savor the Moments That Truly Matter
Picture this. No more frantic rush or standing in serpentine lines. The sheer time-saving prowess of online cake delivery is a gift for the modern urbanite. With a few swift clicks, your cherished cake selection embarks on a journey to your home. The minutes saved from commuting and queuing can now be devoted to the moments that truly matter – indulging in the luscious delight that awaits.
Parking and Traffic Hassles: Navigating Convenience in Urban Life
Like any thriving urban landscape, Woodlands presents its share of parking and traffic challenges. The seemingly elusive parking spot and the dance through congested roads often mar the excitement of acquiring a delectable treat. Yet, with online cake delivery, bid farewell to these stressors. Embrace the tranquility of home as your haven, and welcome the ease of receiving your chosen confectionery masterpiece.
The Comforting Embrace of Home: A Culinary Journey Awaits
There's an inherent comfort in reveling in life's pleasures from the cozy embrace of your home. Whether it's a leisurely Sunday morning or a bustling weekday evening, the allure of exploring Temptations Cakes' diverse offerings from your haven is unparalleled. With a cup of tea and the world at your fingertips, you can select your culinary desires at your pace, creating an experience uniquely yours.
Discounts and Promotions: A Sweet Symphony of Savings
Ah, the joy of not just savoring sumptuousness but also saving simultaneously! Temptations Cakes understands the art of pampering our patrons, frequently adorning its online platform with exclusive discounts and promotions. This harmonious blend of taste and thrift enhances your online cake delivery experience, making each bite delicious and economical.
Freshness and Timeliness: Every Bite, a Moment to Relish
Apprehensions about the freshness and punctuality of your cake's arrival dissipate when you indulge in Temptations Cakes' online cake delivery. With a commitment to delivering each creation promptly, you're guaranteed a slice of perfection that's not only visually appealing but also a delight to your taste buds. Each bite captures the essence of culinary craftsmanship, ensuring that your cake journey is as fresh and timely as gratifying.
Online cake delivery from Temptations Cakes transcends mere convenience; it encapsulates a holistic experience that tantalizes the senses, offers respite from the urban bustle, and turns moments of craving into moments of bliss. As you embark on this delectable journey, revel in the precious moments saved, embrace the tranquility of the home, and let the symphony of flavors paint your palate with sheer delight.
Temptations Cakes: Your One-Stop Shop
At the heart of Temptations Cakes lies a dedication to crafting cakes that transcend the ordinary. From elegant wedding cakes to birthday creations, each masterpiece incorporates artistry and flavor. What sets Temptations Cakes apart is our willingness to cater to your unique visions and preferences, transforming them into awe-inspiring confections.
It's important to note that custom orders require a three-day lead time, ensuring that every intricate detail is perfected to your satisfaction. This blend of precision and innovation makes Temptations Cakes a haven of delight for cake enthusiasts, even in Woodlands.
Hassle-Free Online Cake Ordering
Gone are the days of intricate procedures and elaborate steps. Temptations Cakes' online cake-ordering process is designed to be intuitive, simple, and user-friendly. Whether you're a tech-savvy individual or prefer a more straightforward approach, the platform accommodates all preferences, ensuring that your journey from selecting to savoring is effortless.
For those times when spontaneity strikes, Temptations Cakes extends a lifeline with same-day cake delivery in Singapore. A solution born out of the understanding that cravings can be unpredictable, this feature offers you a delectable solution within hours.
Best Sellers: Try These Tempting Treats 
Let's explore the tantalizing trio that promises to elevate your taste buds to new heights.
Imagine a cake that's not just a dessert but a symphony of flavors that awaken your senses. The Carrot Walnut Cake is precisely that – a masterpiece that captivates from the first glance to the last bite. A lush carrot base, carefully crafted with precision, is the canvas upon which this culinary artwork unfolds.
But the true magic lies in the velvety caress of cream cheese frosting. It's a dreamy embrace that envelops each layer, infusing a subtle tang that perfectly complements the sweetness of the carrots. As you take your first bite, your palate is treated to a delightful crescendo – the satisfying crunch of walnut toppings. This textural interplay is the symphony's heart, where every element harmonizes harmoniously.
Prepare to be swept away on a journey of sheer chocolate ecstasy with the Ultimate Chocolate Etoile. This creation is the epitome of indulgence, a luxurious experience that beckons to the true connoisseurs of cocoa. At the core of this masterpiece is a chocolate mousse cake – a creation that's as light as a whisper yet rich as a sonnet.
Layers of vanilla cream and chocolate fudge enrobe this masterpiece, creating a sensory experience that borders on the divine. But the crescendo of flavors doesn't end there. The medley of chocolate toppings is the pièce de résistance, an exquisite interplay of cocoa's finest forms that elevates the experience to unparalleled heights. Each bite is an ode to richness, a tribute to the artistry of chocolate, and a journey that lingers in your memory long after the last bite.
Sometimes we crave a taste of comforting nostalgia. The Apple Crumble Tart is an invitation to slow down, reminisce, and savor the simplicity of life's joys. This creation is a journey back in time, a treasure trove of memories nestled within a buttery, flaky pastry crust.
Beneath this golden embrace lies a heartwarming surprise – spiced apples that conjure images of cozy gatherings and hearthside chats. Each bite is an invitation to bask in this tart's warmth and coziness. Whether enjoyed on a rainy afternoon or as a companion to a steaming cup of tea, the Apple Crumble Tart transcends mere dessert; it's a slice of comfort that nourishes the soul.
Conclusion
Temptations Cakes brings the heart of the bakery to your very doorstep, ensuring that no matter where you are in Woodlands, the joys of their masterpieces are just a click away. Revel in the symphony of flavors, textures, and emotions that define their creations as you embark on a culinary journey that promises to elevate your moments and celebrate life's sweetness.
What truly sets Temptations Cakes apart is their dedication to crafting cakes beyond the ordinary. Whether it's the Carrot Walnut Cake with its symphony of flavors and textures, the Ultimate Chocolate Etoile that indulges your senses in decadence, or the Apple Crumble Tart that's a warm embrace of nostalgia, each creation is a work of art that leaves an indelible mark on your palate and your memory.
The appeal of Temptations Cakes is not merely in their cakes; it's in the moments they create, the memories they shape, and the emotions they evoke. Each bite is a celebration, a treat that transcends taste and becomes an experience. So, if you're ready to embrace the sweet symphony of flavors, textures, and emotions that Temptations Cakes offers, the time has come to take action.
Let your taste buds be your guide. Browse through their exquisite selection, choose the creation that resonates with your cravings, and embark on a culinary journey that promises to delight, surprise, and satisfy. Order now and experience the magic Temptations Cakes brings to your doorstep. 
Elevate your moments, celebrate life, and let the difference that Temptations Cakes offers be the sweet note that lingers long after the last bite. Your adventure awaits – seize the opportunity to savor the extraordinary.