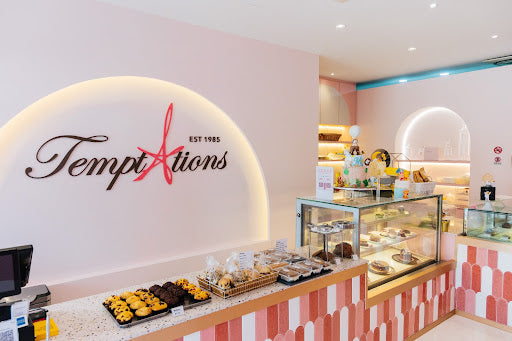 Temptations Cakes has taken the art of cake delivery to a new level in Marsiling and its neighboring areas. Satisfying your sweet cravings has never been more uncomplicated, thanks to Temptations Cakes' online cake delivery service that brings delectable treats to your doorstep. In this article, we'll delve into the seamless experience of ordering cakes online from Temptations Cakes and explore our best-selling products that are simply irresistible.
A Slice of Temptations Cakes' Delight
In the heart of Marsiling and the neighboring regions, Temptations Cakes offers a delightful journey into exquisite flavors and convenience. With our online cake delivery service, celebrating occasions is elevated to a new level. Imagine browsing through an array of cakes, all from the comfort of your home, and having your chosen masterpiece delivered right to your door. Our commitment to blending tradition and innovation ensures each cake is a work of culinary art, crafted with the finest ingredients and expert skill.
This experience caters to grand and intimate moments, providing a sweetness that resonates with each celebration. Temptations Cakes cover birthdays, anniversaries, promotions, or the desire for a treat. Our promise of excellence and dedication to delivering joy culminate in an online platform that encapsulates our legacy. As the sun sets over Marsiling, an invitation beckons you to embrace convenience and flavor, all at your fingertips. Our online cake delivery service isn't just a bakery service; it's a journey into a world where taste, tradition, and modernity converge, promising to deliver a slice of perfection to your doorstep with a simple click.
The Effortless Online Cake Ordering Process
Thanks to Temptations Cakes ' intuitive online cake-ordering system, indulging in your cake cravings in Marsiling has never been easier. Designed with simplicity in mind, this platform ensures a hassle-free experience that allows you to focus on choosing the perfect cake for your occasion. You can explore our diverse range of delectable creations with just a few clicks, each a testament to our dedication to quality and taste.
At Temptations Cakes, we understand that some moments call for immediate indulgence, even in Marsiling. That's why we offer same-day delivery across Singapore, including Marsiling, ensuring that your chosen cake arrives at your doorstep precisely when you desire it. Whether it's a spontaneous celebration or a last-minute decision to treat yourself, our same-day delivery option caters to your needs, providing a level of convenience that adds an extra layer of delight to your experience.
Our commitment to punctuality and ensuring your satisfaction drives us to orchestrate a seamless delivery process. The combination of our user-friendly online ordering system and the availability of same-day delivery, including in Marsiling, reflects our dedication to making your cake selection and delivery experience as effortless and enjoyable as possible. Because when it comes to savoring the moments that matter, Temptations Cakes is here to deliver not just cakes but a genuinely exceptional experience in Marsiling.
Crafting Personalized Perfection
When crafting personalized moments in Marsiling, Temptations Cakes is delighted to bring your unique cake visions to life through our customized cake orders. To ensure that your bespoke creation is flawless, we kindly request that you place your custom cake orders at least three days in advance. This strategic time frame allows our skilled artisans to pour their expertise into every detail, ensuring your vision is expertly brought to fruition.
The Art of Anticipation: Why Planning Matters
Planning for your personalized cake is not merely a formality—it's a pivotal step in guaranteeing that your cake embodies your imagination. Our customized cakes are more than just confections; they are edible works of art that reflect your style, theme, and sentiment. By placing your order in advance, you provide us with the canvas and the time required to infuse your cake with creativity, precision, and a touch of magic.
We understand that life's most treasured moments deserve to be celebrated with a personalized touch that leaves an impression. Whether it's a milestone birthday, a jubilant anniversary, or an event uniquely yours, planning ensures that your custom cake becomes an integral part of your celebration's narrative. So, as you embark on the journey of crafting memories in Marsiling, remember that your custom cake order is not just a treat—it's a testament to the art of anticipation and the joy of seeing your vision come to life, deliciously and beautifully.
Indulging in Temptations: A Glimpse into Best Sellers
Delve into the rich cultural heritage of Singapore with Temptations Cakes' Almond Sugee Cake. This traditional masterpiece encapsulates the essence of a bygone era, offering a nutty buttery symphony that pays homage to the past. With each bite, you're transported to a world of flavors that are as nostalgic as they are exquisite. This cake isn't just a dessert; it's a journey through time and taste.
For those who relish the tangy sweetness of tropical fruits, the Fresh Mango Splash Cake is a true temptation. Picture a vanilla sponge cake elegantly infused with the vibrancy of fresh mango, all adorned with creamy layers that add a luscious dimension. The pièce de résistance? Including real mango slices elevates every forkful into a celebration of summer's bounty. With each bite, you're transported to a tropical paradise that's as refreshing as indulgent.
Indulgence reaches new heights with Temptations Cakes' Cheesecake collection. Prepare to be captivated by the sheer flavors that dance on your taste buds. The Original Cheesecake sets the foundation with its velvety smoothness, while the Strawberry, Blueberry, and Oreo variants introduce exciting twists that cater to diverse palates. With every forkful, you're treated to a symphony of creaminess that's nothing short of extraordinary.
Conclusion
We extend a heartfelt invitation to our cherished readers in Marsiling and the neighboring areas. Temptations Cakes is more than a bakery; it's a gateway to a world of flavors, convenience, and sheer indulgence that deserves a place in every celebration.
Imagine the joy of having your chosen cake arrive on your doorstep on the very day you desire it. With our same-day delivery service, this isn't a distant dream—it's a reality that adds a touch of magic to your celebrations. From Marsiling to your home, our commitment to punctuality and perfection ensures that your cake journey is as seamless as it is delightful.
Indulgence comes in many forms, and at Temptations Cakes, we've woven together a tapestry of flavors that cater to every palate. From the timeless elegance of our Almond Sugee Cake to the tropical burst of our Fresh Mango Splash Cake, and the luxurious richness of our Cheesecakes, our range is as diverse as the moments you cherish.
Remember that Temptations Cakes is more than a name; it's an experience. From the moment you place your order, you take that first bite, and our dedication to excellence shines through. So, whether it's a birthday, an anniversary, or simply an opportunity to relish life's pleasures, let Temptations Cakes be your choice, companion, and indulgence. Our cakes are more than just desserts; they are a symphony of flavors that paint a vivid picture of celebration, delivered to your doorstep with a touch of elegance.
Order your slice of joy today, and let Temptations Cakes transform your moments into memories that linger for a lifetime.