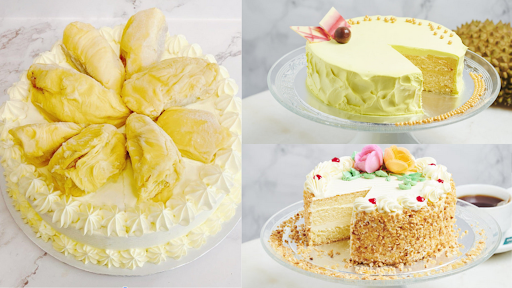 Where every celebration deserves a touch of sweetness, Temptations Cakes stands tall as a beacon of delectable delight. With its array of heavenly cakes that can be ordered online and conveniently delivered to your doorstep, Temptations Cakes has become the go-to destination for Sembawang residents seeking to elevate their celebrations with exquisite confections. Although there may not be a physical store in Sembawang, the online cake delivery service ensures that the residents of this vibrant community can still experience the magic of Temptations Cakes.
Benefits of Online Cake Delivery
As we delve into the second act of our Temptations Cakes journey, we unveil many benefits that this modern marvel brings to the residents of Sembawang. Brace yourself for a world where time is saved, hassles are minimized, and the art of cake acquisition is elevated to unprecedented convenience.
Time and Hassle: Delivered to Your Doorstep
Gone are the days of navigating congested streets and circling for elusive parking spots. The beauty of online cake delivery lies in its ability to save you valuable time and spare you the hassle of a physical journey. Imagine a world where you can effortlessly select your desired cake, personalize it to your liking, and have it delivered to your doorstep – all while you carry on with your day. Whether juggling a busy schedule or simply craving a spontaneous sweetness, online cake delivery ensures your desires are met efficiently.
Traffic Woes, Be Gone: Embracing Effortless Ordering
The bustling streets of Sembawang can be both enchanting and chaotic, especially during peak hours. Online cake delivery serves as a beacon of relief, allowing you to bypass the mess of traffic and the endless hunt for a parking space. With just a few clicks, you can venture virtually through Temptations Cakes' delectable offerings, all from your home. Say goodbye to the stress of navigating through congested roads and welcome a new era of serene cake acquisition.
Home Sweet Home: Convenience Redefined
Picture this: you're nestled in the comfort of your abode, perhaps in your coziest pajamas, and the idea of a delectable cake takes root. With online cake delivery, you don't need to step out into the world – the world of Temptations Cakes comes to you. Embrace the unparalleled convenience of perusing through a digital catalog, making selections with a sense of leisure, and eagerly awaiting the arrival of your chosen cake. It's a symphony of comfort and indulgence bound to make your taste buds sing.
Discounts and Promotions: A Sweet Bonus
As if the convenience and time-saving benefits weren't enticing enough, online cake delivery from Temptations Cakes comes with a sprinkle of delight – discounts and promotions. Unlock a world of exclusive offers and limited-time deals that add extra sweetness to your celebrations. The virtual realm becomes a playground of potential savings, making every cake delivery not only a treat for the senses but also a treat for your wallet.
Freshness and Punctuality: A Promise Delivered
A cake is only as good as its freshness, and Temptations Cakes takes this principle to heart. The online cake delivery service ensures that your chosen confection is a work of art and a testament to freshness. Each cake is prepared meticulously, guaranteeing the flavors burst forth with every bite. Moreover, the punctuality of the delivery service is a hallmark of Temptations Cakes' commitment to customer satisfaction. Rest assured; your cake will arrive precisely when you expect it, allowing you to bask in the anticipation of culinary delight.
Temptations Cakes' Customized Cakes
Temptations Cakes proudly opens its doors as the one-stop shop for customized cakes in Singapore, where dreams take shape and sweetness knows no bounds. As we embark on this journey of bespoke indulgence, prepare to be enchanted by the artistry, precision, and unparalleled flavor that define Temptations Cakes' customized confections.
Your Vision, Our Creation
At Temptations Cakes, we believe every celebration is a unique canvas, ready to adorn a cake that reflects your individuality. Our customized cake service is a gateway to turning your dreams into an edible reality. Whether you envision a whimsical fairy tale castle, an elegant floral cascade, or a tribute to a beloved hobby, our skilled artisans are poised to transform your vision into an irresistible work of art. With every flourish, every detail, and every stroke of creativity, your cake reflects your story, passion, and joy.
Three Days' Advance Notice
Creating a bespoke masterpiece requires time, dedication, and an unwavering commitment to perfection. As you embark on the journey of customized cake creation, we kindly request three days' advance notice. This allows our artisans to plan meticulously, source the finest ingredients, and channel their expertise into bringing your vision to life. Just as a masterpiece cannot be rushed, the same applies to our customized cakes. The result? A creation that not only surpasses your expectations but leaves an indelible mark on your celebrations.
The Finest Ingredients Await
The heart of every cake lies in its ingredients; at Temptations Cakes, only the finest will suffice. Each customized creation is a symphony of flavor, carefully orchestrated to delight your senses and leave you craving more. From the velvety layers of sponge to the luscious fillings and delicate frostings, every element is handpicked for its quality, taste, and ability to transport you to a world of delectable bliss. With every bite, you'll experience a crescendo of flavor that's as harmonious as it is unforgettable.
Best Seller Products
For the devoted durian aficionado, the MSW Durian Cake Topped With Real Durian Fruit is a dream transformed into a reality almost too good to be true. Imagine a sumptuous durian sponge cake, its richness, and creaminess captivating your taste buds with every bite. Now, elevate that experience further with natural durian fruit crowning the creation. It's not just a cake; it's an edible work of art that brings the essence of durian to life. Whether it's a birthday celebration, a gathering of friends, or simply an opportunity to revel in your passion for durian, this cake promises an experience that transcends mere dessert.
When a cake is titled "Best Durian Cake in Singapore," you know you're in for an exceptional treat. The Premium MSW Durian Cake is a testament to the heights of culinary excellence that Temptations Cakes consistently achieves. With a velvety, rich durian sponge that encapsulates the very essence of this revered fruit, each forkful is a symphony of flavor. Whether you're celebrating a milestone or seeking to indulge in a moment of pure decadence, this cake is a top choice that guarantees a taste experience that's second to none.
The Classic Buttercream Cake is a timeless testament to the beauty of tradition. With its heartwarming buttercream sponge, this cake exudes an air of nostalgia and comfort that is simply unparalleled. The delicate balance of flavors and textures invites you back to simpler times, evoking feelings of warmth and familiarity. Ideal for many occasions, from joyous baby showers to heartwarming family gatherings, this cake is available in various delightful flavors – vanilla, chocolate, and coffee. Each slice is a tribute to the classics, a reminder that the simplest pleasures are sometimes the most enduring.
Conclusion
When you choose Temptations Cakes in Sembawang, you're embracing a world of convenience that redefines how you celebrate in this vibrant community. The allure of online cake delivery brings your chosen masterpiece straight to your Sembawang doorstep, sparing you the hassles of traffic and parking. It's a symphony of comfort that lets you focus on what truly matters – cherishing every moment of your special Sembawang occasion.
But convenience is just the beginning for the residents. Temptations Cakes takes pride in its commitment to quality, ensuring that Sembawang customers receive the best. Each creation is a testament to the artistry, precision, and finest ingredients that set us apart. Whether you're savoring the rich, creamy durian notes of our best-selling MSW Durian Cakes or reveling in the timeless elegance of the Classic Buttercream Cake, every bite is a journey of pure delight right here in Sembawang.
Amidst our tantalizing offerings, our best-seller cakes stand as true gems waiting to be discovered by Sembawang residents. With their captivating visual appeal and gustatory delight, the MSW Durian Cakes beckon durian enthusiasts and celebration seekers alike in Sembawang. The Premium MSW Durian Cake, crowned the Best Durian Cake in Singapore, is a triumph of taste that knows no equal. And the Classic Buttercream Cake, a timeless favorite, evokes feelings of nostalgia and warmth that resonate with every slice.
Whether you're planning a birthday, an anniversary, or a simple gathering of loved ones right here in Sembawang, our best-seller cakes await your indulgence. Don't miss the opportunity to bask in the flavors, textures, and aromas only Temptations Cakes can provide.
Ready to create lasting memories infused with sweetness and artistry? Don't delay. Order your cake in advance, allowing our artisans the time to craft a masterpiece that transcends your expectations. Your next celebration deserves nothing short of perfection, and Temptations Cakes is here to deliver just that to the residents of Sembawang.