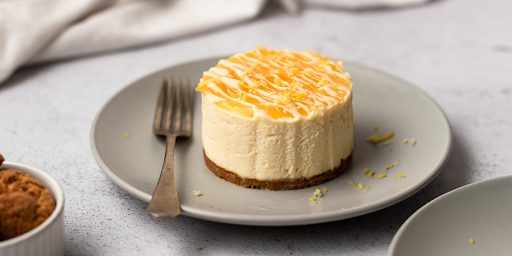 Cheese and cake. Possibly two of the most adored treats in the entire gastronomic region. When you combine them, you get a creamy, delectable sweet delight that millions of admirers worldwide love. Cheesecake is among the best desserts ever made.
Every cheesecake I bake appears to be a surefire hit with the guests. Anytime, anywhere you serve this bad boy, there will be a long line of smiling faces waiting to have a slice of your delicious invention.
If you've never attempted to make cheesecake, I highly recommend you do so. It's easier to make than you might initially think. Depending on your recipe, you can make a fabulous cheesecake with six or fewer ingredients, which may surprise you.
I want to take a break from debugging cheesecake to commemorate this delectable dessert and examine its history and the primary reason we think it is so damn good!
History of Cheesecake
You might be forgiven for thinking that a New Yorker created cheesecake, given that it is one of the most well-liked sweet foods among Americans.
But it most surely wasn't! Where did cheesecake first appear, then?
The earliest known recipe is from 230 B.C., while "cheesecake" had been around for 2000 years before that. A meal initially developed in ancient Greece is where its invention began, dating back 4000 years. According to the cheese moulds discovered on the Greek island of Samos, the first cheesecake (albeit simple and far different from the modern delicacy we know and love) may have its roots there.
Because it contains a lot of dairy, honey, and fat, the ancient Greeks thought it was an excellent energy source. At the first Olympic games in 776 B.C., cheesecake made simply with wheat flour, honey, and cheese was presented to the competitors, and it was also used as a wedding dessert.
Roman invaders modified their libuma by adding eggs and crumbled cheese (rather than pounded cheese) and baking it beneath a hot brick. Marcos Cato wrote down the original Italian cheesecake recipe in the first century B.C.
From this point, the idea spread throughout Europe, ushering in the cheesecake era. It was referred to as a treat made with flour in the earliest contemporary cookbook published in 1545.
Although cheesecake has always been made with real cheese, Americans are credited for introducing cream cheese to traditional recipes. It's interesting to note that the man who unintentionally created cream cheese in 1872 was a farmer from New York. Cheese. Thanks to cream cheese manufacturers and deli chefs, we now have the contemporary avatar that we adore and eagerly anticipate.
What Makes Cheesecake So Tasty?
Since ancient times, cheesecake has been a popular dessert worldwide, and Mom's Baking Co. is no exception. Without a doubt, cheesecake is one of our favourite sweets.
How did this little treat grow to be such a well-liked dessert? What makes cheesecake so tasty?
Here are a few reasons this could be among the most incredible desserts ever created.
1. There Are Countless Varieties & Tastes
Like cookies and cakes, cheesecake comes in a wide variety of tastes. Some cheesecakes need five ingredients and an hour to make, while others may need more components and several hours.
There are two types of cheesecakes: baked and no-bake, and there are virtually endless permutations of both within these categories. You may make any cheesecake you like, from the dense New York style and Philadelphia cheesecake to the fluffy Japanese cheesecake and the Spanish Basque scorched.
You can alter the custard's flavour or add fruit purees, soft cheese combinations, chocolate, fruit curd, and more. The only restriction is your imagination, and the alternatives are unlimited.
Do you want a blueberry mascarpone cheese or banana and peanut butter cheesecake? Undoubtedly, there is a formula for that.
How can I describe the crusts? This creamy and velvety dish's basis or foundation can be produced using biscuits, crackers, Kinder, Oreos, cookies, and pastry crusts.
Which is More Popular?
Although there are no exact numbers on how much cheesecake is consumed by the general public, New York-style cheesecake is the most common.
The strawberry cheesecake comes in second place. Lovers of cheesecake were pleased with the flavours of lemon, chocolate, and blueberry. A lover of sweets will always be like an Oreo cheesecake. An increasingly popular flavour to try is pumpkin.
2. The Subtle Texture Balance
So what exactly is in a cheesecake?
The major component of this dessert's delicious flavour is undoubtedly high-quality cream cheese.
After that, you add sugar, full cream, or sour cream. For a baked variant, some recipes ask for eggs and flour, while those for unbaked cheesecakes call for gelatin or its plant-based equivalent (agar-agar).
For your dessert to stand on, you need a sturdy crust base. You have many alternatives, including pastry foundation, graham crackers, and crushed cookies.
The batter is put into the base once it has been set or prebaked. Then, depending on the recipe, it is baked or refrigerated to set.
While baked goods require additional chilling time to set correctly, no-bake goods are more straightforward and quicker to prepare.
Today, we have access to various cheesecake tastes and types. Have you ever wondered whom the great baker created this treat?
3. It is Straightforward To Prepare!
It would help if you were craving cheesecake after hearing all this talk about flavours. Thus, create one now.
Refrain from being deterred from preparing cheesecake by those who dislike it. Cheesecake is quite simple to create if you use the right ingredients and follow the recipe's directions.
The New York-style cheesecake requires few ingredients and no toppings to prepare. Numerous cheesecake recipes use few layers. Sometimes, you need a basic cracker crust, a wonderful custard made with eggs, sugar, fruits, and flour, and little to no additional topping.
The no-bake alternative is your best bet if baking intimidates you. It takes a lot of work to make a mistake with no-bake cheesecakes!
Create the crust, pour the batter on top, and place it in the refrigerator to solidify. There is no easier way to make cheesecake.
They also provide excellent possibilities for preparation in advance. These gorgeous concoctions store well. Bake, then keep it or let it sit without baking. On those days when your craving for cheesecake is uncontrollable and overwhelming, freeze them for later.
Additionally, you always have a delectable meal on hand for when you want cheesecake. These dishes are adaptable and may be made into bars or tiny cheesecakes that are ideal for picnics, potlucks, or house parties.
4. It's Irresistible
The result is pleasure personified, whether you make it tart with berries and fruits or add chiles and chocolate for a tasty variation.
The crust and flavourings of the dish, as well as the cheese custard, work nicely together. Adding whipped cream, chopped fruits, chocolate, and caramel sauce raises the level of flavour and tang in the meal.
I adore cheesecakes because they are the ideal treat for the summer, and the cold and sweet treats are excellent cooling remedies for the heat outside.
The mouthwatering, creamy, and silky cheesecake is undoubtedly a hit.
It's a legendary meal that has endured the test of time and has remained well-liked among food enthusiasts with a sweet craving, regardless of where you bake it, set an unbaked one, or get it from a bakery.
Head Down to TemptationCakes CheeseCakes for our endless variety of cheesecakes. Our mouthwatering selection will not let you down. We at Temptations Cakes believe in providing our customers with only the highest-quality cakes and pastries. We achieve this goal by fusing traditional French baking techniques and contemporary methods. Feel free to contact us for any special arrangements or requests!