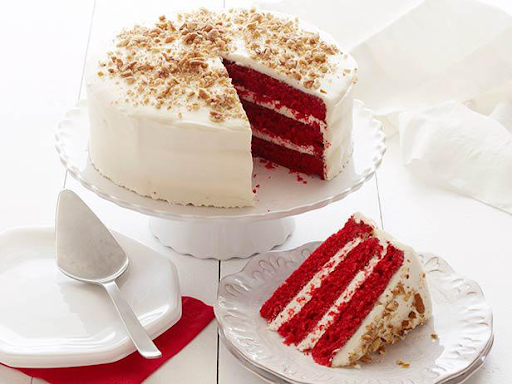 A cake trumps every gift you ever intended to give your friends and family. Cakes rule them all, whether it's a birthday celebration or a special day like an anniversary. What about the cake's fundamental flavour appeals to the heart? We should make things more straightforward for you. Is there a tasty cake component that tastes as good as it looks? Cake made of red velvet! Of course, what else? Although people have long praised the taste of a warm, freshly made cake, there is something particularly unique about red velvet cakes.
The qualities of judging a beautiful red velvet cake are listed below.
1. The Colour of Love is Red.
In keeping with the sentiment, the red colour of a red velvet cake makes it appear stunning. Red is the colour of affection and love, and therefore, this cake is sentimental. There may be no better gift to give your loved ones than this great joy covered in red. Shop Online At TemptationCakes to loved ones can express your passion, sentiment, and affection.
2. Intangible Touch
Additionally, this is what distinguishes the flavour as new. Buttermilk reacts with vinegar, giving its flavour an acidic undertone that characterises it from other flavours. The vinegar provides a second helping hand to the buttermilk's exquisite tartness.
3. A Large Collection
Do you understand the rationale for trying red velvet cake on your special day or the day of your loved ones? It's because there are numerous assortments of this cake selection available. Nearly every seasoned patty is at its best on online pages. Top-notch specific red velvet cakes produce distinctive quality in the market, whether they are sugarless or eggless. Low Sugar Red Velvets, Eggless Red Velvets, Variant Designed Cakes, and Red Velvet Pinata are the most widely available red velvet varieties.
4. It Fits Well for Any Situation
Only some people like the same flavours, and some taste receptors are comparable. Red velvets are the best option, nevertheless, and should be attempted at least once in the lives of those who enjoy trying new gum flavours. The crimson cake's captivating appearance and alluring taste make it the perfect choice for any special occasion. The colour red is used to symbolise love and enthusiasm. Every experience shared with close friends and family should be met with affection and sympathy. In light of these factors, people started researching red velvet cakes online for almost every special occasion. Consequently, getting a wonderful red velvet cake is one of the critical components that you should try.
5. Perfectly Harmonises with Heart Shapes
The primary cake that lends itself well to a heart form is a red velvet cake. What better sight to celebrate sentimental occasions like birthdays or anniversary celebrations than a heart-shaped velvet cake? This cake, which is all red, will convey your feelings and sentiments in the most emotional way possible.
6. Cream Cheese Frosting
This cake gains another flavour from the cream cheddar icing typical of red velvet. It adjusts it just enough by adding pleasantness after the tartness, and it perfectly extols the taste and elevates it to a treat that deserves to be enjoyed. Vanilla is a fantastic flavouring ingredient since it enhances the flavour of the many other added flavours. The red velvet cake tastes delicious because of the vanilla, and it is undoubtedly a mouth-watering nirvana.
A delectable red velvet cake is prepared using great natural cocoa powder, which gives the dessert its distinctive red colour and flavour. So choose red velvet when ordering at TemptationCakes Red Velvet for special occasions. If you have yet to try this cake, please do so since you'll love its fanciful flavour.
We at Temptations Cakes are dedicated to bringing you only the highest quality products, as evidenced by our cakes made through traditional French methods. Especially Red Velvet being one of our specialties, be assured of its quality and taste. You wouldn't regret making your decision of choosing us. Feel free to contact us if you have any further queries of which cakes would be suitable for the type of occasion you are planning on celebrating!