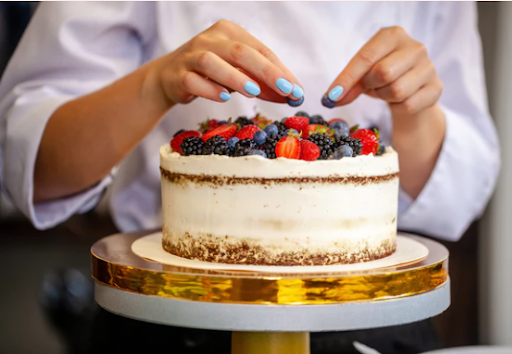 A delicious cake can make any occasion memorable, and the joy doubles if it's an eggless cake. Eggless cakes have evolved and gained popularity over the years for their distinct taste, soft texture, and appeal to people with dietary restrictions.
Enter Temptations Cakes - a name synonymous with superior quality, mouth-watering cakes, and exceptional customer service in the city-state of Singapore. Known for our stunningly customized creations, we have turned the art of baking eggless cakes into a delightful culinary journey. So, prepare to entice your taste buds as we unravel the world of irresistible eggless cakes.
The Art Of Eggless Baking
Making eggless cakes requires skill, understanding, and an acute knowledge of ingredients. Eggs provide structure, leavening, flavor, and moisture in traditional cakes. Baking without them involves finding the right substitutes to replicate these properties yet deliver a rich, moist, and mouth-wateringly delicious cake.
At Temptations Cakes, eggless baking has been perfected over the years. Each cake is meticulously crafted, combining the finest ingredients and state-of-the-art baking techniques. The quality of each cake we produce is unparalleled - no preservatives, or artificial flavorings, just pure, unadulterated indulgence that will leave you craving more.
Scrumptious Flavours You Must Try
Temptations Cakes offers an array of delicious eggless cakes. Each flavor is unique, highlighting the creativity and passion of the team that works tirelessly to provide an unforgettable culinary experience.
Picture this: a gorgeous, scarlet-hued cake adorned with a smooth cream cheese frosting and speckled with mini red velvet cake crumbs. Slice into this beautiful creation, and you'll discover layers of light cream cheese frosting between soft, tender red velvet sponge. The Red Velvet Cream Cheese Cake from Temptations Cakes is a feast for the stares and a party for the palate. 
Its aesthetic appeal is undeniable, guaranteed to enhance any photo where it's featured. But what sets this cake apart is how it tastes just as delectable as it looks, delivering a sensory delight that will leave your guests in awe.
Are you looking for the utmost comfort food? Temptations Cakes' Carrot Walnut Cake could be just what you need. Imagine a deep-flavored, moist cake with bits of carrots and walnuts in every bite. This cake comes to life with a decadent cream cheese frosting and a generous dusting of chopped walnuts, adding texture and crunch. 
Each mouthful is a symphony of flavors and textures, satisfying your sweet tooth while providing a comforting, homely feel. The cake brings back memories of cozy gatherings and good times - perfect for when you need a slice of happiness.
How To Order Your Eggless Cake From Temptations Cakes
Temptations Cakes have made ordering cakes as easy and convenient as possible. We require a minimum of three days in advance for all custom cake orders. It allows our skilled bakers and cake artists to commit time and concentration to create your ideal cake. Our user-friendly online platform offers a seamless experience from browsing to checkout.
Reasons to Choose Eggless Cakes from Temptations Cakes
Choosing eggless cakes from Temptations Cakes is a decision you won't regret. We have successfully incorporated taste, quality, and creativity into every cake we make. Our cakes cater to a diverse clientele, providing options for those with specific dietary needs without compromising flavor or presentation. We have consistently received glowing customer reviews, a testament to our unwavering dedication to quality and customer satisfaction.
Health Benefits of Eggless Cakes
Not only are eggless cakes from Temptations Cakes a treat for your taste buds, but we also offer various health benefits. These cakes are ideal for those allergic to eggs or following a vegetarian or vegan lifestyle. We provide an excellent alternative without compromising on taste or texture.
Moreover, these cakes tend to be lower in cholesterol and saturated fat due to the absence of eggs. It makes them a healthier option for people conscious about their heart health or weight management.
Even with these health benefits, Temptations Cakes doesn't compromise on taste. We use quality ingredients and precise baking techniques to guarantee every taste is as delicious as health-conscious. Sweeten your day the healthier way with Temptations Cakes' irresistible eggless treats!
The Versatility of Eggless Cakes for Various Occasions
Eggless cakes from Temptations Cakes are not just for those with dietary restrictions. We are incredibly versatile and suitable for various celebrations and events. Be it birthdays, anniversaries, office parties, or simply craving something sweet. These eggless cakes can be the star of any occasion.
Birthday parties are more inclusive, with an eggless cake on the table, allowing everyone to enjoy a slice, regardless of our dietary needs. These cakes can cater to a diverse workforce for corporate events and show consideration for different lifestyle choices. Even for those intimate, quiet evenings at home, an eggless cake can be your perfect sweet companion.
At Temptations Cakes, each eggless cake is crafted carefully and creatively, ensuring we are just as visually appealing as our egg counterparts. From simplistic elegance to extravagant designs, we can cater to your unique preferences, adding a touch of sweetness and surprise to your special occasions.
Conclusion
Sweetening your day with an eggless cake from Temptations Cakes is more than just satisfying your sweet tooth. It's about enjoying a piece of art meticulously crafted with love and passion. Each cake tells a story of dedication, precision, and the relentless pursuit of perfection. It's a testament to Temptations Cakes' mission to deliver happiness in the form of a cake, one order at a time.
It's time to give in to the temptation of eggless cakes from Temptations Cakes. Order now and discover a world of sweet indulgence, uniquely crafted to satisfy your cravings. Remember, incredible things come to those who wait, so place your order three days in advance and anticipate the arrival of your delicious treat. After all, life is short; eat the cake!
Frequently Asked Questions
Do eggless cakes from Temptations Cakes taste different?
Temptations Cakes ensures that their eggless cakes are as delicious as their regular cakes. They use exceptional ingredients and techniques to maintain the texture and flavor you expect from any high-quality cake.
How do Temptations Cakes ensure the freshness of their cakes?
All cakes from Temptations Cakes are made fresh to order. They require at least three days advance notice for all customized cake orders to ensure the highest quality and freshness.
What are some popular eggless cake flavors at Temptations Cakes?
Some popular eggless cake flavors at Temptations Cakes include Red Velvet Cream Cheese Cake and Carrot Walnut Cake. These cakes are loved for their unique flavor profiles and indulgent textures.
How can I order an eggless cake from Temptations Cakes?
You can order an eggless cake from Temptations Cakes through their website. Keep in mind to place your order at least three days in advance.
Can I customize my eggless cake at Temptations Cakes?
Yes, Temptations Cakes specializes in customized cakes. They cater to unique preferences and designs, ensuring your cake is as envisioned.
Are eggless cakes healthier?
Eggless cakes tend to be lower in cholesterol and saturated fat due to the absence of eggs, making them a healthier alternative for those mindful of these factors.
Can I serve eggless cakes on any occasion?
Eggless cakes are incredibly versatile. They can be ideal for any celebration, including birthdays, anniversaries, or corporate events.
What ingredients are used as egg substitutes in eggless cakes at Temptations Cakes?
Temptations Cakes uses various high-quality ingredients as egg substitutes in their cakes. While the exact ingredients may vary based on the recipe, they are selected to ensure the best taste and texture.
How should I store my eggless cake from Temptations Cakes?
Like any other cake, storing your eggless cake in a cool, dry place is recommended. If you have leftovers, keep them in the refrigerator to maintain freshness for longer.