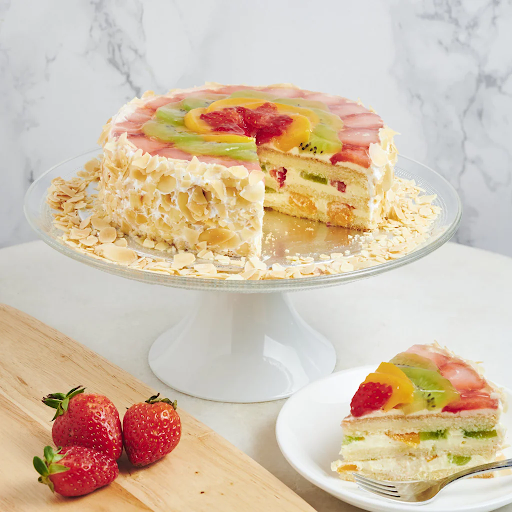 Can you imagine getting your favorite cake delivered right to your doorstep in Plaza Singapura? With Temptations Cakes, you don't need a physical shop to do just that! Even though we don't have a store in Plaza Singapura, we are dedicated to bringing our delectable cakes right to you. It's like having a cake shop at your fingertips!
Our cakes are creatively crafted and tailored to your needs, emphasizing quality ingredients and ensuring each cake is treated and delivered with care. Whether you want something for a special occasion or just because, Temptations Cakes has you covered! Read on to learn more about our delivery services and delicious baking options—from classic flavors to custom creations showing how much thought went into it.
Different Cake Varieties Available Through Temptations Cakes Delivery 
At Temptations Cakes Delivery, we have a wide variety of cakes. Our signature chocolate cake is always a crowd favorite. Still, you can try our Carrot Walnut Cake if you want something different. We also offer custom-made cakes with personalized designs and special touches—the perfect way to surprise someone special. 
We offer:
Signatures Cakes
Our signature cakes come in various delicious flavors, such as Vanilla and Chocolate. We have petite buttercreams, cheesecakes, tea cakes, and more. You will surely love our Fruity Flavours cakes like our Mixed Fresh Fruit Flan, which will give you a perfect balance of sweet and tangy flavors. 
Celebration Cakes
Any celebration is complete with an amazing cake. We have custom-made cakes with personalized designs to make that special day even more memorable. We've got you covered from birthdays to weddings and other special occasions. 
Check out our History of Magic Cake, one of the best examples of our dedication to making every occasion special.
Ala Carte Desserts.
From our Yummy Durian Puffs to our Swiss roll, tantalize your taste buds with these delicious treats. Make sure to try our Huge Chocolate Chip Cookie! These little chocolaty treats will surely make you crave more.
Customized Cakes.
Perfect for all special occasions, let us customize a cake for you. Choose your favorite design and flavor to make the perfect celebration cake. See our websites for your special day's wedding cakes and other Customized cakes!
Make sure to order Temptations Cakes Delivery for your next celebration. With our fresh, made-to-order cakes, you can be sure they will be the highlight of any event. So, what are you waiting for? Go ahead and order now! 
Different Flavors and Styles for Any Occasion
Temptations Cakes delivery at Plaza Singapura offers a variety of flavors, styles, and sizes to choose from. Whether you're looking for something unique or classic, our bakers have covered you! From simple round cakes to intricate 3D designs, we can create the perfect cake for any occasion.
Here are some of the great varieties you can try at Temptations Cakes:
Tiramisu Cakes.
Cheesecakes.
Buttercream and Vanilla Cakes.
Caramel Chocolate Cakes. 
Rainbow Layer Cakes. 
Fruity and Chocolate Cakes.
Durian and Teacakes.
And more!
A Glimpse with Some of Our Best Cakes
Every day, our chefs and bakers whip up delicious creations you can enjoy. Here are some of our most popular cakes:
Our Tiramisu and Black Forest Cakes are another variety you must not miss. Both are creamy and light, making them the perfect dessert to end a meal. The classic Tiramisu is topped with delicious chocolate ganache topped with cocoa powder. At the same time, the Black Forest Cake is topped with cherries for an extra special touch. 
Bring Home a Delicious Treat for your Pup's Special Day. Temptations Cakes also cater to your pup's special day. Our Signature Chocolate Mousse Etoile Animal Designs are a great way to make your pup's birthday special. It has cute animal designs, making it the perfect center of attention for all paw-sies!
From Birthday cakes to wedding cakes, you can rely on Temptations Cakes to make the event unforgettable. Our talented bakers will craft a cake that will impress and leave your guests wanting more. We also offer special packages for corporate events and bulk orders—so there is no need to worry about having enough dessert. 
At Temptations Cakes, we believe that every experience should be memorable and delicious. That's why we only use the freshest ingredients to ensure quality and taste in each cake. So when you order from us, you can trust that you're always getting the best product! 
Enjoy Special Offers and Promotions From Temptations Cakes Delivery 
At Temptations Cakes Delivery, we ensure our customers get the best deals possible. We offer exclusive discounts and promotions to help you save even more on your orders. So be sure to check out our website for additional savings! 
Tips on How to Order a Cake from Temptations Cakes Delivery 
To order a cake from Temptations Cakes Delivery, follow the steps below:
Visit our website and browse through our selection of cakes. 
Select the cake size, design & flavor you want to order. 
Choose your preferred delivery date and time range (12 pm - 3 pm or 3 pm - 6 pm). 
Enter the address and contact details where you would like your cake delivered.
Make payment via our secure online payment system.
Sit back and wait for your delicious cakes to be delivered! 
Thank you for choosing Temptations Cakes Delivery! We look forward to providing you with delectable treats for all your special occasions. For more information, please don't hesitate to contact us anytime! We'd be happy to help. Enjoy!
Reasons Why You Should Try Out Temptations Cakes Delivery Today!
At Temptations Cakes Delivery, we strive to provide the best service and cakes that taste just as good as they look. 
Here are some reasons why you should try out our services today: 
Our team of experienced bakers will guarantee your cakes are baked with love. 
Our Bakers are highly trained and have a keen eye for detail, so you can be sure your cake will look stunning. 
Our cakes only use fresh ingredients to ensure the best quality and flavor. 
You can rest assured that our cakes are made with the freshest ingredients, ensuring the best taste every time. 
We offer a wide selection of cake flavors, designs, and sizes. 
Our wide selection of cake flavors and sizes allows you to tailor your order to suit your needs and preferences. 
Our friendly customer service team is always available to help you. 
From our bakers to our customer service team, we are always here to help. We ensure that we answer any queries, so you can be sure that your cake order will go as smoothly as possible.  
Our competitive prices are sure to fit within any budget. 
At Temptations Cakes Delivery, we understand you may be on a tight budget. That's why we strive to provide competitive prices so you can enjoy delicious cakes without breaking the bank. 
We deliver and accept different payment methods. 
We accept cash and credit cards so that you can choose the best suits your needs. We also deliver our cakes to ensure they arrive fresh and delicious at your doorstep. 
Delicious and beautiful cakes can be yours with just a few clicks. 
Our cakes have everything from flavor and taste to presentation and design. With just a few clicks, you can enjoy stunningly delicious cakes that impress your guests! 
From its convenience, variety of flavors, and designs to its competitive prices, Temptations Cakes Delivery is the one-stop shop for all your cake needs. Our experienced baker team will guarantee you get the best cakes available.
Try Temptations Cakes Delivery today and experience service excellence that exceeds your expectations! Enjoy delicious cakes in the comfort of your home with Temptations Cakes Delivery. Thank you for choosing us! 
Frequently Asked Questions
Q: What are the payment methods accepted? 
A: We accept cash and credit cards for your convenience. 
Q:  What kind of cakes do you offer?
A: We offer a variety of cakes, from rich chocolate to fruity cakes. You are sure to find something that will satisfy your sweet tooth. 
Q: Do you deliver the cakes?
A: Yes, we deliver our delicious cakes right to your doorstep so you can enjoy them in your home. 
Q: Is your service competitively priced?
A: Yes, we guarantee that our prices are competitive and fair. 
Q: How long does it take to deliver the cakes?
A: The delivery time depends on your location. We will do our best to make sure your cake arrives on time. Our team of experienced bakers will also strive to deliver the freshest cakes possible. 
Q: Is there a minimum order requirement?
A: No, there is no minimum order requirement. You can enjoy our delicious cakes in any quantity you desire. 
Q: Do you provide customized cakes?
A: We provide customized cakes for special occasions and events. Please get in touch with us to discuss your specific requirements. We are sure to satisfy your needs!
Conclusion
With the long list of compelling offerings, it's hard to resist getting a delicious cake from Temptations Cakes Delivery at Plaza Singapura. Whether for a special occasion or simply a regular day, Temptations Cakes will surely bring you into a world of delectable pastries and sweet desserts. With their convenient delivery service, no worries about dealing with pesky traffic! So make sure to grab yourself one of the best cakes in Singapore today!
And if you're lazy, order your favorite cake right to your door from Temptations Cakes Delivery - they'll surely deliver your cake satisfaction! So what are you waiting for? Treat yourself to something sweet and indulge in all that Temptations Cakes has to offer!