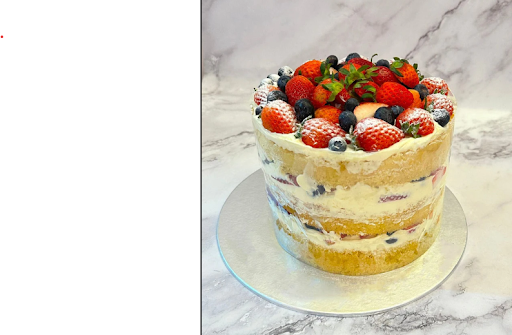 Have you ever been craving something sweet and indulgent to celebrate a special occasion or treat yourself after a long day? If you're in Bugis or the surrounding areas, look no further than Temptations Cakes. While Temptations Cakes may not have a physical shop in Bugis, we are delighted to offer you the convenience of our exceptional cake delivery services right to your doorstep. We understand that satisfying your sweet tooth is essential, and our delectable range of cakes is sure to tempt your taste buds. Whether you're celebrating a special occasion or simply craving a delicious treat, our expertly crafted cakes are designed to delight and impress. Sit back, relax, and let us bring the tempting goodness of Temptations Cakes directly to you in Bugis. Get ready to indulge in pure cake bliss, delivered with utmost convenience.
In this blog post, we'll delve into why Temptations Cakes Delivery is the go-to choice for premium quality cakes, a wide variety of delicious flavors, freshly baked and beautifully designed creations, customizable options, hassle-free online ordering, and same-day delivery. So, let's get started and discover why Temptations Cakes is the best Bugis cake shop for all your sweet celebrations.
Unrivaled Premium Quality Cakes
At Temptations Cakes, we believe that a delectable cake's foundation lies in its ingredients' quality. That's why we go the additional mile to source high-quality ingredients locally and globally. Our bakers meticulously select the finest chocolates, fresh fruits, and premium dairy products to ensure every cake is a masterpiece.
We also take pride in using only natural ingredients without artificial preservatives. This commitment to quality and freshness means you can enjoy our cakes guilt-free, knowing they are created with your health and well-being in mind.
B. Talented and skilled bakers
The secret ingredient behind our premium quality cakes is our talented team of skilled bakers. Our bakers have mastered the art of traditional cake-making techniques while staying on top of the latest trends and innovations in the baking world.
From classic recipes to innovative cake creations, our bakers pour their hearts and soul into every cake they make. Their passion for perfection is evident in each tasty bite, ensuring your celebrations are always filled with love and happiness.
A Palatable Adventure: Temptations Cakes' Wide Range of Delicious Flavors 
A. Classic cake flavors
Everyone has their favorite classic cake flavor, and at Temptations Cakes, we've got you covered. We have something for everyone: decadent, velvety chocolate cakes to light, fluffy vanilla sponge cakes. Our famous Black Forest cake, with its layers of chocolate sponge, whipped cream, and cherry filling, is a timeless favorite that will take your taste buds on a nostalgic journey.
B. Unique, signature flavors
Temptations Cakes is not just about traditional flavors; we also have an array of signature flavors you won't find anywhere else. Our creative bakers always experiment with new and exciting combinations, creating unique cakes that will leave you craving more.
Temptations Cakes offers a unique cake flavor that will tantalize your taste buds - the MSW Durian Cake. This cake is made with a creamy and rich MSW durian filling between layers of vanilla sponge and topped with real MSW durian fruit, creating a deliciously addictive flavor. It is the perfect treat for birthdays, especially for die-hard durian enthusiasts. If you're looking for a unique and tasty cake, the MSW Durian Cake from Temptations Cakes is worth a try.
Temptations Cakes offers a unique and delicious cake that is sure to impress - the Mixed Fresh Fruit Flan. This cake features a light vanilla sponge cake layered with fresh custard cream and three layers of fresh fruit slices, creating the perfect balance of sweet and tangy flavors. Topped off with a light fruit jelly glaze, this cake is a crowd-pleaser perfect for any occasion. If you're looking for a beautiful and delicious cake, the Mixed Fresh Fruit Flan from Temptations Cakes is also worth a try.
C. Seasonal and festive offerings
At Temptations Cakes, we believe in celebrating every occasion with a special cake. We offer seasonal and festive cakes perfect for holidays and special events. From Christmas-themed cakes to limited-time specials for the Chinese New Year, we make sure that our customers can indulge in festive treats that are both delicious and visually stunning.
Freshly Baked And Beautifully Designed Cakes: A Feast for The Eyes and Palate
A. Freshness guaranteed
At Temptations Cakes, we guarantee that every cake we sell is freshly baked on the day of purchase. Our bakers work tirelessly to guarantee that every cake that comes out of our oven is at its peak of freshness, ensuring you get the best possible taste and texture. We also take great care in storing and handling our cakes, so you can be confident that the cake you receive is in perfect condition.
B. Artistic cake designs
A cake is not merely a dessert; it's also a work of craft that adds a touch of beauty to your celebration. Our talented cake decorators are experts in visually stunning designs that will impress. From intricate, hand-piped details to elegant, minimalist designs, our decorators can create cakes that suit any taste and event.
Whether you're celebrating a birthday or any other special event, our beautifully designed cakes will add that extra magic to your celebration, making it truly unforgettable.
Customizable Cake Options For Every Occasion
A. Special event cakes
Every celebration is unique, and at Temptations Cakes, we believe your cake should be just as special. That's why we offer various customizable cakes for multiple occasions, such as birthdays, weddings, anniversaries and corporate celebrations. Whether you're looking for a multi-tiered wedding cake or a playful, character-themed birthday cake, our team of competent bakers and decorators will work with you to bring your vision to life.
B. Themed cakes
Themed cakes are a fun way to add personality and flair to your celebration. At Temptations Cakes, we offer an extensive selection of themed cakes, ranging from popular movie and cartoon characters to corporate event cakes that reflect your brand's identity. Just let us know your theme, and we'll create a cake that captures the essence of your celebration.
Temptations Cakes offers a unique and exciting themed cake perfect for a gender reveal party - the Pastel Macarons Overload Cake. This cake is decorated with delectable macarons in pastel colors, resting on a beautiful white glaze. When you cut into the cake, you will be surprised with a blue or pink filling, revealing whether the baby is a boy or a girl. 
This cake is not only delectable but also adds an element of delight and excitement to any gender reveal celebration. If you're looking for a themed cake that is both beautiful and unique, the Pastel Macarons Overload Cake from Temptations Cakes is a perfect choice.
C. Dietary preferences
We understand that everyone has distinct dietary preferences and requirements, and we believe that everyone should be able to enjoy a delicious cake. That's why we offer vegan and gluten-free options, ensuring our customers with special dietary needs can indulge in our mouthwatering creations.
Hassle-Free Online Cake Ordering Experience
A. User-friendly website
Our easy-to-navigate website features high-quality photos and detailed descriptions of our cakes, making it a breeze to find the ideal cake for your celebration. You can place your order and deliver it with just a few clicks.
B. Secure online payment options
At Temptations Cakes, we prioritize the security of our customer's personal information. Our website offers multiple secure payment methods, ensuring your data is protected throughout an order.
C. Customer support
Our responsive chat support and comprehensive FAQ section are available to help you with any questions or concerns about our cakes, delivery, or any other aspect of our service.
Same-Day Cake Delivery For Last-Minute Celebrations
We understand that sometimes, celebrations come up unexpectedly. That's why we offer same-day cake delivery, ensuring you can enjoy a fresh and delicious cake even at the last minute. Our delivery team takes great care in handling your cake, ensuring it arrives at your doorstep in perfect condition.
Our same-day cake delivery service covers Bugis and the surrounding areas, so you can count on us to deliver your cake promptly, no matter where you are. We also offer extended delivery options for customers farther away to accommodate your needs.
FAQs
Q: Do you offer discounts or promotions?
A: We occasionally run special promotions or offer discounts on selected cakes. Please check our website and social media channels for the latest offers and updates on our cake selection.
Q: How do I place an order for a cake?
A: Placing an order is easy with our user-friendly website. Browse our selection of cakes, choose your preferred flavor and design, and add it to your cart. Once ready to check out, follow the prompts to complete your order and select your desired delivery date and time.
Q: What areas do you deliver to, and how much does delivery cost?
A: Our same-day cake delivery service covers Bugis and the surrounding areas. Delivery fees vary depending on your location and the delivery time you choose. For customers located further away, we also offer extended delivery options. Please refer to our website for detailed information on delivery fees and coverage.
Q: Can I order a cake for same-day delivery?
A: Yes, we offer same-day cake delivery for last-minute celebrations. Please place your order before the cut-off time specified on our website to ensure your cake will be delivered on the same day. Our delivery team takes great care in handling your cake, ensuring it arrives in perfect condition. For all urgent orders, please contact us directly at +65 91284171 to check for availability.
Conclusion
In conclusion, Temptations Cakes Delivery brings the joy of delectable cakes right to your doorstep in Bugis. Although we may not have a physical shop in the area, our commitment to delivering exceptional quality and taste remains unwavering. Our wide selection of expertly crafted cakes caters to every occasion and craving, ensuring that there is something to tempt every palate.
With our convenient cake delivery service, you can experience the pleasure of biting into moist layers, indulging in creamy frostings, and savoring the perfect balance of flavors—all without leaving the comfort of your home or office in Bugis. Whether you're celebrating a birthday, anniversary, or simply treating yourself to a well-deserved dessert, we strive to make every occasion extra special with our tempting creations.
At Temptations Cakes Delivery, we prioritize not only taste but also the overall experience. From the moment you place your order to the timely delivery of your cake, we aim to exceed your expectations every step of the way. Our commitment to quality ingredients, skilled craftsmanship, and personalized service ensures that each cake is a work of art and a delectable delight.
So, the next time you find yourself craving a heavenly slice of cake in Bugis, remember that Temptations Cakes Delivery is just a few clicks away. Indulge in the pleasure of our mouthwatering cakes, made with love and delivered with care. Treat yourself or surprise a loved one with a truly tempting experience that will leave you craving for more. Place your order today and let us bring the irresistible sweetness of Temptations Cakes straight to your doorstep!