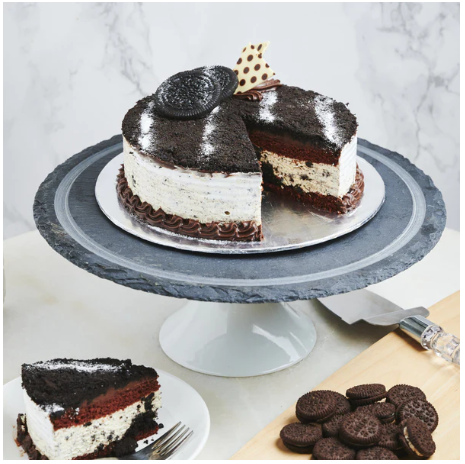 Have you ever wanted a cake in Suntec but didn't know where to find one? Guess what! With Temptations Cakes, you don't even need a shop. Even though we don't have a physical store in Suntec, we promise to deliver our delicious cakes straight to your door. Sit back, relax, and let us bring the sweetness to you!
From celebration cakes to anniversary desserts and daily treats, we have something savory to satisfy every appetite! Our goal at Temptations Cakes Delivery is not only to provide a delicious assortment of cakes but also to make sure each delivery order is quick and hassle-free so you can receive the very best service. Let us give you an insight into our delivery services that make us one of the best cake shops in Singapore.
Have a Special Occasion Coming up and Need something Sweet?
Look no further than Temptations Cakes. From weddings to birthdays and holidays, we've got the perfect cake for all your occasions. With our delectable homemade cakes, you can share the joy of life with family, friends, colleagues, or loved ones. All Temptations cakes are made from high-quality ingredients that always guarantee an irresistible taste!
We offer a variety of flavors and designs, such as Chocolate and cheesecake or CFruity flavors – why not try one today? Whatever your guests crave will be satisfied at Temptations Cakes – we guarantee it! Plus, delivery is quick and easy with our online ordering system so you can get your cakes in time for that special occasion.
Visit us online today to order your delicious cake for any occasion!
Introducing Suntec Singapore's Temptations Cakes Delivery Service
Satisfy your sweet tooth cravings without leaving the comfort of your own home with Suntec Singapore's Temptations Cakes Delivery Service. With a delectable range of cakes, there's something to satisfy every craving. Whether you're in the mood for a classic chocolate cake or something more adventurous like a durian cake, Temptations Cakes has got you covered.
Temptation cakes and other baked goods are available for pick-up directly from the store and delivery. You may collect your cake from 11 am to 7 pm on weekdays and 9 am to 7 pm on weekends. Delivery services are by arrangement and have a minimal charge.
Visit our website, and check the collection and delivery policy for more information about the orders and delivery services. You can also follow us on social media for all the latest updates on promotions, events, and new cakes.
Unboxing the Delicious Range of Cakes from Temptations Cakes
Temptation Cakes offers various delicious cakes, from classic buttercream to modern flavors with creative designs. 
Our best-selling Premium MSW Durian Cake will tantalize your taste buds with its mouth watering combination of creamy durian mousse and crunchy MSW. Its creamy and rich durian sponge is finished with light and fluffy icing, perfect for that special occasion.
Temptation Cakes offers:
Celebration cakes that are perfect for any occasion.
Signature Cakes and Wedding Cakes.
Longevity Cakes and Gender Reveal Cakes.
Corporate Event Cakes and Ala Carte Desserts.
Customized Cakes.
Let us help you unbox some of our delicious cakes from Temptations Cakes today. Perfect for birthday parties, 
Our Into the Forest: Woodland Animals Cake is a delightful, handcrafted delight that will surely bring a smile to your child's face. The cake is finished with delicious and sweet fondant and hand-decorated with lovely fondant animals you can keep, such as bunny, fox, and deer. We can customize your child's name on the front for a more special touch.
For Weddings, we have a vast selection of modern and classic flavors. We can customize your cake to fit your special day. Furthermore, Corporate Events Cakes are also available for order. We can help you with the designs and colors for your corporate event. 
Our signature cakes will make your event even more memorable and great even without the occasion. One of the popular signature cakes is our Signature Chocolate Mousse Etoile, which will satisfy your sweet tooth cravings. It's velvety bittersweet Belgium chocolate mousse with a layer of moist chocolate sponge, topped with crunchy nuts and smothered in decadent chocolate ganache; this cake brings the perfect indulgence.
Our Longevity cakes are also perfect for celebrations. Made with delicious layers of creamy icing and topped with edible chocolate coins, toto tickets, and Fa Cai mahjong tiles for good luck and good health, Longevity Huat Huat Cake is the perfect way to show your well-being wishes.
Lastly, Gender reveal cakes are now popular, and our Gender Reveal Cake is the ideal way to share your gender surprise with your loved ones. With its fun color combination and soft crumbly texture, this cake will give you a sweet surprise that will surely delight everyone. 
Our Dreamy Baby Bear is one of our dreamy gender reveal cakes; it has a sleepy bear floating over a bubble of happiness and pink and blue shoe fondant inside, perfect for a gender reveal.
At Temptations Cakes, we guarantee high-quality cakes with the finest ingredients and attention to detail. 
Tips on Choosing the Perfect Cake for Your Special Occasion
Choosing a cake can be daunting as there are many factors to consider. Here are three tips on finding the perfect cake:
Consider the occasion. What kind of event are you celebrating? Is it a wedding, birthday, corporate event, or something else? This will help narrow down your choices and make the process easier.
Take into account your budget. Knowing how much you can spend before you start looking for a cake will make finding options within your budget easier.
Consider the flavors. What kind of flavor do you want? Do you prefer something traditional like vanilla or Chocolate or something more creative like salted caramel or raspberry?
Select the cake Shop that best suits your needs. Find a cake shop with experience in creating cakes for the occasion you're celebrating. This will ensure that they can provide you with the perfect cake.
These tips make finding the perfect cake for any occasion easier than ever! Visit temptationscakes.com.sg today and let us help you find the perfect cake for your special occasion.
What to look for in a Cake Shop?
When it comes to choosing a cake shop, there are a few things you should consider. Here are four factors to keep in mind:
Quality of Ingredients: Check the ingredients used in cakes for freshness and quality. Also, ensure the cake shop uses organic or locally sourced ingredients whenever possible.
Variety of Cakes: Make sure the cake shop has a variety of cakes to choose from, including signature cakes and custom ones catered to your specific needs.
Professionalism: A good cake shop should have experienced staff who can help you make the right decision for your special occasion. They should also be able to advise on storing and transporting your cake.
Price Range: It should be easy to find cakes that fit within your budget, so make sure the cake shop you choose offers competitive prices.
Location and Delivery Services: Make sure the cake shop has a convenient location and offers delivery services to ensure your cake arrives on time.
At Temptations Cakes, we offer all of these features and more. We are committed to providing the highest-quality cakes with a variety of flavors and designs to choose from. Visit us today at temptationscakes.com.sg for the perfect cake to make any occasion special and memorable!
How Easy Is It to Order from Suntec's Temptations Cake Delivery Service?
From our website, ordering a cake online for delivery is easy. All orders are available with 7 days prior notice or lead time. For urgent orders, you may contact us directly at +65 9128 4147; we will gladly assist you.
Here is the step-by-step guide to ordering a cake online from Temptations Cakes:
Select your desired cake from our wide array and customize it according to your preferences.
Choose the occasion, date of delivery, and other requirements you may have for your cake order.
Provide us with your contact information, billing address, and delivery address.
Please review your order and ensure all details are correct before submitting it.
Pay via our secure online payment gateway or cash on delivery.
Once your payment is confirmed, we will start processing your order and deliver it on the specified date.
Ordering a cake online from Temptations Cakes is quick, easy, and secure! Visit temptationscakes.com.sg today and get your cake delivered!
What are the Benefits of Ordering Cakes Online?
There is no denying that ordering cakes online offers a lot of benefits. Here are four advantages of getting your cake from Temptations Cakes:
Convenient: You don't have to go out and wait in line at the bakery; you can shop online anytime, anywhere.
Affordable Prices: With our competitive prices, you can get your cake at an affordable price.
Variety of Options: We offer a wide selection of cakes for any occasion, from gender reveal to wedding cakes and corporate events.
Quality Assured: All our cakes are made with the finest ingredients and attention to detail to get the best cake for your special occasion.
Ordering cakes online from Temptations Cakes is a convenient, affordable, and quality-assured way to get the perfect cake for your event.
Making Every Occasion More Enjoyable with Temptations Cakes Delivery
Who doesn't love a delicious cake to celebrate a special occasion? Temptations Cakes Delivery is here to ensure that every occasion is even more enjoyable with their wide variety of cakes. Whether it's a birthday, anniversary, or just a simple get-together, Temptations Cakes Delivery has a cake to suit every taste and preference.
From classic flavors like Chocolate and vanilla to more unique options like cheesecakes, their cakes will surely please any palate. Plus, with their convenient delivery service, you can relax while bringing your cake to your doorstep. Make every occasion a little sweeter with Temptations Cakes Delivery.
Conclusion
Whenever you visit Suntec City, Singapore, try Temptations Cakes delivery for the perfect cake. Just imagine the impact on your special occasion when you order a cake from Temptations Cakes. Not only will it taste delicious, the beauty of its presentation will leave a lasting impression, and you'll be sure to make an impact!
This is why Temptations' Cakes works so hard to ensure that each cake they create is gorgeous and fresh. They recently launched their delivery service to make it more convenient for their customers, offering a wide selection of cakes, cupcakes, and other goodies. Whether you are ordering for a birthday party or anniversary celebration, Temptations Cakes has you covered with its unbeatable selection and custom designs. Don't wait another day - make your next event memorable by ordering your cakes from Temptations!
Frequently Asked Questions 
Q: Do you provide custom cakes?
A: Yes, we offer custom cake designs for special occasions. Contact our customer service team to discuss your design requirements and get a quote.
Q: How long will my cake stay fresh?
A: Temptations Cakes only uses the freshest ingredients, and our cakes are guaranteed to stay fresh for up to seven days if stored properly. We recommend you enjoy your cake within 2-3 days of delivery.
Q: Can I cancel my order?
A: If you have changed your mind about the cake you ordered, don't hesitate to contact us as soon as possible so we can try to cancel your order. However, if the order has already been processed, we cannot cancel or refund it. Visit our website for our policy.