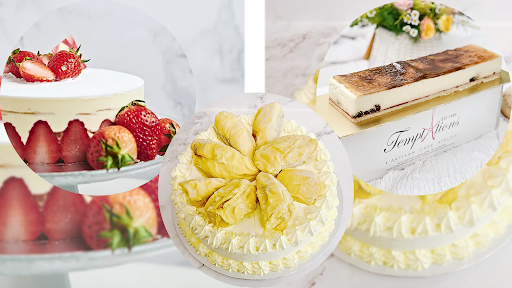 Raffles Place stands as one of the iconic landmarks of Singapore, pulsing with energy and life. With towering skyscrapers, it's not just a sight to behold but a vital business hub that brings together professionals from various fields. Amidst the hurried steps and busy schedules, there's always a craving for something sweet to break the monotony. That's where Temptations Cakes Delivery comes into the picture. 
Known for its mouth-watering creations, Temptations Cakes has become synonymous with quality and taste, delivering cakes that satisfy your sweet tooth and become a part of your cherished memories.
The Joy of Cake Delivery in Raffles Place
Imagine a day filled with back-to-back meetings, endless calls, and tight deadlines. Now, imagine a slice of heaven arriving at your doorstep just when you need a pick-me-up. That's the magic Temptations Cakes brings to Raffles Place. You can deliver delectable cakes straight to your office or home with a simple click or call. The best part? You don't have to wander the streets looking for a cake shop. 
Even though Temptations Cakes doesn't have a store in Raffles Place, they bridge that gap with their impeccable delivery service. Every cake arrives fresh, promising the same taste and quality as if you were having it in their bakery. So, the next time you're in Raffles Place and crave something sweet, remember that Temptations Cakes is just a call away!
The Temptations Signature Collection
Temptations Cakes has curated a collection that's nothing short of a symphony for the senses. Let's dive deep into Temptations Cakes'  signature offerings.
Strawberry Bagatelle
The allure of the Strawberry Bagatelle is undeniable. Crafted with layers of soft sponge, filled with rich cream, and adorned with the freshest strawberries, its taste profile is a delightful dance between sweet and tangy. Every bite offers a burst of flavor, making you relive the very first taste of a ripe, juicy strawberry.
And it's not just a treat for the palate. The aesthetic of the Strawberry Bagatelle is a visual delight, making it a perfect centerpiece for occasions like anniversaries, birthdays, or any celebration that calls for a touch of elegance and romance.
MSW Durian Cake Topped With Real Durian Fruit
MSW, or Mao Shan Wang, is often called the 'King of Durians'. Revered for its rich, creamy texture and a taste profile blend of sweet and bitter, it's a fruit that commands respect and adoration.
Temptations Cakes takes this cherished fruit and gives it a modern twist in the form of their MSW Durian Cake. While the cake is a velvety treat, the topping of real durian fruit takes it to an entirely new level. It's a harmonious blend of traditional and contemporary dessert craftsmanship.
Every forkful offers an experience, a journey that takes you from the orchards of Southeast Asia to the chic urban setting of a modern-day patisserie. It's not just a cake; it's a cultural experience, perfect for gatherings, festive occasions, or an evening of culinary exploration.
Baked Cheesecake
The origins of cheesecake can be traced back to ancient Greece. With its creamy texture and distinctive taste, this timeless dessert has travelled through ages and cultures, getting refined along the way.
Temptations Cakes' Baked Cheesecake pays homage to this rich history while adding its own signature touch. The result is a cake that's dense yet smooth, rich yet not overwhelming. It's a testament to the art of baking, where simplicity meets perfection.
For a complete experience, pair this classic with a glass of red wine or a cup of freshly brewed coffee. Whether it's a quiet evening at home, a celebratory event, or a formal dinner, the Baked Cheesecake fits seamlessly, making every moment more special.
Why Choose Temptations Cakes Delivery for Your Raffles Place Events?
With its vibrant energy and ceaseless activities, Raffles Place demands nothing but the best. And when it comes to gourmet experiences, why should one settle for anything less? Here's why Temptations Cakes Delivery should be your first choice:
1. Convenience and Efficiency in Delivery
In the fast-paced world of Raffles Place, time is of the essence. Temptations Cakes understands this deeply. Their delivery process is swift, ensuring that your desired gourmet experience reaches you without a hitch.
2. Quality Assurance and Freshness of Cakes
Every cake from Temptations is a promise of quality. Crafted with the finest ingredients under stringent quality checks, each cake meets and often exceeds expectations. Freshness isn't just a claim; it's a guarantee.
3. Catering to Diverse Taste Palettes and Occasions
Whether it's a corporate event, a family gathering, or a personal indulgence, Temptations Cakes has something for every occasion and every taste palette. Their diverse range ensures everyone finds their slice of heaven regardless of preference.
Placing an Order: A Simple, Seamless Process
Ordering a cake should be as delightful as eating one. And with Temptations Cakes, it truly is. Here's how you can ensure your gourmet experience is just a few clicks away:
1. Browse and Choose
Visit their user-friendly website and explore the vast range of cakes on offer. Detailed descriptions and images will help you make an informed choice.
2. Customize if Needed
Have specific preferences? No worries. Customize your cake to suit your needs, ensuring it's perfect for your occasion.
3. Confirm and Pay
Once you've made your choice, proceed to checkout. Their secure payment gateway ensures your transaction is smooth and safe.
4. Sit Back and Relax
With your order placed, all you need to do is await the arrival of your gourmet treat. Temptations Cakes prioritizes timely deliveries, especially for Raffles Place, understanding the importance of punctuality in this bustling hub.
Conclusion
Raffles Place deserves nothing but the best when it comes to indulgences. And Temptations Cakes rises to the occasion, seamlessly blending convenience with quality. Despite the absence of a physical storefront in the vicinity, they've ensured that no one misses out on their delightful offerings. Each cake is a testament to their commitment to freshness, variety, and impeccable service.
But words can only convey so much. The real magic lies in tasting, savoring every bite and letting the flavors dance on your palate. So, to everyone reading this, don't just take our word for it. Place an order with Temptations Cakes today. Life's too short for anything but the best, and with Temptations Cakes, that's precisely what you get.
Dive into a world of culinary wonders. Order now and experience the Temptations Cakes difference for yourself!