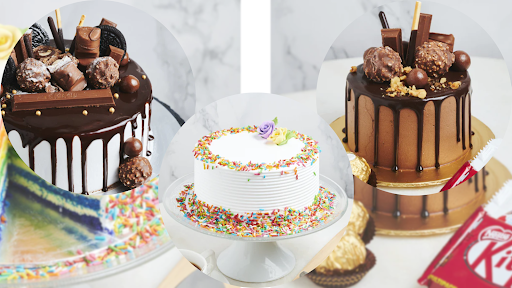 In recent times, Admiralty has witnessed a significant transformation in its lifestyle, mirroring the urban shift toward convenience and digitalization. As bustling schedules become the norm and people are constantly moving, there's a rising demand for services that bring comfort to our doorsteps. Temptations Cakes Delivery – a beacon of sweetness in the ever-evolving landscape of Admiralty. 
While many traditionalists might expect a physical shop, Temptations Cakes has embraced the digital age, offering its delightful creations exclusively online. It's noteworthy that despite its growing popularity, Temptations Cakes maintains a unique stance by not having a physical shop in Admiralty, ensuring that every bite you relish comes with the assurance of online exclusivity.
The Rise of Online Cake Deliveries in Admiralty
There's no denying it: the landscape of Admiralty has been shifting. With busier schedules and a preference for convenience, the residents have increasingly leaned towards online services, and cake deliveries are no exception. Over recent years, the surge in online cake deliveries has been evident, and it's not just about the trend—it's about the sheer convenience it brings. With services like ours, there's no need to leave or travel to a physical shop. Every celebration, big or small, can now have the perfect cake without any hassle. We're here to make sure of that.
Temptations Cakes: A Glimpse into the Menu
At Temptations Cakes, our menu is a testament to our passion for baking and commitment to delivering unparalleled taste experiences. Our offerings are not just cakes but a symphony of flavors, textures, and love.
Rainbow Cake
Brighten up any occasion with our Rainbow Cake. This delightful treat is not just a visual feast with its vibrant layers but also an explosion of flavors. Each colored layer has its unique taste, making every bite a thrilling surprise. It's the perfect choice for celebrations where you want to add a pop of color and joy.
Petite Chocolate Etoile
Our Petite Chocolate Etoile is the go-to choice for those with a soft corner for chocolates but who prefer a subtle indulgence. Crafted with precision, this cake is a delicate blend of rich chocolate that melts in your mouth, giving chocolate aficionados a taste that's just right—not too overpowering, yet deeply satisfying.
Ultimate Chocolate Etoile
For those who believe there's no such thing as too much chocolate, we present our Ultimate Chocolate Etoile. A dense, rich, and utterly indulgent cake that promises to take you on a chocolatey journey like no other. Every layer, every bite, screams of the finest chocolate, making it a dream come true for the ultimate chocolate lovers.
Discover these and many more exquisite delights on our menu, each crafted perfectly, ensuring that the perfect cake accompanies your special moments.
The Edge of Temptations Cakes Delivery in Admiralty
In Admiralty, we recognize the significance of punctuality and reliability. That's where the Temptations Cakes delivery service truly shines. Here's why our delivery service stands out in Admiralty:
Timely Deliveries: We understand the essence of time, especially regarding celebrations. Our team is committed to ensuring every cake reaches its destination on schedule. When you choose Temptations Cakes, you're not just opting for a cake but a promise that it will be there when you expect it.
Safety First: In today's world, safety can't be compromised. We've implemented rigorous safety protocols to handle every cake carefully, maintaining hygiene at all steps. From baking to packaging to delivery, we take every precaution to ensure your cake arrives in perfect condition.
Unwavering Freshness: What's a cake if it's not fresh? At Temptations Cakes, we pride ourselves on the freshness of our cakes. Our baking process is timed perfectly to ensure that once an order is placed, the cake is prepared, baked, decorated, and delivered in the shortest time possible. This ensures that when you unbox a Temptations Cake in Admiralty, it's as fresh as possible, with flavors bursting in every bite.
Why Choose Temptations Cakes for Your Next Celebration?
Every celebration deserves a centerpiece that stands out, evokes joy, and becomes a topic of conversation. At Temptations Cakes, we're not just baking cakes; we're crafting memories. Here's why we should be your top choice for your next celebration:
1. Uncompromised Quality
The heart of any delectable cake lies in its ingredients. At Temptations Cakes, we're unwavering in our commitment to using only the finest, premium-quality ingredients. This commitment ensures that each slice is delicious and a testament to our dedication to quality.
2. Masterful Craftsmanship
Baking is an art, and our team comprises true artists. With expert bakers and decorators on board, we blend traditional techniques with contemporary designs to create cakes that are not only pleasing to the palate but also a feast for the eyes.
3. Diversity to Delight
Every occasion is unique, as should the cake that graces it. Our diverse range of flavors and designs ensures that whether it's a birthday, anniversary, corporate event, or just a get-together, there's a Temptations Cake that's perfect for it.
4. Effortless Ordering Experience
We believe a cumbersome ordering process shouldn't overshadow the joy of a cake. Our online platform is designed for simplicity and efficiency, allowing you to select, customize, and order your cake in just a few clicks.
5. Reliability You Can Trust
Our delivery system is meticulously planned to ensure that your cake reaches you on time, every time, in pristine condition.
When you choose Temptations Cakes, you choose excellence, reliability, and a touch of magic for your celebration. Let us be a part of your joyous moments; we promise to make them even more memorable.
How to Place an Order with Temptations Cakes
Ordering your favorite Temptations Cakes treat is as easy as pie, or in this case, as simple as cake! Here's a quick guide to making your cake-ordering experience seamless:
1. Visit Our Website
Navigate to the Temptations Cakes official website from your browser.
2. Explore the Menu
Browse through our diverse range of cakes, each with detailed descriptions and images.
3. Select Your Cake
Found the perfect cake for your occasion? Click on it to view customization options and sizes.
4. Customize
Choose your preferred flavor, size, and additional notes or requirements.
5. Add to Cart
Once satisfied with your selection, add the cake.
6. Checkout
Proceed to the checkout page, provide delivery details, and make the payment securely.
7. Confirmation
You'll receive a confirmation with your order details upon successful payment.
Tips for a Smooth Delivery
Ensure the delivery address is accurate and complete.
Provide a contact number for any delivery-related communications.
If you have specific delivery time preferences, mention them during the order process.
Conclusion
Temptations Cakes isn't just a name; it promises quality, convenience, and an unforgettable taste experience. In the dynamic landscape of Admiralty, we're proud to offer a service that aligns perfectly with the needs of the residents. Each cake we deliver carries our commitment to excellence and our desire to make your occasions even more special. Why settle for the ordinary when you can have the best?
Ready to elevate your next celebration? Dive into a world of flavors and designs tailored for every moment. Contact us now and order a treat that promises to be the talk of the town. Make your moments memorable; choose Temptations Cakes.