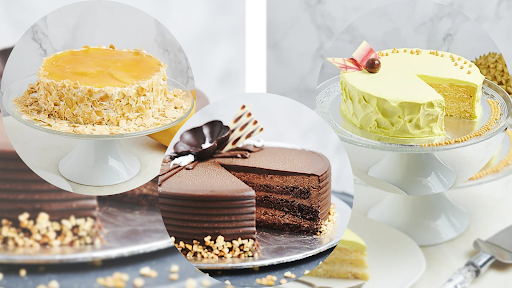 Marina Bay is a testament to luxury, glamour, and a taste for the finer things in life. As evening descends, the area bustles with residents and tourists alike, all with a shared craving for gourmet treats. Amidst this vibrant backdrop, Temptations Cakes Delivery has emerged as the city's favorite, bringing joy to countless cake lovers. 
Remarkably, while one might expect to find a lavish storefront given its reputation, Temptations Cakes has chosen a different path. Instead of a physical shop, they've made Marina Bay's heart beat faster, promising to deliver gourmet cakes right to one's doorstep.
The Essence of Temptations Cakes
Temptations Cakes isn't just about its mouth-watering creations, it's about a legacy. Born from a passion for baking and a relentless pursuit of perfection, the brand has carved a niche in the competitive patisserie world. But what truly sets Temptations Cakes apart is its unwavering commitment to quality. Every cake that leaves their kitchen is a testament to their dedication, love, and craftsmanship.
And for those who prefer their sweet indulgences without eggs, Temptations offers a delectable range of eggless options. Recognizing the diverse preferences of Marina Bay's cosmopolitan populace, the brand ensures that everyone, regardless of dietary choices or restrictions, can enjoy the joy of savoring a perfectly baked cake. Whether you're a traditionalist or someone with a penchant for trying something new, Temptations Cakes promises and delivers nothing but the best.
A Glimpse into Temptations' Star Creations
Signature Chocolate Mousse Etoile Eggless
Every bite of the Signature Chocolate Mousse Etoile takes you on a journey of rich, velvety flavors. Crafted with the finest cocoa, its creation story is passionate and precise. The idea was simple yet ambitious: offering an eggless variant without compromising taste or texture. After numerous iterations and taste tests, the result was this masterpiece. Its layered mousse, combined with a delicate balance of sweetness, provides an unparalleled chocolate experience that has become a favorite among Marina Bay residents.
Premium MSW Durian Cake Eggless
The king of fruits meets the art of baking in the Premium MSW Durian Cake. For those unfamiliar with the acronym, MSW stands for 'Mao Shan Wang', a premium variety of durian revered for its golden, creamy flesh and distinctive aroma. This cake is not just a treat; it's an experience. By infusing the powerful essence of the MSW durian into an eggless cake base, Temptations Cakes has achieved a harmonious blend that is both indulgent and authentic. Durian aficionados will appreciate the genuine flavor, while newcomers will get a delicious introduction to this unique fruit.
Fresh Mango Splash Cake Eggless
Imagine a sun-soaked afternoon, the scent of ripening mangoes in the air, and the promise of refreshment with every bite. The Fresh Mango Splash Cake encapsulates this very essence of summer. Made with juicy, handpicked mangoes, this cake offers a burst of tropical delight with every slice. The eggless sponge base complements the mango's natural sweetness, ensuring the fruit remains the star. Whether celebrating a special occasion or simply wanting to indulge in a sweet escape, this cake is your ticket to a sunlit paradise.
Why Marina Bay Residents Love Temptations Cakes
In Marina Bay, convenience and luxury often go hand in hand. For its discerning residents, Temptations Cakes has become more than just a dessert choice; it's a lifestyle preference. Here's why:
Doorstep Indulgence: In the fast-paced life of Marina Bay, convenience isn't just a luxury; it's a necessity. Temptations Cakes Delivery understands this to its core. Residents can have gourmet cakes delivered right to their doorstep with just a few clicks or a phone call. No more navigating through traffic or adjusting schedules; just pure, unadulterated indulgence at your convenience.
A Palette for Every Palate: Marina Bay is a melting pot of cultures, tastes, and preferences. Recognizing this diversity, Temptations Cakes offers various flavors, from classic favorites to exotic delights. Whether you're a chocolate aficionado, a durian devotee, or a tropical fruit enthusiast, there's something for everyone. This commitment to cater to diverse taste buds has endeared the brand to many.
The Seamless Delivery Experience
Delivering a cake isn't just about transportation; it's about preserving an art piece, ensuring that what reaches you is as perfect as when it left the kitchen. Here's how Temptations Cakes has perfected this art:
Punctuality is Key: Recognizing the importance of moments, whether it's a birthday just as the clock strikes twelve or a celebration timed to perfection, Temptations Cakes prioritizes punctual deliveries. With a dedicated team and a well-charted logistics plan, they ensure that every cake arrives on time, every time.
Eco-friendly Yet Elegant: Temptations Cakes has embraced eco-friendly packaging in an age of environmental consciousness. But this doesn't mean compromising on aesthetics. Their packaging is designed to be both sustainable and elegant, ensuring that your cake arrives in pristine condition while making minimal environmental impact. The cakes are a treat for the taste buds and a nod to responsible choices.
How to Order Your Temptations Cake from Marina Bay
Ordering your slice of heaven from Temptations Cakes is a seamless experience. Here's a step-by-step guide to ensure that delightful treat reaches you:
1. Visit the official Temptations Cakes website. 
2. Browse through the extensive menu, with detailed descriptions and images to help you choose.
3. Once you've made your selection, add the cake to your cart.
4. After that, checkout, fill in your delivery details, and choose a preferred delivery slot.
5. Make the payment through one of the multiple secure options available.
6. Voila! Your order is placed, and a confirmation will be sent to you.
Tips for the Best Delivery Experience
1. Ensure that your delivery address is accurate and complete.
2. If living in a gated community or building, inform security or the concierge about an incoming delivery.
3. Consider ordering a day in advance for special occasions to avoid any last-minute hitches.
Provide a reachable contact number in case the delivery person needs any clarifications.
Conclusion
With its skyscrapers and waterfront, Marina Bay is not just a place but an experience. And what better way to elevate this experience than with Temptations Cakes? From the velvety layers of the Signature Chocolate Mousse Etoile to the tropical burst of the Fresh Mango Splash Cake, each creation is a testament to the brand's commitment to excellence.
The invitation is clear for those residing in or visiting Marina Bay: indulge in the Temptations Cakes experience. Let every slice transport you to a world of flavor, finesse, and sheer delight, whether it's a celebration, a quiet evening, or simply a craving. Discover your favorites and revel in the joy only a perfectly crafted cake can bring.