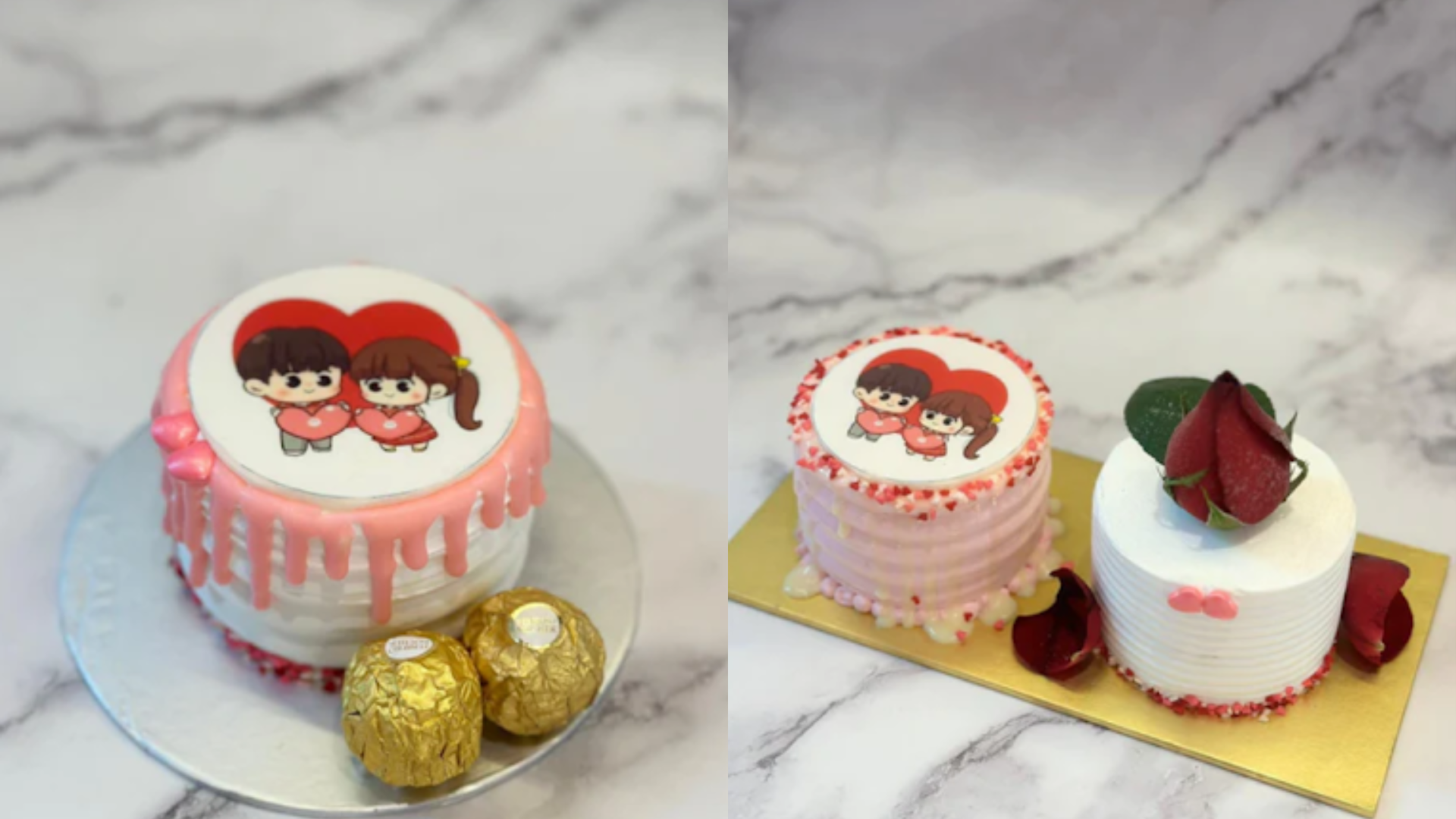 Looking for a sweet treat to celebrate the month of love? Look no further than the heavenly combination of vanilla sponge cake and all its delicious variations. In Singapore, this classic dessert is the perfect way to show your special someone how much you care. Whether you want to indulge in something decadent or keep it simple and classic, a vanilla sponge cake is the perfect match for any romantic occasion.
Celebrating Love with Sweet Treats in Singapore
Cakes, which stand for love, adoration, and sweetness, are a significant component of Love Month celebrations. Giving your significant other a cake on the month of Love is a thoughtful way to express your love and affection. A cake may enhance the event, whether it's a romantic supper for two or a surprise for your sweetheart.
Cakes are available in a wide variety of flavours, sizes, and styles so that you may find the ideal cake for that special someone. There is a cake for everyone, whether they choose a traditional chocolate cake, a rich red velvet cake, or a specialty flavour like strawberry.
Cakes aren't exclusively for couples. Sharing a sweet treat with the people who are important to you is another way to celebrate Love Month with friends, family, or the workplace. You can express appreciation for them and desire to share this wonderful day with them by cutting a cake. An easy yet heartfelt way to express love and affection on Love Month is to share a cake with your special someone, friends, family, or workplace.
The Sweet Story of Vanilla Sponge Cake and Its Love Month Connection
Vanilla sponge cake is a traditional treat loved all year and has become a staple in many cultures. However, it has a unique relationship to Love Month, a day of love and affection.
The first experiments with sponge cakes made with sugar, eggs, and flour were found during the Renaissance era in Europe when the vanilla sponge cake first appeared. According to legend, the vanilla extract was first incorporated into cake batter in the 18th century, giving the dessert its well-known flavour and perfume.
The popularity of vanilla sponge cake increased as Love Month customs did. Whether it takes the form of a heart-shaped cake, cupcakes, or a layer cake, this sweet and straightforward treat has become a favourite option for couples to enjoy on this special occasion.
The vanilla sponge cake is famous due to its soft, fluffy texture and sweet vanilla flavour. Its adaptability allows for a wide range of decorating methods, including frosting and fondant, as well as fruit and chocolate.
The vanilla sponge cake has a lengthy and fascinating history and is closely linked to the Love Month holiday. This traditional delicacy is a timeless symbol of love and affection, whether consumed alone or in combination with other sweet delights.
A Guide to Finding the Perfect Vanilla Sponge Cake in Singapore
There are a few essential things to take into account if you're searching for the ideal vanilla sponge cake in Singapore:
Quality of ingredients: For the most incredible flavour and texture, use premium ingredients in the cake, like fresh eggs and genuine vanilla extract.
Baking technique: A cake with an even bake and a light, fluffy texture is a sign of good baking. The cake shouldn't be very dry or dense.
Decoration: Consider the various decoration possibilities if you're looking for a special occasion cake, like one for Love Month. Choose a cake with a basic yet attractive design, or look for a bakery that offers personalised embellishments like cakes in the shape of hearts.
Price: Establish your spending limit and pick a bakery that offers good value without sacrificing quality.
Reviews: To learn where to find the most incredible vanilla sponge cake in Singapore, read reviews and seek advice from friends and family.
You may locate the ideal vanilla sponge cake in Singapore that will suit your unique requirements and palate by considering these elements. The perfect vanilla sponge cake will make your day a little sweeter, whether for a special occasion or a sweet treat. At Temptations Cakes, we have the perfect Love Month Cake for you. Head down and make your order now!
The Art of Making a Moist and Fluffy Vanilla Sponge Cake
Making the ideal fluffy vanilla sponge cake is delicate and exquisite and calls for patience, accuracy, and a love of baking. A cake with a sensitive texture, a tender crumb, and these qualities is truly a work of art.
The mixing method is the secret to making the ideal sponge cake. The cake's structure and solidity are produced by beating the eggs and sugar until they are light and fluffy. This stage is essential because it has a delicate sponge texture that distinguishes the cake from other baked items.
Utilising premium ingredients and accurately measuring them is also crucial. The ideal ratio of flour, sugar, eggs, and the baking powder will decide how the cake turns out. And finally, baking itself needs to be done carefully. To prevent either overbaking or underbaking, the oven temperature must be precise, and the cake must be closely watched.
Science and imagination are used to create the ideal fluffy vanilla sponge cake. Cakes made by bakers who achieve this delicate balance are delicious and aesthetically pleasing, making them the perfect treat for special events like Love Month.
A Creamy & Decadent Filling that Elevates Your Vanilla Sponge Cake
A rich, creamy filling may transform a vanilla sponge cake from a simple dessert into a one-of-a-kind delight. This filling can enhance the cake's richness, flavour, and moisture content, making for a well-rounded and pleasant bite.
Whipped cream, buttercream, ganache, and fruit purees are just a few filling alternatives. The light and airy whipped cream add sweetness without overwhelming the cake. The traditional buttercream option offers a rich, silky flavour that balances the lightness of the sponge cake. Rich chocolate filling, known as ganache, can give a cake depth and richness. Additionally, fruit purees like raspberry or blueberry can enhance the cake's flavour and colour, adding to its allure.
To suit individual tastes, the amount and type of filling can also be changed. Others prefer a substantial amount that pours out when cut, while some bakers prefer a thin filling covering.
Finding the appropriate balance is essential to upgrading the sponge cake with a creamy, delicious filling. The delicate flavour of the sponge cake can be overpowered by a filling that is excessively sweet or rich, while a filling that is too thin might make the cake dry and unpleasant. When the filling and sponge cake are appropriately combined, a tasty dessert that is memorable can be produced. 
At TemptationsCakes, we have a rich vanilla sponge cake available for everyone. Furthermore, we have a Love Month Duo Cake Sale for everyone!
Decorating and Presenting Your Vanilla Sponge Cake for the Perfect Impression
Decorating and presenting a perfect vanilla sponge cake is the last step in the process. This can make the cake more appealing to the eye and remembered, in addition to making it delicious.
The following advice will help you present and decorate your vanilla sponge cake:
Select the appropriate frosting: Buttercream icing is a traditional option for vanilla sponge cake. It is silky and creamy. This can be flavoured with vanilla extract or other components to go along with the cake.
Ensure simplicity: A vanilla sponge cake can benefit significantly from a simple strategy. Take a basic glaze drizzle or a simple sprinkling of powdered sugar into consideration.
Make a statement with the toppings: To make a cake that is both aesthetically pleasing and memorable, think about including nuts, chocolate shavings, or candied fruits.
Presentation is vital: Consider how you will present the cake. While a cake stand can elevate the cake and make it the centre of attention, a plain white dish or platter can make a lovely backdrop.
Using the advice in this article, you may make a vanilla sponge cake that is not only delicious but also lovely and memorable. A beautifully arranged vanilla sponge cake is the ideal way to indulge yourself, whether you're celebrating Love Month or want to pamper yourself.
However it might be tedious to make one yourself from scratch, you can head to Temptations Cakes for more available options.
Treating Your Taste Buds: Pairing Suggestions for Your Vanilla Sponge Cake
A vanilla sponge cake is a traditional dessert that tastes or combines with other flavours. Here are some pairing ideas to please your palate:
Fresh fruit: Strawberries, raspberries, or blueberries are excellent new fruit pairings with vanilla sponge cake. They provide a splash of colour and a hint of flavour.
Coffee or tea: A slice of vanilla sponge cake goes great with a hot cup. The warm beverage offers a soothing contrast and brings out the cake's subtle flavours.
Whipped cream: Whipped cream is a classic pairing for vanilla sponge cake. The delicate crumb of the cake pairs well with the light and airy texture of the cream.
Vanilla ice cream: Adding a scoop to a slice of vanilla sponge cake can transform it into a delectable dessert. The ice cream's smoothness counters the cake's richness.
Chocolate: Mix your vanilla sponge cake with chocolate for a decadent and delicious dessert. The cake taste can be improved with chocolate ganache, melted chocolate, or a drizzle of chocolate sauce.
There are plenty of other possibilities to consider after these suggested pairings. Find your ideal complement to a scrumptious vanilla sponge cake by being inventive and experimenting with various flavours and textures.
A Comparison of Vanilla Sponge Cake with Cream & Custard Filling and Other Love Month Desserts in Singapore
The vanilla sponge cake with cream and custard filling is preferable to other Love Month sweets in Singapore for several reasons:
Versatility: Vanilla sponge cake is a delicious treat for a wide range of tastes and can be enjoyed by people of all ages.
Sweet and creamy filling: The sponge cake's creamy filling has the ideal sweetness ratio to richness, making it a delectable treat that will delight anybody with a sweet tooth.
Elegance: Vanilla sponge cake is a timeless and elegant treat that may be exquisitely embellished to create an unforgettable presentation on Love Month.
Customizable: Customizable options allow vanilla sponge cake to be made into a more unique and meaningful gift by adding different fillings, toppings, and decorations to suit individual tastes.
Affordability: Vanilla sponge cake is frequently more reasonable than other high-end desserts like macarons or cheesecake, making it a more sensible choice for someone on a tight budget.
In the end, vanilla sponge cake with cream and custard filling is a traditional, ever-popular, and delectable Love Month alternative, making it a fantastic choice for anybody wishing to celebrate love and spoil their sweetie.
Conclusion: 
As a result of its delicate texture, rich, creamy filling, and adaptability, Vanilla Sponge Cake with Cream & Custard Filling is a fantastic choice for Love Month in Singapore. Everyone enjoys it because it has a timeless, traditional flavour that blends nicely with various flavours. Vanilla Sponge Cake is a lovely and tasty way to commemorate love on this particular day with its gorgeous presentation. A Vanilla Sponge Cake with Cream & Custard Filling is a memorable and delicious way to pamper your taste buds on Love Month in Singapore, whether it is shared with a significant other, family, or friends.
TemptationsCakes is a heritage cake shop in Singapore, where quality and perfection is heavily pursued here. Curious how different can cake taste with us? Order one now!
You can find us at 199 Sims Ave, Singapore 387503. Alternatively, you can contact us at onlinesales@temptationscakes.com.sg or +65 9821 2666. Be sure to follow us on Temptations Cakes Facebook & Temptations Cakes Instagram.