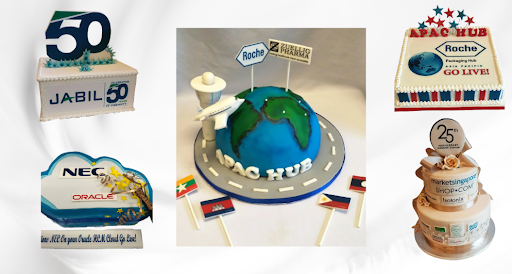 Are you looking for a delectable way to celebrate your company's milestones? Our corporate cakes are a perfect choice! Whether celebrating a big sale, successful project completion, or just looking to treat your employees, our delicious cakes will surely delight you.

Understanding the Importance of Celebrating Company Milestones
A crucial component of corporate culture and staff morale is celebrating company accomplishments. These achievements serve as a reminder of the effort and commitment that have gone into a company's and its workers' success. They offer a chance to consider the company's heritage, celebrate its accomplishments, and envision a promising future. 
Companies may foster a sense of cohesion and pride among their workforce by recognizing and celebrating these accomplishments, which can boost motivation and job satisfaction. The chance to highlight the company's brand and values to stakeholders such as clients, partners, and investors is provided through milestone celebrations. 
Overall, recognizing organizational milestones is essential for building a supportive and encouraging work environment, fostering relationships, and honoring the accomplishments of all employees who contributed to a firm's success.
The Best Corporate Cakes to Celebrate Company Milestones
Here are some of the cake suggestions we have for your corporate cakes:
Logo cakes: A cake with the company's logo is a beautiful way to promote its brand and honor its accomplishments.
Anniversary Cakes: If you want to celebrate a company's anniversary, consider making a cake highlighting its past and present.
Achievement Cakes: A cake with a design representing the achievement is a great choice to mark a noteworthy accomplishment, such as hitting a sales goal or introducing a new product.
Team-Building Cakes: To honor collaboration and team building, think about a cake with a design that represents togetherness, such as a group of employees cooperating to achieve a common objective.
Retirement Cakes: A cake with a design that recognizes a retiring employee's accomplishments and respects their tenure with the organization is an excellent option for commemorating their contributions to the company.
A cake is a beautiful way to add a special touch to the celebration, regardless of the type of company milestone you are honoring. When selecting a cake, consider the kind of milestone you are celebrating, the company's brand, and the staff's tastes. The appropriate cake can help you create a unique event that people will remember for years to come. 
At Temptations Corporate Cakes, we provide quality corporate cakes that everyone would die for. Fill up the form and enjoy the perfect corporate cake you always wished for. Contact us now!


Choosing the Perfect Corporate Cake for Your Milestone Celebration
When it comes to corporate cakes, the design and physical appearance of the cake are just as important as the taste. After all, the cake serves as a symbol of celebration for the company's milestone achievement. At Temptations Cakes, we have years of experience creating beautiful and unique corporate cakes for various companies in Singapore.
One common theme among corporate cakes is incorporating the company's logo or colors into the design. For example, we have created cakes with the company's logo or emblem on top of the cake or with the company's colors as the central theme of the cake. This is a great way to personalize the cake and make it more meaningful for the company.
Another popular design for corporate cakes is a tiered cake. Tiered cakes are elegant and grand, making them perfect for milestone celebrations. The tiers can also be customized to represent different achievements or milestones, such as the number of years in business or the company's revenue growth.
Some companies also opt for more unique designs, such as a cake in the shape of the company's product or service. 
At Temptations Cakes, we understand that every company has a unique identity and story. Working with our clients is essential to understanding their needs and creating a cake that reflects their brand and values. Our past clients have been delighted with the design and physical appearance of the cakes we have made for them. We are confident that we can do the same for your milestone celebration.
Corporate Cake Decorating Ideas for a Memorable Celebration
Your company milestone celebration will be remembered thanks in large part to the creative corporate cake decorating ideas you use. The cake is frequently the focal point of the gathering and is frequently one of the subjects of photos. Therefore, it's crucial to pick a design that honors the observed event and the company's brand. Making the cake distinctive and artistically decorated can personalize the celebration and make it an event that everyone will remember.
For instance, if your business is commemorating its tenth anniversary, you may consider decorating the cake with images representing the company's history, colors, and emblems. You might incorporate aspects of the new product into the cake design if you're commemorating its introduction.
A beautifully adorned cake can contribute to the celebration's joyous mood in addition to giving it a personal touch. It's a method to convey to your team, clients, and other stakeholders how much the event is valued and how seriously the business takes its commitment to celebrate it.
Tips for Planning a Corporate Cake-Cutting Event that Celebrates Your Company's Milestones
It's crucial to consider a few key elements when organizing a corporate cake-cutting ceremony to commemorate a company milestone to make the occasion memorable and successful. Observe the following advice:
Timing: Schedule the event when most employees can attend, like during lunch or after work.
Send out brief invites that clearly state the event's goal and the date, time, and place.
Venue: Pick a location that is suitable for the size of your crowd and has enough room for everyone to enjoy the cake comfortably.
Food and drinks: If the event takes place during lunch, consider offering small snacks or soft drinks. Consider providing beverages and nibbles if the gathering is after work.
Decorate the space with balloons, streamers, or other accents that go with the branding and color palette of your business.
For entertainment and to create a celebratory mood, think about hiring a DJ or live band.
Photography: To capture the special moments during the event, hire a photographer or assign someone good to do so.
Using the advice in this article, you can organize a successful corporate cake-cutting event that recognizes your company's accomplishments and fortifies employee relationships.
Personalizing Corporate Cakes for a Unique Touch
Customizing corporate cakes can give your company's milestone celebration a distinctive touch. This can be accomplished by combining the cake design with your company's logo, colors, and theme. Additionally, you can include unique messages and memorable photographs to honor the achievement you are celebrating. By personalizing the cake, you can make it a unique and special aspect of your event and give your guests and employees something to remember it by. Additionally, by personalizing the cake, you can make sure that it precisely captures the character, values, and brand of your business.
The Future of Corporate Cakes in Celebrating Company Milestones
Given the current trends in event planning and cake design, it is reasonable to anticipate that corporate cakes used to commemorate company milestones will become even more creative and individualized. 
Technological advancements allow custom cake designers to produce elaborate designs, such as a larger focus on 3D printing and more distinctive flavor combinations that accurately represent a company's personality and values. Corporate cakes are likely to be prepared and served differently due to the movement toward more environmentally friendly and sustainable events, with an emphasis on using organic and locally sourced ingredients. 
In general, more innovation, personalization, and a focus on sustainability are expected to characterize corporate cakes in the future as a means of commemorating organizational achievements. Companies will be even able to churn out personalized, customized cake decorations which are unique to the company.
Conclusion: Celebrate Your Company's Milestones with Delicious Corporate Cakes
Celebrating company milestones is an important tradition that helps strengthen the bonds between employees, foster a sense of pride and unity, and commemorate the company's achievements. Corporate cakes are an integral part of these celebrations and offer a sweet way to mark these special occasions. By choosing the perfect corporate cake, decorating it with creative and memorable designs, and personalizing it to reflect the company's unique personality, you can create an event that everyone will remember for years to come. With the evolution of cake design and decoration, the future of corporate cakes in celebrating company milestones looks bright and delicious.
At Temptations Cakes, our consistent evolution of cakes allowed us to always stay in the latest trends. Not only will your corporate cakes be beautiful, its theme will be largely relevant to everyone.
You can find us at 199 Sims Ave, Singapore 387503. Alternatively, you can contact us at onlinesales@temptationscakes.com.sg or +65 9821 2666. Be sure to follow us on Temptations Cakes Facebook & Temptations Cakes Instagram.