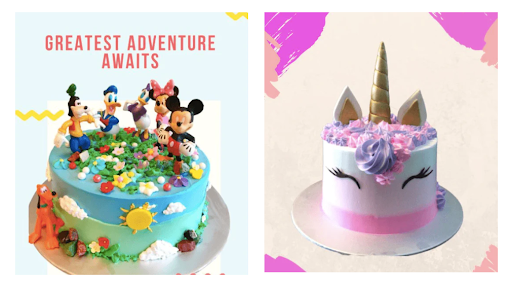 Dreaming of a slice of heaven that melts in your mouth? Temptations Cakes is the answer to your dessert dreams. While residents of Kranji might be familiar with the taste, it's worth noting that there isn't a physical store in that location. Instead, the magic happens online!
Singapore is home to a myriad of bakeries, but not all are created equal. Among the crests of these dessert waves, Temptations Cakes has carved a niche for itself. Though there isn't a brick-and-mortar store in Kranji, customers in and around that area can indulge in the sumptuous offerings through their seamless online cake delivery services. Yes, the most delightful cakes are now just a click away!
Convenient Online Cake Ordering
Navigating through the Temptations Cakes website, one is immediately struck by the simplicity and user-friendliness of the online cake-ordering process. With a few easy steps, your dream cake is on its way to you. And for those last-minute sweet cravings or surprise celebrations? Fret not, as Temptations Cakes offers same-day cake delivery across Singapore, ensuring no moment goes uncelebrated. 
Ordering is a breeze. With a few straightforward steps, you can select your preferred cake, specify any customizations, choose your delivery method, and make a payment. The process is designed to be efficient and quick, mirroring the fast-paced lives of its clientele: no complicated sign-ups, no unnecessary steps, just pure, unadulterated cake shopping.
However, it's not just the ease of ordering that sets Temptations Cakes apart. It's their foresight in understanding the unpredictability of life. Forgotten anniversaries, surprise visits from loved ones, or spontaneous celebrations - life has a way of throwing curveballs. Recognizing this, Temptations Cakes has masterfully integrated a same-day delivery service. This ensures that, even in the most unexpected of moments, joy in the form of a delicious cake is never too far away.
Cake Delivery Options
Apart from the promptness of delivery, Temptations Cakes also provides flexible options for its patrons. Whether you prefer having the cake delivered to your doorstep or wish to self-pick it up, the choice is yours. However, it's essential to note that if you're yearning for a customised masterpiece, please place your orders at least three days in advance. Your patience will be rewarded with a cake that mirrors your vision.
The brand understands the spectrum of its clientele. On one end are those who value the convenience of home delivery — be it a surprise gift for a loved one, a centerpiece for a celebration, or a treat for oneself. For them, the doorstep delivery option is a godsend. It eliminates the hassle of transportation and ensures that the cake arrives in pristine condition, ready to be unveiled and savored.
On the other end are customers who might be on their way home from work, running errands, or simply those who find joy in the act of personally collecting their order. For these patrons, the self-pickup option is a testament to Temptations Cakes' flexibility. This choice allows them to ensure their cake is collected at a time that's convenient for them, integrating seamlessly into their day.
Best Seller Products
When stepping into the world of Temptations Cakes, it's much like entering a grand symphony hall where each cake plays its unique melody. Yet, amidst this orchestra of flavors and designs, three cakes take center stage, captivating audiences time and again. These are the Strawberry Bagatelle, Chocolate Eclair, and the mesmerizing Rainbow Cake. They are not merely best-sellers; they represent the pinnacle of baking artistry, combining visual appeal with an unparalleled flavor profile.
At the heart of Temptations' collection is the Strawberry Bagatelle, an ode to the timeless allure of strawberries. It's not just a cake; it's a story — one of delicate vanilla sponge layers hugging luscious cream, interspersed with the juiciness of fresh strawberries. The Strawberry Bagatelle's popularity is rooted in its perfect balance of flavors and textures. It manages to be both sophisticated for the discerning palate and delightful for those craving a simple, fruity indulgence.
Next in this triumvirate is the Chocolate Eclair, a luxurious masterpiece that pays homage to age-old French patisserie traditions. At first glance, it tempts with its glossy chocolate exterior, but the real magic lies within. The airy choux pastry, contrasted with the velvety richness of the chocolate ganache, creates a dance of flavors and textures. Every bite is an invitation to travel back in time to 18th Century France, where the eclair first made its mark as a culinary marvel.
Last, but by no means least, is the Rainbow Cake. A visual spectacle is a cake that promises — and delivers — a pot of gold in terms of taste. Each colorful layer tells its tale, not just in hue but in flavor. The Rainbow Cake isn't just for the Instagram-savvy generation; it appeals to all ages. It's a celebration of diversity, of joy, and of the sheer pleasure that comes from a well-crafted dessert.
In the grand hall of Temptations Cakes, while every cake has its own melody, the Strawberry Bagatelle, Chocolate Eclair, and Rainbow Cake play the harmonies that linger, that beckon, and that ensure patrons return for an encore after encore. Each of these cakes encapsulates the brand's commitment to quality, artistry, and the sheer joy of baking. For dessert enthusiasts navigating the vast repertoire of Temptations Cakes, these three offerings are not just cakes; they are experiences waiting to be unravelled and savored.
Conclusion
In the tapestry of life's many joys, the simple pleasure of a well-made cake stands out as a timeless delight. Temptations Cakes, with its expansive range and meticulous craftsmanship, has positioned itself as more than just a bakery—it's a destination for those seeking moments of pure indulgence. From the ease of online ordering to the thoughtful delivery options and the tantalizing array of flavors, every facet of the experience has been designed with the customer in mind.
The standout performers—Strawberry Bagatelle, Chocolate Eclair, and Rainbow Cake—are a testament to the bakery's commitment to excellence. They embody the essence of Temptations Cakes: a blend of tradition, innovation, and an undying passion for baking. But these stars are just the beginning. Beyond them lies a vast repertoire waiting to be explored, each cake with its own unique story, flavor, and allure.
To say Temptations Cakes offers just cakes would be an understatement. It provides an experience - of convenience, of taste, and of pure, unadulterated joy. From the seamless ordering process to the delectable best-sellers, every facet of Temptations is designed to make your sweet dreams come true. So, why wait? Visit our website and give in to the pleasure of Temptations Cakes and let your senses be enchanted. After all, life is short; eat the cake!