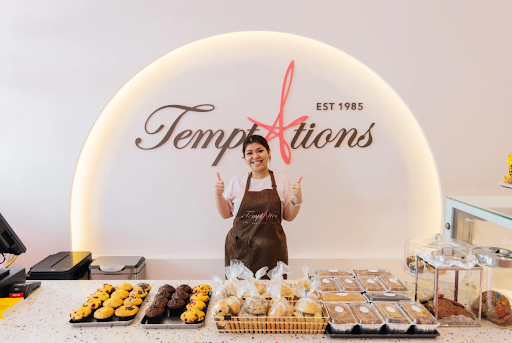 There's always room for a little sweetness in a bustling city like Choa Chu Kang, where life never seems to take a break. Amidst the hustle and the hurried steps lies an unquenched craving for moments of simple pleasures. Temptations Cakes recognizes this need and aspires to be the silver lining, offering a sweet respite in a city that rarely slows down. 
While the traditional charm of a brick-and-mortar store might be absent in Choa Chu Kang, our online presence ensures we're more accessible than ever. Leveraging the power of technology, we've crafted a platform that allows you to immerse in our delightful cake collections, all from the comfort of your home. So, even as the city pulsates with its relentless energy, there's a corner on the web waiting just for you, promising flavors that transport and comfort. Let's embark on this sweet journey together.
Ordering Process and Delivery Options
Ordering from Temptations Cakes is as seamless as our velvety buttercream frosting. Gone are the days of long queues and waiting times; we're about instant gratification with a dash of class.
Temptations Cakes offers a seamless and efficient ordering process, combining the delights of traditional baking with modern convenience. Here's an in-depth look at how we've tailored our services to offer you not just cakes but an experience.
1. Effortless Ordering: A Digital Patisserie Experience
Navigating our online platform is akin to strolling through a quaint patisserie lined with an exquisite array of cakes but with the added advantage of doing it from the comfort of your home. Each cake is showcased with detailed descriptions and images to ensure you know your selection. Whether opting for our ready-made designs or adding a personal touch by customizing, the process is straightforward and user-friendly. Your perfect cake is chosen, customized, and ready to be prepared in just a few clicks.
2. Same-Day Delivery Across Singapore: Every Moment Matters
At Temptations Cakes, we understand that the craving for a slice of divinity sometimes can't wait. Perhaps it's an unexpected celebration, a sudden get-together, or simply the desire to treat oneself. We offer an efficient same-day delivery service across Singapore to cater to these moments. This means that even on a whim, a luxurious cake experience is always a few hours away. Our commitment to punctuality ensures that your cake tastes exquisite and arrives right when you expect it.
3. Your Cake, Your Way: Tailored Delivery Options
Everyone has their rhythm and preferences, and our delivery options honor that. If you enjoy the anticipation of a personal pick up, cherishing the first sight and scent of a freshly prepared cake, our outlets await your presence. However, if you'd rather have convenience served on a platter, or in this case, a cake box, our doorstep delivery is at your service. Our promise remains the same regardless of your choice: a delightful cake experience from our oven to your table.
The cherry on top? Our impeccable delivery service ensures that every cake arrives in pristine condition, ready to grace your occasions with elegance.
Customized Orders
Every celebration is unique, and your cake should reflect that. At Temptations Cakes, we go the extra mile to craft cakes that echo your sentiments. However, excellence requires time. For customized orders, kindly give us a 3-day head start to ensure we capture every nuance of your request to perfection.
Crafting a Culinary Masterpiece
The profound art of crafting personalized stories lies within the delectable realms of sugar, flour, and butter. Be it an intricate design you've been daydreaming of, a special flavor that evokes nostalgia, or an inscription that holds deep emotions, we're at your service to bring your vision to fruition. Our adept bakers and designers join hands with your imagination, weaving a tale uniquely yours in every slice.
True perfection is a meticulous craft. Tailoring a cake that embodies your exact desires demands precision, dedication, and patience. This is the ethos behind our three-day preparation window for all customized orders. It symbolizes our unyielding commitment to ensuring that each detail, from layers to decorations, embodies your envisioned perfection.
Celebrations are as distinctive as fingerprints, and the cakes commemorating them should be no different. At Temptations Cakes, we don't just bake; we sculpt emotions into culinary masterpieces. We infuse your sentiments, memories, and dreams into every cake, ensuring it speaks your language. Our bakers blend artistry with the skill to mirror your vision. But, like all great art, our creations require patience. 
We request a modest three-day lead time for customized cakes. This duration allows us to dive deep into the details, ensuring no nuance is overlooked. Trust in us, and you'll receive a cake that isn't just delicious and perfectly reflects your celebration.
Top 3 Best-Selling Cakes
An epitome of chocolate elegance, Petite Chocolate Etoile is an absolute showstopper. Perfect for intimate gatherings or as a premium gift, its Instagram-worthy aesthetic is only rivaled by its deep chocolatey allure. Dive into rich, velvety chocolate layers that promise to elevate any moment.
This cake is a symphony of flavors – Mixed Fresh Fruit Flan has the vanilla sponge's sweetness, the custard's creaminess, and the tang of fresh fruits. It's garnished with a glaze of fruit jelly, making it a treat for the palate and a visual delight. Every bite is a refreshing blend, making it a hit across age groups.
Red is the color of passion, and this cake exemplifies it. Red Velvet Cream Cheese Cake is wrapped in a lush cream cheese frosting and adorned with mini red velvet crumbs, it's both photogenic and palate-pleasing. Experience the joy of biting into a fluffy red velvet sponge paired perfectly with smooth cream cheese.
Conclusion
Temptations Cakes stands as a beacon of excellence, offering an unmatched blend of flavors and artistry. Every slice is an embodiment of passion, skill, and the joy of baking. For those who appreciate the finer things in life, especially when it comes to desserts, this is a haven waiting to be explored.
What truly distinguishes Temptations Cakes from the rest isn't just their impeccable range of cakes but also the convenience they bring to the table. Forgot a special occasion or simply got an unexpected sweet craving? With their same-day delivery option, you're assured a fresh, scrumptious treat right at your doorstep in no time. This feature underscores the brand's commitment to ensuring that every celebration, planned or impromptu, is graced with the perfect cake.
Yet, reading about it is one thing. To truly grasp the magic that is Temptations Cakes, one needs to experience it firsthand. Dive deep into their diverse selection, from classic favorites to innovative creations, and discern the meticulous craftsmanship in each offering. Let the varied textures and flavors transport you to a world where every bite is a celebration.
So, why wait? Embrace the luxury of choice and convenience that Temptations Cakes offers. Order your favorite cake today and surrender to a gastronomic journey like no other. Let each mouthful remind you of the beauty of indulgence and the joy of savoring the very best.