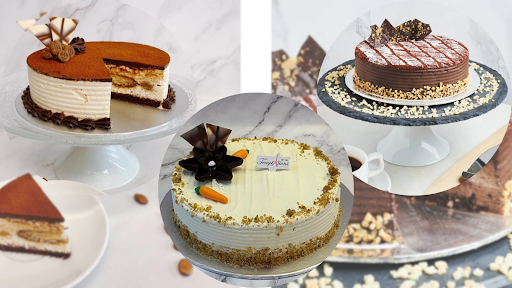 In the bustling heart of Khatib, the allure of delightful desserts has never been more accessible, thanks to the wonders of Temptations Cakes Delivery. As the world shifts to a more digital era, Khatib has seen a significant surge in online cake shops, offering residents a vast array of delectable choices at their fingertips. 
While many businesses have a physical presence to showcase our culinary masterpieces, it's essential to note that Temptations Cakes stands distinctively apart. Without a physical store in Khatib, Temptations Cakes has carved a niche, delivering joy and sweetness directly to our customers' doorsteps.
The Magic of Temptations Cakes
Dive into the rich tapestry of Temptations Cakes, a brand that has graced the market with its exceptional offerings for years. From humble beginnings, Temptations Cakes has become a household name known for its unwavering commitment to excellence. Every slice tells a story of our dedication to quality, taste, and freshness. Our secret? A blend of traditional recipes, innovative techniques, and a relentless pursuit of perfection. Temptations Cakes isn't just about cakes; it's about creating moments, memories, and a legacy of flavors that resonate with every palate.
Dive into Flavors: Spotlight on Temptations Cakes' Offerings
Tiramisu
Ah, Tiramisu! This classic dessert has its roots deeply entrenched in Italian culture. Historically believed to have been crafted in the Veneto region of Italy, Tiramisu has since travelled the world, capturing hearts and palates alike. It's a delicate layering of coffee-soaked ladyfingers, rich mascarpone cheese, and a dusting of cocoa that together creates magic. But what makes Temptations Cakes' Tiramisu stand out? It's our unique twist. While staying true to the essence of the classic, Temptations Cakes infuse it with a secret blend of flavors that makes every bite an exquisite experience.
Chocolate Hazelnut Crunch Cake
Chocolate and hazelnut – a match made in culinary heaven. When combined with the nutty aroma of hazelnuts, chocolate's deep, rich taste results in a dance of flavors that's hard to resist. Temptations Cakes elevates this experience further with our Chocolate Hazelnut Crunch Cake. Imagine a base of velvety smooth chocolate interspersed with crunchy hazelnut bits, creating a multi-textured sensation with every mouthful. It's not just a cake; it's a journey through contrasting yet harmonious textures and tastes.
Carrot Walnut Cake
For those who lean towards a blend of health and taste, the Carrot Walnut Cake is a dream come true. Carrots, known for their rich vitamin content and antioxidants, and walnuts, a source of essential fatty acids, combine to create a dessert that doesn't make you feel guilty. Temptations Cakes has mastered this blend. Our Carrot Walnut Cake is moist, flavorful, and packed with the goodness of its core ingredients. It's a testament to how indulgence can walk hand in hand with health, proving that treats can be delicious and nourishing.
With these offerings, Temptations Cakes showcases the range and depth of our culinary expertise, ensuring there's something for everyone, whether you're a fan of classics, crave rich flavors, or lean towards wholesome treats.
Benefits of Choosing Temptations Cakes Delivery in Khatib
In the evolving landscape of online cake deliveries, Temptations Cakes Delivery in Khatib has emerged as a beacon of excellence. But what sets them apart? Here are some compelling reasons to make them your first choice:
1. Unwavering Freshness
Some might wonder, without a physical store, how does Temptations Cakes maintain its promise of delivering fresh cakes? The answer lies in our meticulous process. Every cake is prepared using the finest ingredients and is dispatched for delivery soon after it's made, ensuring that what you receive is nothing short of fresh-from-the-oven goodness. Our commitment is simple: even without a storefront in Khatib, there's zero compromise on freshness.
2. Prompt and Pristine Deliveries
We've all heard or experienced delivery nightmares – late arrivals, damaged products, or mix-ups. With Temptations Cakes, such concerns are a thing of the past. Our delivery system is streamlined to perfection. Not only do Temptations Cakes ensure quick deliveries, but Temptations Cakes also ensure that each cake reaches you in impeccable condition, looking as delightful as it tastes.
3. A Palette of Choices
One of Temptations Cakes' standout features is its sheer variety. Whether you love classic flavors or like experimenting with new tastes, our expansive menu caters to all. From timeless favorites to innovative creations, there's a cake for every palate, every occasion, and every mood. It's a world of choices, all available at the click of a button.
In essence, choosing Temptations Cakes Delivery in Khatib is not just about ordering a cake; it's about experiencing a blend of tradition, innovation, and unmatched service, all tailored to make your moments even more special.
How to Order from Temptations Cakes Online
Ordering your favorite treat from Temptations Cakes Online in Khatib has never been easier. With a user-friendly online platform and a commitment to customer satisfaction, here's a quick guide to get you started on your delightful journey:
1. Visit the Official Website
Begin by going to the official website of Temptations Cakes. The homepage will give you an overview of our latest offerings and featured cakes.
2. Explore the Menu
Dive into our expansive menu, where cakes are categorized for ease of access. Whether you're looking for a classic Tiramisu or eager to try something new, everything is just a click away.
3. Select Your Cake
Found the cake you're craving? Click on it to view details like ingredients, size options, and price. Add your preferred choice to the cart.
4. Check-Out
Once you're ready, proceed to the checkout page. Here, you'll be prompted to enter delivery details, choose a delivery date and time, and add special instructions if needed.
5. Secure Payment Options
Safety first! Temptations Cakes offers a range of secure payment methods. Choose the one that suits you best and complete the transaction.
6. Confirmation and Estimated Delivery
You'll receive a confirmation with your order details upon successful payment. Typically, Temptations Cakes promises delivery within a specified window, ensuring your cake arrives fresh and on time.
Tips for a Seamless Ordering Experience
Stay Updated: Follow Temptations Cakes on social media. This way, you'll be the first to know about new additions, seasonal specials, and exclusive discounts.
Plan Ahead: If you're ordering for a special occasion, placing your order in advance is wise. This ensures availability and gives you peace of mind.
Double-Check Details: Before finalizing your order, double-check delivery details and the cake specifications to avoid any mix-ups.
With these simple steps and tips, ordering from Temptations Cakes in Khatib is a breeze. All left is the sweet anticipation of a delightful treat heading your way!
Conclusion
In today's fast-paced world, convenience and quality often seem like two ends of a spectrum. However, these two seamlessly converge with Temptations Cakes Delivery in Khatib, offering an unparalleled experience. Every cake is a testament to the brand's commitment to excellence, ensuring that what reaches your table is nothing short of perfection. Whether it's a quiet evening of self-indulgence or a grand celebration with loved ones, Temptations Cakes promises to make it memorable. 
Craving for more? The world of Temptations Cakes is vast and ever-evolving. Explore Temptations Cakes' website to stay updated on the latest offerings, seasonal specials, and irresistible promotions. And if you've already enjoyed indulging in our delights, why keep it to yourself? Share your Temptations Cakes experience on social media. Tag us, and who knows? Your moment of joy might just get featured, inspiring others to embark on this sweet journey, too. Dive in, share, and be part of the Temptations Cakes family!