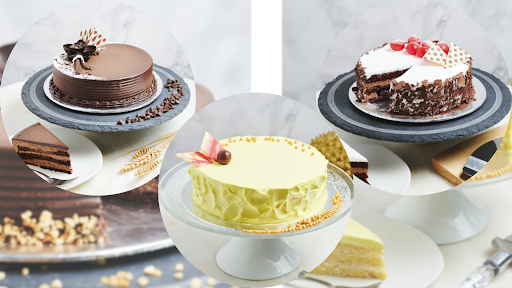 Nestled in the heart of Singapore, Yew Tee is a place of wonder and beauty. This cozy neighborhood holds a special charm that's hard to resist. Over the years, Yew Tee has grown, and so have its needs. One thing that's becoming clear is the community's growing love for delicious cakes. And while many might look for a cake shop around the corner, it's essential to note that Temptations Cakes doesn't have a physical store here in Yew Tee. But don't be disheartened; the magic of Temptations Cakes Delivery has got our backs!
The Rise of Online Cake Deliveries in Yew Tee
Gone are the days when we'd walk into a cake shop, glance through the glass displays, and pick our favorite treat. Times are changing, and Yew Tee is keeping up! With the power of the internet, the best cakes are now just a click away. This shift from the old-school walk-in shops to nifty online platforms has made life a piece of cake (pun intended)!
And why not? Ordering online is super easy. Plus, it's perfect for places like Yew Tee, where some favorite cake brands, like Temptations Cakes, don't have a walk-in store. Just imagine lounging on your sofa, browsing through mouth-watering cake pictures, and having them delivered right to your door. It's convenient and lets you discover and try a broader range of cakes. So, for all the cake lovers in Yew Tee, the online world is your new paradise!
Temptations Cakes: A Brief Overview
Temptations Cakes, a name that resonates with quality and legacy, has been a cornerstone in the world of delectable treats for years. With a rich history that traces back to passionate bakers and cake enthusiasts, this brand has always prioritized creating memories, one slice at a time. Our cakes aren't just about the ingredients but the love, care, and commitment poured into every piece. This relentless dedication to quality and taste has made Temptations Cakes an unforgettable name in the hearts of many.
Signature Delights Delivered Right to Your Doorstep
Signature Chocolate Mousse Etoile
Dive into a world of chocolatey delight with the Signature Chocolate Mousse Etoile. This masterpiece, layered with rich chocolate mousse, has a story as delicious as its taste. Crafted after countless trials and a desire to make the best chocolate mousse cake out there, this beauty was born. What sets it apart? Its velvety texture and the perfect balance of sweetness make it stand tall among other chocolate mousse cakes.
Premium MSW Durian Cake
The Premium MSW Durian Cake is nothing short of a dream for those with a penchant for the king of fruits. Using the finest Musang King durian, this cake captures the essence of this beloved fruit in every bite. It's a harmonious blend of tradition and innovation - keeping the authentic taste of durian while presenting it in a contemporary style that's hard to resist.
Black Forest Cake (No Alcohol)
The Black Forest Cake is a classic that many cherish. Temptations Cakes takes this beloved recipe and gives it a fresh twist by ensuring it's free from alcohol. With layers of chocolate sponge, cream, and cherries, its preparation stays true to its roots. The absence of alcohol ensures that the cake retains its authentic flavor, making it a treat for all age groups.
Why Choose Temptations Cakes for Yew Tee Deliveries?
Yew Tee residents, here's some sweet news for you! With Temptations Cakes, you're not just getting a cake but an experience. Temptations Cakes' impeccable service ensures that every cake is delivered to your doorstep fresh. Whether it's a celebration or a regular day, elevate your moments with the unmatched quality and taste that only Temptations Cakes can offer. So, the next time you crave a slice of heaven in Yew Tee, you know where to turn!
How to Place Your Order
Placing an order with Temptations Cakes is as simple as pie, or in this case, cake! Follow these easy steps to get your desired cake delivered right to your doorstep in Yew Tee:
1. Visit the Official Website
Head over to the Temptations Cakes' official website. The homepage will showcase our range of offerings.
2. Browse and Select
Navigate through the variety of cakes available. Once you've chosen the cake you desire, click on it for more details.
3. Choose Size and Quantity
Select the appropriate size and quantity for your cake depending on the occasion and number of guests.
4. Add to Cart
Once satisfied with your selection, click the 'Add to Cart' button.
5. Checkout
Navigate to the cart, review your order, and proceed to checkout. Here, you'll be prompted to provide delivery and payment details.
6. Confirm Order
After entering the necessary details, confirm your order. You'll receive a confirmation with the details of your purchase.
Tips to Ensure a Smooth Delivery Experience in Yew Tee
Provide Accurate Address Details: Ensure the delivery address is accurate and complete to avoid problems.
Specify Delivery Time: If you have a preferred delivery time slot, make sure to mention it during the checkout process.
Stay Available: Be available on the provided contact number during the delivery window to assist the delivery person if needed.
Keep the Delivery Area Accessible: Ensure that the delivery area is easily accessible to avoid any delays.
Conclusion
In the bustling neighborhood of Yew Tee, the luxury of having gourmet cakes delivered right to your doorstep is a game-changer. The convenience, the quality, and the sheer variety of offerings make Temptations Cakes the go-to choice for all cake aficionados in the area. Every slice tells a story of dedication, passion, and an unwavering commitment to delighting taste buds.
So, Yew Tee residents, why wait? Dive into a world of delectable delights with Temptations Cakes Delivery. Contact us and place your order now! Indulge in a taste that lingers long after the last bite!