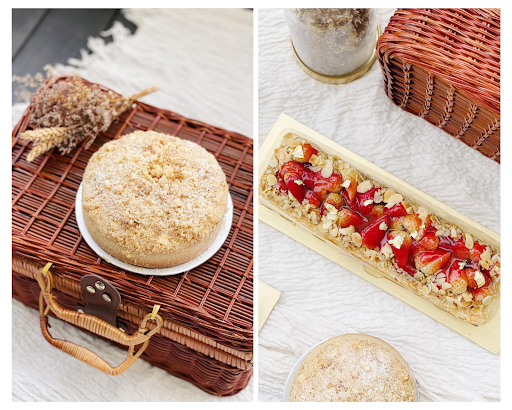 In the heart of Jurong East, there exists a virtual wonderland of delectable delicacies brimming with flavors that cater to every discerning palette. Welcome to Temptations Cakes! While this renowned name might not adorn a physical storefront in Jurong East, it's made an indelible mark online. Now, with just a few clicks, the residents can plunge into a world of gourmet cakes without leaving their homes. This convenience embodies the modern age - where quality meets comfort.
Why Choose Temptations Cakes?
Knowing what sets a brand apart is essential when the myriad of choices beckons. Let's explore the captivating allure of Temptations Cakes:
Unmatched Quality and Craftsmanship
Temptations Cakes isn't just about baking; it's about creating a culinary masterpiece. We source the world's most premium ingredients and combine them with our time-honored baking techniques. Our devotion to baking is evident in each layer, each crumb, and every creamy swirl. When you choose us, you're not just getting a cake - you're experiencing a tradition of excellence.
Life's too short for ordinary flavors. Our menu is a testament to the vast world of delectable tastes. From the deep richness of classic chocolate to the zesty undertones of modern tropical flavors, our range is a journey for the senses. Whether you're a purist at heart or an adventurer in spirit, our cakes have a flavor story for every taste bud.
Temptations Cakes believes that a cake should be a spectacle. It's not just an edible item but an art piece. Our cakes are crafted with a keen eye for detail and a deep appreciation of design. The result? A cake that's as photogenic as it's delicious. It's not just a dessert; it's an experience.
Everyone has a unique story, and we believe your cake should too. Our customizable options let you infuse your personal touch into our creations. Whether you want a special message piped in an elegant script or a design that mirrors your unique love story, we're here to craft your dream into reality.
Easy and Efficient Online Ordering
We live in a digital age, and Temptations Cakes is right there with you. Our sleek, user-friendly online platform lets you order your perfect cake from home. Seamless, efficient, and designed with you in mind.
Life is unpredictable. But with our reliable same-day delivery service, your cake needs never will be. Whether it's a last-minute surprise party or an unplanned dessert craving, we've got you covered. With Temptations Cakes, every moment is worth celebrating.
Ordering Process
Before diving into the pool of flavors, it's pivotal to understand the seamless process:
Set out on a delectable journey as you explore our vast selection of cakes. With an array tailored to suit every palate, every occasion, and every whim, let your cravings or special moments guide you through our delightful offerings. From the classic and comforting to the unique and vibrant, each cake beckons with a promise of sheer indulgence.
Once enticed by a particular flavor or design, a straightforward selection and your impending treat stand between you. With Temptations Cakes, your dream dessert is just a click away.
There's something exceptional about a cake that mirrors your sentiments or the theme of your event. If you're yearning for that unique touch, Temptations Cakes is eager to bring your vision to life. With skilled artisans at the helm, your customized cake becomes more than just dessert—it becomes a statement. Please note to ensure perfection and to fulfill your requirements. We kindly request a three-day notice for custom orders.
We value the uniqueness of every customer's needs. Whether planning or making a last-minute decision, we offer flexibility in how you receive your cake. Opt for our reliable delivery service to bring the cake straight to your location, or relish the anticipation a bit more by picking it up at our store. Whichever you choose, we ensure the process is seamless and convenient for you.
Best Seller Cakes
The Signature Chocolate Mousse Etoile is a luxurious dessert that combines moist chocolate sponge layers with velvety bittersweet Belgian chocolate mousse. A decadent chocolate ganache drizzle adds richness, while crunchy roasted nuts provide a delightful contrast. This masterpiece offers a harmonious blend of textures and flavors, celebrating the art of chocolate indulgence.
Experience the exceptional with our Premium MSW Durian Cake—a tropical delight that is more than just a cake; it's an accolade and the reigning Best Durian Cake in Singapore. This masterpiece boasts creamy, rich durian sponge layers that redefine indulgence, making any occasion truly monumental, whether it's a birthday or an ordinary day.
A symphony of textures and flavors. Every bite is a journey with our Chocolate Hazelnut Crunch Cake - creamy hazelnut mousse, moist chocolate sponge, culminating with a rich chocolate ganache and a crunchy chocolate feuilletine base. A harmonious blend of crunch and smoothness!
Conclusion
At Temptations Cakes, we craft more than just cakes - we sculpt moments and mould memories. Nestled in the bustling heart of Jurong East, our essence transcends the confines of a physical store. In today's digital age, we've bridged the gap between traditional artistry and modern convenience. The magic of our cakes is now merely a click away, with the promise of same-day delivery, ensuring freshness at your doorstep. 
Why settle for mere descriptions and imagination? Immerse yourself in our world of sweet indulgence. Explore the diverse array of Temptations Cakes and elevate your celebrations to a symphony of flavors and art. Today, let's go beyond simply acknowledging an occasion - transform it into an unforgettable memory with Temptations Cakes.
Join us in creating moments that linger on the palate and in the heart. Experience Temptations Cakes today and indulge in a slice of perfection. Order now to savor the delight!