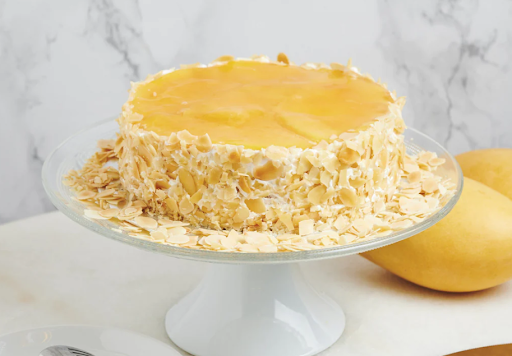 "Ever craved a delicious cake but didn't find your favorite cake shop at the mall?" You might be wondering about this, we're here to tell you a secret: Temptations Cakes doesn't have a physical shop at Vivocity. Surprise, right? But that's not a problem at all. You know why? Because we deliver our cakes right to your doorstep! You don't have to worry about going to the mall to get your cake fix.
We'll tell you more about how you can get Temptations Cakes' yummiest treats straight to your home. So stay tuned and get ready to learn about the sweet world of cake delivery!
Ready to Surprise Someone Special with a Delicious Cake? 
We offer unique and beautiful cakes baked fresh daily! We have something for every occasion, from birthdays, anniversaries, and weddings to corporate events and celebrations. Our cakes are made with quality ingredients and sophisticated flavors- professionally crafted by our passionate pastry chefs.
Make any event special with a luxurious dessert experience that everyone will love. Surprise them with one of our gorgeous creations so they can take in all the delightful details - it's sure to leave them smiling for days after the party. Perfect for when you want your celebration to be truly unforgettable! 
Order online at Temptations Cakes Delivery today and deliver your treats straight to your doorstep!
Why are Cakes a Favorite item for Special occasions?
Cakes have long been associated with special occasions and for good reason!
Special occasions often call for something sweet and indulgent, and what better treat to satisfy that craving than a delicious cake? There's something undeniably joyful about a towering confection, complete with layers of creamy frosting and intricate decorations.
Cakes have become a beloved staple of celebrations everywhere, from birthdays to weddings to holidays, and it's not hard to see why. With endless flavor combinations and stunning designs, cakes are versatile desserts that can be customized for any occasion.
Plus, sharing a slice with loved ones is a cherished tradition that brings people together to celebrate life's milestones. When it comes to making lasting memories, cakes are a sweet and satisfying choice that's sure to please.
Vivocity - Temptations Cakes Delivery Service
Ensure you get your cakes fresh, fast, and in perfect condition. Our cakes are delivered directly to your doorstep in no time, ensuring an enjoyable experience for everyone. From custom-crafted birthday cakes to themed wedding cakes, we have a selection of exquisite treats for every occasion. With Temptations Cakes Delivery Service, we guarantee satisfaction with every order. You can place your order here. 
Temptations cakes is located at 199 Sims Ave, Singapore 387503. Delivery is by arrangement only, and delivery charges will be applied according to distance from the shop.
Delicious Cakes for Every Occasion
When it comes to cakes, we have something for everyone! Our selection of cakes can suit any occasion, and we also offer Celebration cakes that will make your special occasions even more memorable.
Birthday Cakes
Birthday cakes are one of the most special occasions to have a special cake. Our birthday cakes have different themes, designs, and flavors so that you can pick the perfect one for your special person. A unicorn cake is perfect for a birthday party. Don't hesitate and let us know how we can help make your event even more special with our amazing cakes!
Gender Reveal Cakes
If you're looking for a way to make your gender reveal special, why not go with one of our Gender Reveal Cakes? We have beautiful designs that are sure to delight your family and friends. You can also make customized colors and designs to fit the gender you're expecting. One of the most popular is our Pastel Macarons Overload which is perfect for any gender reveal party. From its colorful design, it will be the highlight of your event.
Wedding Cakes
We understand that your wedding is one of the most important days of your life, and we want to make it extra special with our unique and flavorful wedding cakes. Many of our cakes come in various sizes and flavors so that you can customize them to fit your needs. 
Our creations are truly one-of-a-kind, and you can be sure that your wedding cake will be the talk of the day. You may check our creations here and see all the amazing flavors and designs we offer.
Corporate Events Cakes
We also offer cakes for corporate events. Whether you're hosting a holiday party, a team-building event, or an office gathering, we have cakes that will surely be your event's highlight. 
Our elegant designs will add the perfect touch to your corporate event. You may check out some of our corporate event cakes that will inspire you by clicking here. Brand logo printing and packaging are also available.
Longevity Cakes
A longevity cake is a traditional Chinese cake that is made to celebrate the birthdays of elders. Our longevity cakes come in different sizes and flavors so that you can pick the perfect one for your loved ones. 
We also provide custom designs, so you can make it extra special. Our Vintage Fleurs is a great example of one of our longevity cakes that your loved ones will appreciate.
These are just some of the cakes that we offer. You may check out our full range of cakes for other occasions and special events.
Custom Orders Available
We also do custom orders. We understand that everyone's tastes and preferences are different, so we will work with you to create the perfect cake for your special occasion. 
All you need to do is provide us with details about your event, and we can develop something unique for you. We can make it for you whether you're looking for a simple or extravagant cake.
Our delicious cakes are sure to make your special occasion even more memorable. Check out our custom-made cakes if you want something extra special or unique for your event. 
Our creative team of pastry chefs will work with you to create a one-of-a-kind cake that's perfect for your celebration. We can make it in any flavor, size, and design. All you have to do is tell us what you need.
Home Delivery Service for Your Convenience
We also offer a home delivery service so you can enjoy our cakes without worrying about picking them up.
We can deliver your order right to your doorstep for a small fee. Terms and conditions may apply depending on location. So if you want to ensure your order arrives safely and on time, contact us for more details about our home delivery service.
You may check our website's Delivery and collection policy and learn more about our delivery service. Please click here for more information.
Affordable Prices to Fit Every Budget
At Temptations Cakes, we offer cakes for all occasions at affordable prices. We aim to make our unique and delicious cakes accessible to everyone, regardless of budget. We have various packages available, so you can choose one that best fits your needs and budget.
We are committed to providing high-quality cakes at reasonable prices. We guarantee that you will be happy with the results!
Discover Easy Steps on How to Order Your Favorite Cake from Temptation Cakes
Ordering a cake from Temptations Cakes is easy. All you need to do is follow these four simple steps:
Step 1: Choose your preferred cake design or tell us your requirements.
Step 2: Select your cake's size, flavor, and decoration.
Step 3: Enter delivery date, time, and address details.
Step 4: Make payment and wait for your delicious cake to arrive!
So what are you waiting for? Visit our website or contact us now and start ordering your dream cake! We guarantee that it will be nothing short of spectacular.
Tips for Caring for Your Cake
We understand that you want your cake to be perfect on the day of your event. That's why we recommend extra care when handling and storing the cake. 
Here are a few tips to ensure it stays fresh:
Keep the cake in an airtight container or wrap it in plastic to preserve its freshness.
Refrigerate the cake if it contains dairy products such as cream, buttercream, or cheese.
Do not freeze the cake unless necessary. If you need to freeze it, wrap it tightly in plastic wrap or foil before placing it in the freezer.
With these tips in mind, you can be sure that your cake will stay fresh and delicious until the day of your event.
Choosing The Best Cake Shop for Your Special Occasion
There are several considerations you must keep in mind when choosing the right cake shop.
Here are a few tips to help you make the right decision:
Check reviews and ratings online to understand what other customers think of the bakery.
Read customer feedback about the quality of their cakes and services.
Compare prices from different bakers before making your final decision.
Choose a bakery that uses quality ingredients and offers unique flavors.
Look for delivery options and ensure the bakery delivers your cake on time.
Customer service should be top-notch, and the staff should be friendly and helpful.
Check out cake presentations and designs by visiting the bakery or viewing photos.
We are confident that Temptations Cakes is the best choice for your special occasion. With our experienced team of pastry chefs, delicious cakes, and affordable prices, we guarantee you won't be disappointed!
Frequently Asked Questions
Q: Do you offer a home delivery service?
A: Yes, we offer a home delivery service for a small fee.
Q: What flavors do you offer?
A: We have a wide variety of flavors, such as chocolate, fruity flavors, and more.
Q: Do you offer customization services?
A: We can customize any cake according to your needs and preferences.
Conclusion
The delivery service at VivoCity is a fantastic addition to this bustling Singaporean city. The cakes at Temptations Cakes may be the perfect addition for any occasion, whether an afternoon snack with a friend or an extravagant cake for your birthday. Their wide selection of cakes makes finding something that everyone will enjoy easy. 
Their delicious cakes are crafted with only the finest ingredients and delivered right to your door—allowing you to kick back and indulge without worrying about running out! So if you are ever looking for a sweet treat to satisfy your dessert cravings, consider Temptations Cakes for their unique and mouth watering cakes. They are sure to fill up your heart, stomach, and soul!
What better way than having a wonderful cake delivered straight to your door? Be sure to check out the website for Temptations Cakes today for more information about the cakes on offer, and don't miss out on this one-in-a-lifetime treat! Enjoy your sweet tooth's indulgence!