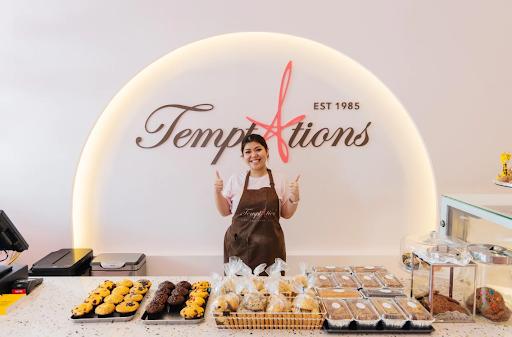 In the heart of Bukit Batok, where many establishments vie for attention, a name silently whispers but profoundly influences cake lovers - Temptations Cakes. But here's the twist: instead of a physical storefront in Bukit Batok, Temptations Cakes makes its delightful presence felt through an online platform. Bringing you the convenience of doorstep cake delivery in Bukit Batok, we offer a seamless blend of traditional baking artistry with contemporary comfort.
How to Order Cakes Online
Ordering cakes online can sometimes feel like navigating through a maze of confusing options and endless pages. At Temptations Cakes, securing your happiness should be as smooth as the buttercream icing on our cakes. With that in mind, our online ordering process is designed to be straightforward and hassle-free. Let's delve deeper into how you can transform a mere craving into a delightful reality in just a few clicks:
1. Browse Through Our Tempting Array
Imagine walking through an art gallery, where you're greeted with visually stunning cakes instead of paintings. Our online platform strives to offer a similar experience. Every cake has a vivid description and an appetizing image to help you make an informed choice.
As you navigate, you'll discover a spectrum of choices. From the comforting embrace of timeless classics to the thrill of contemporary, avant-garde designs, there's a cake waiting to resonate with your mood or occasion. Let our cakes be your companion, whether you're relishing old memories or creating new ones.
2. Book Your Cake
Found the one? Great! Now, the magic unfolds. After finding the cake that sings to your palate, booking is a breezy affair. You can select the size, quantity, and any additional preferences by simply clicking on your chosen cake.
The intuitive interface ensures that you don't get lost in the process. Once done, the cake moves to your cart, symbolizing that it's now set to be crafted specially for you. Think of it as your personal baker noting down your order with a smile, ensuring it's made to perfection.
3. Choose Your Delivery Method
We believe convenience is the cherry on top of a delightful shopping experience. Once you've finalized your cake choice, it's time to decide how you'd like to receive it.
Our same-day cake delivery in Singapore is a lifesaver for spur-of-the-moment celebrations or sudden cravings. We ensure that even on short notice, your cake reaches you fresh, intact, and on time. But if you enjoy the anticipation or perhaps want to incorporate a drive or a walk into the experience, opting for self-pick-up is also available. Whatever your preference, we align our services to ensure your cake-buying experience is as sweet as the cake itself.
Customized Orders
Customization is the soul of exclusivity. In an era of mass production and cookie-cutter designs, personal touches add uniqueness and breathe life and meaning into products. At Temptations Cakes, we deeply resonate with this sentiment, especially when it comes to cakes, which often hold center stage at significant moments in our lives.
Your Occasion, Your Design
Every festivity or event has its story, theme, and emotion. Whether it's the innocent jubilation of a child's first birthday, an anniversary's romantic aura, or graduation's jubilant vibe, your cake should mirror that sentiment. This belief underpins our offering of customized cakes.
As you approach us with a vision or idea, you're not just ordering a cake; you're initiating the creation of edible artwork. The canvas? Our moist and soft bases range from velvety chocolate to light sponge. The paint? An array of fillings, flavors, and icings that add hues and tastes to your creation.
Boundless Creativity with Expert Guidance
While your imagination is the guiding star, our expert bakers are the skilled navigators who bring your vision to life. You can choose to blend flavors, create thematic designs, or even incorporate personal elements like photographs or messages. Worried about how a particular flavor might pair with another? Or how a certain design might look on a tiered cake? Fear not. Our team, rich with experience and knowledge, will guide you, ensuring that every element harmonizes perfectly.
Crafting Perfection Takes Time
Good things come to those who wait, and perfection, especially in the culinary arts, is no exception. As much as we understand the thrill of spontaneity, custom creations demand care, precision, and above all, time.
To ensure that every shade, every layer, and every garnish aligns flawlessly with your envisioned masterpiece, we kindly request a three-day notice for all customized orders. This time allows us to source the freshest ingredients, plan the design meticulously, and execute the baking and decorating processes without any rush.
When a Cake Becomes a Memory
Ultimately, what we deliver isn't just a cake—it's a culmination of your emotions, our craftsmanship, and the magic of the occasion. It's a piece that doesn't just please the palate but remains etched in the memory long after the last bit is savored.
At Temptations Cakes, we're not just baking cakes; we're baking memories, ensuring every slice resonates with emotion, flavor, and love. Embrace this journey of co-creation, and let us craft a masterpiece exclusively for you.
Best Seller Cakes to Try
Dive into layers of our Tiramisu. A luxurious coffee-soaked savoiardi biscuit layered with a creamy mascarpone mixture. Every bite of our Tiramisu cake offers a delicate balance of bitter and sweet, promising a journey through Italian lanes of dessert wonders. Experience the rich textures and flavors; you'll know why it's a best-seller.
Revisit the timeless classic that combines chocolate's indulgence with cherries' freshness. Our version of the Black Forest Cake comes without alcohol, making it a delightful treat for all ages. Layers of soft chocolate sponge, juicy cherries, and luscious whipped cream create a dance of flavors on your palate.
Our Yummy Durian Puffs are the answer for those who seek a bite-sized wonder. The pungent and creamy durian filling encapsulated in a light puff pastry is perfect for an afternoon snack or to satiate those sudden dessert cravings. And they come in a box of six because one is never enough!
Conclusion
Temptations Cakes is more than just an online cake delivery service. It's a promise of quality, flavor, and unmatched convenience. With our same-day delivery option in Singapore, a delightful cake experience is always just a few hours away.
But why remain in the realm of words? Dive into our world. Explore our extensive array of cakes and pastries. Let every occasion, or even a simple day, become an unforgettable memory with Temptations Cakes. Indulgence is just a click away. Browse, select, and savor!
Visit Temptations Cakes Now!