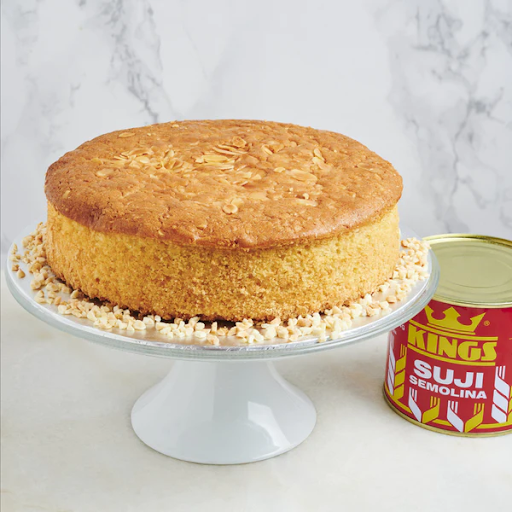 Sugee cake is a traditional dessert with a special place in many people's hearts. How much do you know about this special cake? Here are five essential facts you need to know to keep the tradition of Sugee cakes alive.
Understanding the Timeless Appeal of Sugee Cakes
At Temptations Cakes, we take pride in our Sugee cakes, which have become popular among our customers over the years. The timeless appeal of Sugee cakes is undeniable, as generations of Singaporeans have enjoyed them.
Our Sugee cakes are made with the finest ingredients, including semolina, butter, and ground almonds, giving them a unique texture and rich, nutty flavor. We prepare each cake with the utmost care and attention to detail, ensuring every slice is moist and delicious.
One of the reasons Sugee cakes have stood the test of time is their versatility, and they can be enjoyed as a dessert or snack with a cup of tea or coffee. They are also famous for special occasions such as weddings, birthdays, and other celebrations.
At Temptations Cakes, we have put our spin on the classic Sugee cake by introducing new flavors and decorations to appeal to modern tastes. Our Sugee cakes come in various sizes and shapes, making them perfect for any occasion.
At TemptationsCakes, we offer mouth-watering Sugee cakes in four different styles, Original, Chocolate Ganache, Fondant Icing, and with Marzipan! We are proud to be recognized as Singapore's best cake shop selling Sugee cakes. Our high standards of quality and customer service are our top priorities. Temptations Cakes is your perfect destination to serve a delicious and timeless dessert for your next event.
The History & Origins of Sugee Cakes
Sugee cake, also known as semolina cake, has a lengthy and fascinating history. The cake is well-liked in many other regions, including Malaysia, Singapore, and Sri Lanka. It is thought to have originated in India, where it is known as suji cake.
The Middle East, where semolina flour was a common ingredient in regional delicacies, is where Sugee cake started. Almonds, cardamom, and saffron were added as native ingredients when the recipe was transported to India, giving the cake its distinctive flavor.
Sugee cake gained popularity in India and other Asian countries, where it was frequently served at significant events like weddings and religious festivals. Due to its delicious flavor and thick texture, the cake quickly gained popularity among locals and guests and quickly spread to other cultures as a sign of celebration and welcome.
Sugee cake was brought to various regions in the early 20th century, including Malaysia and Singapore, where it quickly established itself as a standard dessert in many homes. The cake's flavor and texture were altered by adding regional ingredients like pandan leaves and coconut milk to the original recipe.
Sugee cake is still a well-liked delicacy today and is still appreciated for its flavorful, moist texture and historical and cultural significance. Sugee cake has a particular place in many people's hearts. Its history and origins continue to captivate and inspire people worldwide, whether served at a formal event or eaten as a casual treat.
A Guide to the Different Variations of Sugee Cakes
Sugee cake is a versatile delicacy that may be prepared in various ways. Here is a guide to some of the most well-liked Sugee cake variations:
Indian traditional Sugee cake: This is the conventional Sugee cake recipe from India. Semolina flour, butter, sugar, eggs, almonds, and cardamom are all components. The cake has a rich, nutty flavor and is dense and moist.
Semolina flour, coconut milk, and pandan leaves are the main ingredients of Malaysian Sugee cake. It is pale green in color and has a faint coconut flavor.
Sri Lankan Sugee Cake: Semolina flour, sugar, eggs, cashew nuts, and rose water are used to make Sri Lankan Sugee cake. It has a crumbly texture and a delicious buttery flavor.
Singaporean Sugee Cake: Singaporean Sugee cake is similar to the Malaysian version but frequently has other ingredients like raisins or dried fruits. It has a delicate pandan taste and a soft, fluffy texture.
Goan Sugee Cake: Semolina flour, butter, sugar, eggs, and ground almonds make goan Sugee cake. It has a rich, nutty flavor and a dense, moist texture.
European Sugee Cake: Semolina flour, butter, sugar, eggs, and ground almonds are used to make this cake. It frequently has orange or lemon zest added to the flavor and a light, fluffy texture.
Vegan Sugee Cake: Semolina flour, plant-based butter, sugar, and ground almonds make vegan Sugee cake. Similar to the conventional Indian form, it has a rich, nutty flavor and a dense, moist texture.
There are numerous ways to make Sugee cake, each with a different flavor and consistency. Sugee cake is a delicious and adaptable treat that will satisfy any sweet craving, whether you want the traditional Indian version or one with a more contemporary twist.
Sugee Cakes for Every Celebration: A Guide to Flavors and Fillings
Sugee cake is a beautiful delicacy that may be made in various ways to fit any celebration or event. Sugee cake is customized and made into a one-of-a-kind dessert that is ideal for any occasion by adding different tastes and fillings.
For a formal occasion like a wedding or anniversary, where a more traditional dessert may be favored, a traditional Almond Sugee Cake is ideal. A fruit-filled Sugee cake, on the other hand, is perfect for a relaxed gathering or brunch where a light and fruity dessert would be more fitting.
Sugee cake can be made in various flavors and fillings, allowing for ethnic and regional variants. For instance, rose Sugee cake is a standard option for bridal showers, while cardamom Sugee cake is a famous taste in Indian and Middle Eastern cuisine.
The dessert will be more inclusive and pleasurable if the hosts provide a choice of Sugee cake flavors and fillings to suit the tastes and preferences of their visitors. Sugee cake is, all in all, a flexible and delectable dessert that can be customized to fit any celebration or occasion.
Passing on the Sweet Tradition of Sugee Cakes: Tips for Baking with Children
The Sugee cake custom can be passed down, and lifelong memories can be made by baking with kids. Here are some pointers for Sugee cake baking with kids:
Pick an easy recipe: It's crucial to pick a recipe that is simple to follow and calls for a few ingredients when baking with kids. Children will find baking to be more pleasurable and less intimidating as a result.
Plan ahead: Allow ample time for baking because it may take longer with kids. Prepare all the ingredients and equipment in advance and schedule each process.
Involve kids in the preparation process: Children can assist with measuring and combining materials, cracking eggs, and decorating the cake. They will feel a sense of pride and ownership in the finished project.
Safety should always be emphasized. Ensure kids are aware of any potential dangers in the kitchen and give them clear instructions on safe baking techniques. Handle hot cookware with oven mitts, and exercise caution when using sharp objects.
Have fun: Children should enjoy helping with the baking process. Focus on making memories and enjoying yourself in the kitchen rather than worrying too much about the outcome.
Teach kids about the significance of Sugee cakes and their history as you are baking with them. You may also use this time to show them how to make and eat Sugee cakes the traditional way.
The custom of Sugee cakes can be shared, and lifelong memories can be made by baking with kids. Baking with children can be a productive and enjoyable experience for all parties involved with a bit of forethought, preparation, and patience. 
If you would like a professional cake shop to do it for you, you can enjoy such a delicacy. Please contact Temptations Cakes. We assure high quality products and customer satisfaction.
The Future of Sugee Cakes: Keeping the Sweet Tradition Alive
Because it signifies the continuity of a long-standing cultural tradition, the future of Sugee cakes is significant. In addition to being a delectable treat, Sugee cakes play an essential role in the cultural history of communities with ties to them.
We can ensure that future generations can taste and appreciate this distinctive and delectable treat by upholding the heritage of Sugee cakes. Additionally, it aids in preserving the history and cultural identity of the populations that have ties to this desert.
Furthermore, the development of Sugee cakes is crucial since it may spur innovation and originality in the baking industry. Sugee cakes may inspire new iterations and flavors as interest in the dish grows, and this can support maintaining the Sugee cake tradition as fresh and relevant for coming generations.
Overall, the future of Sugee cakes is significant because it represents both the chance for baking innovation and preserving a cultural legacy. We can ensure that this delectable and distinctive dessert is cherished and enjoyed for years by maintaining the heritage of Sugee cakes.
Conclusion: Celebrating the Timeless Charm of Sugee Cakes
Sugee cake has been a favorite among people for many years. It has evolved into a classic adaptable to numerous festivities and occasions because of its moist texture and nutty flavor.
We can see how Sugee cake has contributed significantly to the cultural legacy of various communities through its history and origins. The different Sugee cake varieties demonstrate their adaptability and capacity to accommodate diverse tastes and preferences.
It is crucial to preserve Sugee cake baking with kids and keep the tradition going for future generations to enjoy and understand its distinctive flavors and history.
In conclusion, Sugee cake has endured time, and people are still drawn to its allure and beauty. We can respect the cultural importance and rich history of Sugee cake by honoring it and keeping the custom alive.
Temptations Cakes is a heritage cake shop in Singapore, where quality and perfection is heavily pursued here. Curious how different can cake taste with us? Order one now!
You can find us at 199 Sims Ave, Singapore 387503. Alternatively, you can contact us at onlinesales@temptationscakes.com.sg or +65 9821 2666. Be sure to follow us on Temptations Cakes Facebook & Temptations Cakes Instagram.