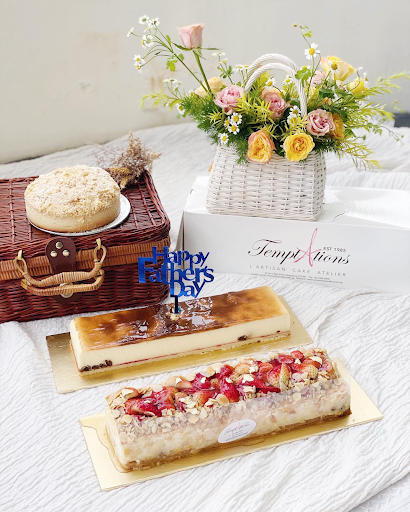 Greetings to all the dessert lovers in Ang Mo Kio! Ever craved a slice of heavenly cake but didn't know where to find one in the vicinity? We have some delightful news for you. While Temptations Cakes may not have a physical store in Ang Mo Kio, they're bringing their exquisite range of cakes directly to your doorstep with their efficient online delivery!
No more wandering the streets or settling for second best. With just a few clicks, you can now indulge in the tantalizing flavors and textures that Temptations Cakes is renowned for. Explore our online catalog, place your order, and before you know it, a delectable treat will be on its way to satisfy your sweet tooth. Embrace the future of dessert shopping, Ang Mo Kio residents, because Temptations Cakes has got you covered!
Ang Mo Kio's Culinary Palette
Ang Mo Kio isn't just a neighborhood; it's a melting pot of culinary experiences. The food culture here is diverse, with various flavors and cuisines waiting to be explored. Online cake delivery is pivotal in connecting residents to these unique culinary delights.
From traditional hawker stalls to contemporary dining establishments, Ang Mo Kio's gastronomic landscape is a testament to this vibrant community's rich cultural tapestry.
The Seamless Online Ordering Process
Ordering Temptations Cakes online is a breeze. Our user-friendly platform ensures a hassle-free experience from start to finish. Let's walk you through the simple steps:
Visit the Temptations Cakes website.
Browse our extensive menu, featuring a variety of mouthwatering cakes and desserts.
Select your desired treat and customize it to your liking.
Place your order, choosing from available delivery time slots.
Sit back and relax as your Temptations Cakes delivery arrives at your doorstep.
The convenience of doorstep delivery means you can enjoy these delectable creations without leaving home.
A Tempting Array of Flavors
Our tempting array of flavors includes something for everyone. Each of our creations is a delightful symphony of flavors and textures crafted with care to elevate your everyday and special occasions. Join us as we introduce you to these exquisite treats.
Experience the perfect harmony of sweetness and tanginess with our Mixed Fresh Fruit Flan. Indulge in three layers of succulent fruit slices nestled between a delicate vanilla sponge cake, all enveloped by a luscious custard cream. The finishing touch of a light fruit jelly glaze makes this treat ideal for any occasion, a true crowd-pleaser!
Elevate your indulgence with the Chocolate Hazelnut Crunch Cake, now available in an eggless variant. Immerse yourself in the velvety smoothness of hazelnut mousse layered luxuriously between a moist chocolate sponge. Topped with a rich chocolat e ganache and nestled upon a decadent chocolate feuilletine base, each bite is a symphony of flavors and textures.
Dive into nostalgia with our Black Forest Cake (No Alcohol) Eggless. A marvel of moist chocolate cake layers intertwined with luscious chocolate mousse and a dark, sweet cherry filling. This timeless classic remains an irresistible favorite, enveloped in freshly whipped cream and adorned with delicate chocolate shavings. Delight all generations as they vie for the meticulously placed fresh Maraschino cherries atop the whipped frosting.
Elevating Everyday and Special Occasions
Temptations Cakes isn't limited to grand celebrations; it's about enhancing the beauty of everyday life. Whether savoring a peaceful evening at home or marking a significant milestone, these delectable treats are your ideal companions. Add a touch of sweetness to your day-to-day routine or create lasting memories with Temptations Cakes during birthdays, anniversaries, and various special occasions.
Our cakes and desserts offer customization options, allowing you to shape your order according to your tastes and preferences. It's not just about indulging; it's about submitting in your way, making each bite a personalized delight. With Temptations Cakes, every moment becomes a sweet celebration of your unique journey.
We believe in the power of desserts to bring people together, spark joy, and create lasting connections. Whether you're surprising a loved one with a sweet gesture or simply treating yourself to a slice of happiness, our creations are designed to turn the ordinary into the extraordinary. So, let us be a part of your journey, and together, we'll turn every moment into a sweet celebration that you'll cherish forever.
Supporting the Ang Mo Kio Community
Temptations Cakes connects Ang Mo Kio's residents to unique and delightful culinary experiences. While Ang Mo Kio is renowned for its local flavors, Temptations Cakes complements this culinary landscape by offering a diverse range of cakes and desserts that cater to everyday indulgence and special occasions.
Our online delivery service bridges the gap between tradition and innovation, allowing residents to explore a world of sweetness beyond their local hawker centers. Our tempting creations, like the Mixed Fresh Fruit Flan, Chocolate Hazelnut Crunch Cake (Eggless), and Eggless Black Forest Cake (No Alcohol), bring excitement to celebrations and personal moments.
By embracing online delivery, Temptations Cakes provides residents with convenient access to our exquisite treats and celebrates Ang Mo Kio's culinary diversity. We're honored to be a part of this dynamic community, adding sweetness to everyday life while keeping the rich food culture that defines this remarkable neighborhood.
Order Your Temptations Experience Today
Temptations Cakes Delivery offers unmatched convenience, diverse flavors, and uncompromising quality. Don't miss out on the opportunity to savor gourmet delights in the comfort of your home. Order now and let the sweetness come to you!
To place your order, visit the Temptations Cakes website. Browse the menu, customize your treats, and select a convenient delivery time slot. It's as easy as that! Start your Temptations experience today and elevate your culinary journey.
Savor Sweet Moments at Temptations Cakes
We've unveiled the world of Temptations Cakes delivery in Ang Mo Kio, where convenience meets culinary excellence. From the diverse flavors to the seamless online ordering process, it's clear that Temptations Cakes has mastered the art of delivering joy to your doorstep.
Whether it's a daily indulgence or a special celebration, these treats enhance your life's sweet moments. Modern convenience doesn't have to compromise on taste; you can have it all with Temptations Cakes.
With Temptations Cakes Delivery, savoring gourmet delights has never been easier. Treat yourself and your loved ones with the exquisite flavors we offer. Order now and let the sweetness come to you!