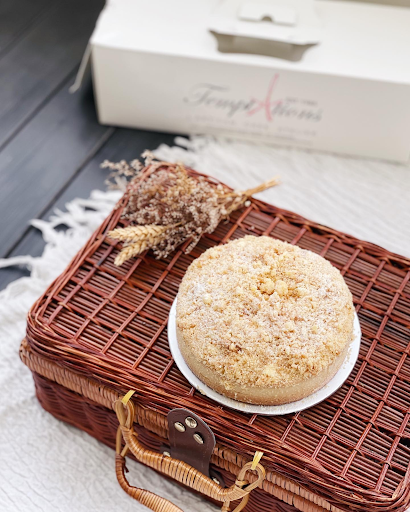 Welcome to Temptations Cakes Delivery in Bishan, where indulging in delicious cakes is as easy as a few clicks. In this article, we'll explore the sheer convenience and delightful experience of savoring delicious cakes from the comfort of your home. Join us as we delve into the offerings, delivery process, and overall indulgence that Temptations Cakes brings to the heart of Bishan.
While Temptations Cakes might not have a physical storefront in Bishan, you will not miss out their delicious offerings. Thanks to the wonders of modern technology, getting a slice (or more!) of their delectable cakes has never been easier. By simply placing an order online, you can have the sweet, indulgent flavors of Temptations Cakes delivered right to your home. Say goodbye to long travels and hello to convenient, mouth-watering treats. Dive into a world of confectionery delights without stepping out of Bishan!
Temptations Cakes: A Glimpse into Decadence
Temptations Cakes isn't just a bakery; it's a destination for those seeking the pinnacle of cake craftsmanship. Our journey is paved with passion and precision, resulting in cakes that are not just desserts but masterpieces. With an unwavering commitment to crafting high-quality, delectable cakes, Temptations has earned its reputation as a beloved establishment in Singapore.
What sets Temptations Cakes apart is our dedication to perfection. Each cake we create is a work of art, a harmonious blend of the finest ingredients and the skillful hands of our expert bakers. The result? Cakes that not only look stunning but also taste divine. From classic flavors to innovative designs, Temptations Cakes offers a wide range to cater to every palate, ensuring every slice is a delightful experience.
The Bishan Connection: Delivering Delight
Nestled in the heart of Singapore, Bishan is more than just a neighborhood; it's a thriving community where residents value the finer things in life. And what could be finer than indulging in the exquisite cakes from Temptations Cakes? Bishan residents are in luck, as Temptations Cakes' delivery services extend our warm embrace to this vibrant locality.
The accessibility of Temptations Cakes' delivery services to Bishan residents is a boon. With a few simple steps, you can have the cake of your dreams delivered right to your doorstep. But wait, there's more. Watch for exclusive offers and perks explicitly designed for Bishan customers. It's Temptations' saying, "Thank you for making us a part of your community."
How to Order: Seamless Indulgence
Ordering your favorite Temptations Cake in Bishan is a seamless experience designed to cater to your preferences with precision. The user-friendly interface of our website or app simplifies the process, making it accessible to cake enthusiasts of all ages. Here's a step-by-step guide to help you navigate the ordering process effortlessly:
Visit the Website: Start your journey by visiting the Temptations Cakes website. You'll be greeted with an array of tempting options.
Browse the Selection: Take your time to explore the diverse range of cakes on offer. From classic choices to innovative creations, there's something for everyone.
Customize Your Cake: Once you've chosen your cake, it's time to make it uniquely yours. Select the size, flavor, and design best suits your occasion and personal taste.
Add to Cart: With your customized cake, add it to your cart. Double-check your selection to ensure everything is perfect.
Checkout: Proceed to checkout and follow the prompts to complete your order. You can select your best date and time to ensure your cake arrives right when you want it.
Payment: Payment is a breeze, with various secure options available to suit your preferences.
With these easy-to-follow steps, you'll have placed your Temptations Cakes order in no time, and your cake will be on its way to sweeten your day.
Delectable Delivered: Unboxing Temptations Cakes
The moment your Temptations Cake arrives is a moment of pure delight. As you eagerly unbox your delivery, the anticipation and excitement reach a crescendo. The meticulous packaging preserves the cake's freshness and enhances the overall unboxing experience.
Picture this…
You open the box, and there it is, your chosen cake, a work of art. The design is impeccable, and the aroma is irresistible. You can't help but marvel at the attention to detail that Temptations Cakes invests in every order. From the elegant presentation to the delectable scent that wafts through the room, it's an experience that heightens your anticipation of the taste to come.
Flavors that Fascinate: A Gastronomic Journey
Temptations Cakes takes pride in offering an exquisite array of flavors, each designed to fascinate your palate. Here are some of our most popular offerings:
Imagine a cake that's a tropical symphony, a medley of tastes that dance on your taste buds. The Fresh Mango Splash Cake is precisely that. It's a masterpiece that starts with layers of light vanilla sponge cake, delicate and airy. But it doesn't stop there; it's brimming with creamy goodness that's indulgent yet not overpowering.
What truly makes this cake stand out is the generous adornment of ripe, succulent mangoes. Each bite is a balanced blend of sweetness and freshness that's simply irresistible. It's the perfect indulgence for mango enthusiasts, celebrating the fruit's natural allure. Whether savoring it on a warm summer afternoon or as a satisfying dessert after a hearty meal, this cake brings sunshine and tropical paradise to your palate.
For those seeking a slice of tradition and nostalgia, the Almond Sugee Cake is a revelation. This buttery semolina cake is a testament to the Eurasian heritage of Temptations' chef. With every bite, you'll immerse yourself in the rich, nutty flavors reminiscent of cherished days.
The cake is a work of art, a balance between the dense, crumbly texture of semolina and the warmth of almonds. It's as if you're taking a culinary journey through time, where flavors evoke memories of family gatherings and comfort. The Almond Sugee Cake isn't just a dessert; it's a slice of heritage that brings comfort and joy with every bite. Whether you're sharing it with loved ones or savoring it in solitude, it's a culinary experience steeped in tradition and love.
Journey back in time with the Classic Buttercream Cakes, where every bite evokes the warmth of family gatherings and celebrations. These cakes are a tribute to the classics, offering a taste of nostalgia with every mouthful.
The beauty of the Classic Buttercream Cake lies in its simplicity. It's a canvas of flavors where the richness of buttercream meets the classic trio of vanilla, chocolate, and coffee. These flavors have stood the test of time, bringing comfort and delight to generations.
The vanilla layer is a sweet reminder of childhood, a familiar and cherished taste. The chocolate layer adds depth and indulgence, a moment of pure decadence. And the coffee layer, with its subtle kick, awakens your senses and takes you on a journey of sophisticated flavor.
Each of these cakes is a testament to Temptations Cakes' commitment to crafting flavors that not only tantalize your taste buds but also evoke emotions and memories. Whether you choose a fruity delight or a classic favorite, you're in for a gastronomic journey.
A Slice of Celebration: Occasions Made Special
Temptations Cakes Delivery can elevate any occasion, making it unique and memorable. Imagine the following scenarios:
Birthday Bliss
It's your loved one's birthday, and you want to surprise them with a cake that's not just delicious but also visually stunning. Temptations Cakes can turn your vision into reality, ensuring the birthday boy or girl is greeted with a cake that reflects their personality and preferences. From themed cakes to personalized designs, birthdays become even more joyous with Temptations.
Anniversary Elegance
Celebrating a milestone in your relationship? Whether it's your first anniversary or your golden jubilee, Temptations Cakes can create a cake that symbolizes your love and commitment. From romantic designs to flavors that ignite passion, our cakes add a layer of sweetness to your special day.
Gathering Grandeur
Planning a get-together with friends and family? Temptations Cakes can be the centerpiece of your gathering, sparking conversations and smiles. Our diverse range ensures that there's something for every guest, making your gathering truly grand.
But don't just take our word for it; hear from customers who have transformed their celebrations with the magic of Temptations Cakes. Their stories are a testament to the joy and happiness that these cakes bring to any occasion.
From Oven to Home: Ensuring Freshness
One might wonder how a cake can maintain its freshness during delivery. It's a valid concern, and Temptations Cakes takes it seriously. To guarantee that your cake arrives in perfect shape, we employ several measures:
Preservation Methods
Temptations Cakes uses cutting-edge preservation methods that lock in the freshness of our cakes. From temperature-controlled storage to specially designed packaging, every detail is considered.
Packaging Techniques
The packaging of your Temptations Cake is not just for show; it's designed to protect your cake's taste and texture. The layers of packaging are carefully crafted to shield your cake from external elements while maintaining its visual appeal.
Delivery Logistics
Temptations Cakes has a streamlined delivery system that ensures your cake is transported with the utmost care. Our trained delivery personnel understand the delicacy of our cargo and handle it accordingly.
So, when your Temptations Cake arrives at your doorstep, you can rest assured that it's as fresh and delightful as if it had just come out of the oven.
Indulgence Redefined at Temptations Cakes
Temptations Cakes Delivery in Bishan redefines indulgence. The convenience, quality, and variety offered by Temptations Cakes make it a go-to destination for cake lovers. With doorstep delivery, you can elevate your dessert experiences without stepping out.
Whether it's a quiet evening at home, a special celebration, or a self-indulgence, Temptations Cakes has the perfect cake. It's not just about the cake; it's about creating moments of pure joy and delight with each slice. Discover the magic for yourself, and let Temptations Cakes become your partner in sweet indulgence.
Ready to experience the Temptations Cakes delight? Don't miss out; order your cake today! Visit our website and explore the mouthwatering options waiting to grace your celebrations.
Indulge in Temptations Cakes and create moments of pure delight with every bite. Your cake journey begins here.