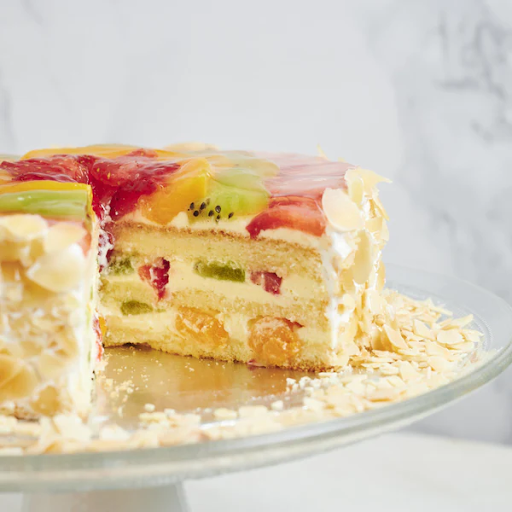 Fruity cakes, renowned for their flavorful sweetness and festive appearance, have long been a favourite treat. Fruity cakes hold a particular place in many people's hearts, whether served at holiday gatherings or eaten as a snack in the afternoon. Fruity cakes are a unique and flavorful dessert that can be savoured all year round. They have a blend of sweet, tart, and nutty flavours
In this blog, we'll delve into the world of fruity cakes and offer advice on creating the ideal fruity cake environment. We will walk you through every stage of making a memorable fruity cake experience, from choosing the perfect recipe to setting a lovely table and pairing it with complimentary drinks. So take a piece of your preferred fruity cake and come along on this delicious adventure with us.
1. Popular Fruity Cakes Amongst Singaporeans
Singapore is a fusion of various countries and cuisines, which is also true of its dessert scene. Singaporeans love fruity desserts, and there are wide delectable varieties. Here are a few of Singapore's most well-liked fruit cakes:
Traditional Fruit Cake: Traditionally, dried fruits like raisins, currants, and candied citrus peel are combined with nuts, spices, and other ingredients to make fruit cake. To guarantee that the fruit and nuts are distributed uniformly throughout the cake and stay moist, the cake is frequently baked gently at a low temperature.
Strawberry Shortcake: Fresh strawberries, whipped cream, and layers of sponge cake are used to create the traditional dessert, strawberry shortcake. It is a simple dessert that is excellent for any occasion.
Durian Cake: Although durian is a contentious fruit, fans can't get enough of this cake. This cake is a distinctive and flavorful treat made with layers of sponge cake and creamy durian filling.
These fruity cakes are just a few among Singapore's numerous delectable dessert options. There will likely be a fruity cake in Singapore that you'll adore, whether you prefer tropical fruits or traditional flavours.
2. Different Types of Fruits Used in Fruity Cakes
Fruit cakes are a delectable dessert that goes well with any meal. The diversity of fruits used in the recipes is one of the essential elements of fruity cakes. Each type of fruit imparts the cake its distinct flavour, texture, and colour, resulting in a delectable and aesthetically pleasing treat. In more detail, let's examine the many fruit varieties frequently used in fruity cakes.
One of the most frequently used fruits in fruity cakes is berries. These tiny, vivid fruits give the cake a sweet, acidic flavour and a striking splash of colour. Fruity cakes frequently contain strawberries, blueberries, raspberries, and blackberries. They can be used as a topping or incorporated into the cake mix and used fresh or frozen.
Another fruit frequently used in fruity cakes is tropical fruit, and these exotic fruits give the cake a unique and distinctive flavour. Popular tropical fruity cake ingredients include papaya, mango, and pineapple, and these fruits are frequently combined with other fruits to make a well-rounded and delectable dessert.
Additionally, stone fruits like peaches, apricots, and plums are frequently included in fruity cakes. These fruits have a soft acidity, are lusciously sweet, and provide depth to the cake's flavour. They can be used fresh or in a can and are frequently added as a topping or baked into the cake batter.
Pears and apples are other common fruits for fruity cakes, particularly in the fall. When combined with warm spices like cinnamon and nutmeg, these fruits give the cake a sweet and somewhat sour flavour, making it the perfect autumnal dessert.
Lastly, citrus fruits like oranges, lemons, and limes lend a tangy and refreshing flavour to fruity desserts. They can be used in the cake mix, as a topping, or in a glaze and are frequently combined with other fruits to provide a well-balanced flavour profile.
3. The Art of Baking & Decorating Fruity Cakes: Tips & Tricks
Fruity cake baking and decorating may be enjoyable and satisfying, and you may make beautiful cakes that will surprise your friends and family using the appropriate tips and techniques.
Choose the proper fruit: While preparing fruity cakes, picking the right fruit is essential. Fruits in season will have the finest flavor and be the most affordable, so you should use them. In addition, choose fruits that are firm and not overly ripe because they will bake better and maintain their shape.


Consider using fruit purees in your batter to give your cake a burst of fruit flavor. Simply puree your preferred fruit and incorporate it into the cake batter before baking. This will add a wonderful and subtle natural fruit taste to your cake.


Include little pieces of fruit into the mixture as another technique to give your cake a fruity flavor. Fruits like berries or chopped peaches go great with this. Dusting the fruit pieces with flour will ensure that they are distributed evenly after you add them to the batter.
Layer with fruit fillings: Layering your cake with fruit fillings is a fantastic method to give it a fruity flavor. Fruits like strawberries or raspberries go great with this. To make a fruity, delectable dessert, simply spread the fruit filling between the layers of cake and on top of the cake.


Try diverse fruit combinations; don't be scared to do so while baking with fruit. Strawberries and bananas, blueberries and lemon, or peaches and raspberries are a few examples of fruit combinations that go nicely together. Cake flavors that are delicious and distinctive can be created by experimenting with various fruit combinations.
Last but not least, remember to add fruit as a decorative feature on your cake. Fresh berries can be used to form a spectacular fruit garnish, while sliced strawberries or kiwis make a lovely and delicious topping for a cake.
These are just a few tips and tricks that cake makers use when creating fruity cakes. Remember to have fun and experiment with different fruits and flavor combinations to create your own unique and delicious cake creations.
4. Choosing the Right Fruity Cake For Your Occasion
A birthday dessert option that works well is a bare summer cake. The cake has a light, refreshing flavour that is perfect for outdoor events, and it looks informal and rustic, which creates a cosy, relaxed atmosphere. One of the distinguishing characteristics of a bare summer cake is that it frequently has fresh fruit on top, which not only gives the cake a lovely splash of colour but also makes it a healthier alternative. Including fresh fruit also balances out the cake's richness and creates a mouthwatering flavour profile.
Additionally, a bare summer cake is a fantastic choice for individuals who wish to have a more relaxed and unstructured birthday celebration. The cake is perfect for informal birthday celebrations, outdoor events, or gatherings with a natural or organic theme because of its plain and rustic appearance. 
A bare summer cake is a fantastic alternative for celebrating a birthday because it is a tasty, excellent, and lovely dessert option tailored to a range of tastes and preferences.
For several reasons, a mixed fresh fruit flan might be the ideal dessert choice for various events.
It is a dessert that can be eaten in any season and is first and foremost, light and delicious. The combination of fresh fruits offers a delightful and nutritious substitute for decadent desserts that might be more suited for the winter or the fall.
A second benefit of a mixed fresh fruit flan is its eye-catching look, likely to impress visitors thanks to the fruits' vivid hues. This makes it a fantastic choice for events like gatherings and parties where presentation is crucial.
Third, it is a practical choice for time-pressed hosts who want to spend more time with their guests because it is simple to prepare and can be made in advance.
A mixed fresh fruit flan is a tasty dessert that can be served on various occasions. It is also healthy, beautiful to look at, and flexible.
Conclusion: Making Every Occasion Special with Temptations' Fruity Cakes
The bottom line is that fruity cakes are a tasty and adaptable dessert choice that can be eaten on any occasion. A fruity cake suits every taste and experience, from light and refreshing cakes suitable for summer picnics to rich and decadent cakes served for special events.
Temptation's selection of fruity cakes may make any occasion more memorable. Each bite of our cakes explodes with flavour since they are produced with the freshest and best ingredients. We have something for everyone, whether you rather a traditional mixed fruit cake or something more distinctive, like our mixed fresh fruit flan cake.
You can make your own delectable and lovely sweets with our baking and decorating advice for fruity cakes. And you can make every celebration special by following our advice on picking the ideal fruity cake for your event.
So why not make your next celebration memorable by indulging in a Temptations fruity cake?
TemptationsCakes is a heritage cake shop in Singapore, where quality and perfection is heavily pursued here. Curious how different can cake taste with us? Order one now!
Hit us up at 199 Sims Ave, Singapore 387503. If not, you can contact us at onlinesales@temptationscakes.com.sg or +65 9821 2666. Be sure to follow us on Temptations Cakes Facebook & Temptations Cakes Instagram.