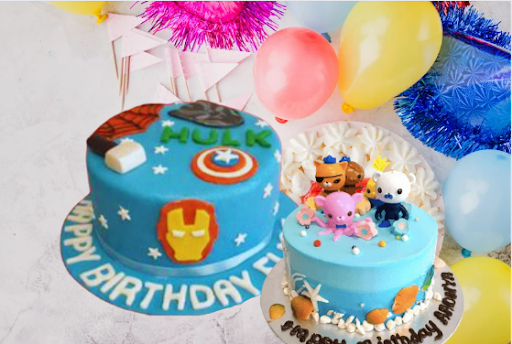 Cartoon cakes are a popular and entertaining dessert option for children's birthdays and other special occasions. These cakes are made to please kids of all ages and feature well-known cartoon characters, including Mickey Mouse, the Minions, Paw Patrol, and many more.
Cartoon cakes can be prepared in several flavours and presentation types, from traditional vanilla or chocolate cakes to more distinctive options like rainbow or red velvet cakes. The real fun starts when these cakes are decorated with detailed patterns and vibrant frosting that bring the cartoon figures to life.
These cakes can look like the cartoon or movie character your child likes, adding a unique and memorable touch to any birthday party. They work well for themed celebrations and can be used with other decorations, such as balloons and party favours, to create an exciting and engaging environment for children.
In conclusion, cartoon cakes are an excellent way to spice up your child's birthday party and are sure to make them happy. You can choose the ideal cartoon cake to fit your child's preferences and make their birthday party unforgettable thanks to the variety of possibilities available.
Finding the Perfect Theme for Your Child's Birthday Cake
It's crucial to pick the ideal theme for your child's birthday cake because it establishes the mood for the entire celebration. You can select from various themes, from traditional alternatives like princesses and superheroes to more distinctive and personalised options like preferred hobbies or interests.
Cartoon characters are a common topic for children's birthday cakes. Children of all ages will appreciate the adorable cartoon characters from well-known movies, TV series, and video games included in these cakes. Mickey Mouse, the Frozen cast, the Minions, and many more are examples of well-known cartoon characters used in cakes.


Animals are another well-liked subject for children's birthday cakes. A child's favourite animal or a group of animals, such as a jungle or zoo theme, can be featured on an animal-themed cake. These cakes can be embellished with plastic animal toys, buttercream, or fondant cut into the shapes of animal heads or bodies or other embellishments.
Sports-themed cakes are a common choice for birthday parties for kids, especially for older kids. The favourite team emblem or a child's favourite sport, like basketball or soccer, might be featured on these cakes. These cakes can be embellished with plastic sports-themed embellishments, fondant, or frosting in the shape of sporting goods.


Finally, customised cakes representing a child's interests or hobbies are a fantastic choice for birthday parties. For instance, if your child enjoys reading, a cake in the form of a book or with a favourite book character on it may be ideal. Another option is a cake embellished with planets and stars if your youngster is interested in space.
Overall, your child's interests and preferences will determine the ideal theme for their birthday cake. However, so many choices are available that you're sure to find the perfect cake to make your child's birthday celebration genuinely memorable.
Creative Decorative Ideas for Cartoon and Superhero Cakes 
Cartoon and superhero cakes are a fun and well-liked option for kids' birthday parties, and there are many original ways to create them. The following suggestions can help you make your child's cake extra special:
Character Designs: Use fondant to make elaborate character decorations because they can be moulded and moulded into complex forms. Fondant is a frosting type ideal for crafting intricate character decorations. The characters can be made out of fondant, or you can add features like superhero badges or cartoon accessories.
Visuals: Edible images are printed designs that may be placed on top of a cake, adding a bright and amusing touch. Use edible images to add personalities to the cake. You can use edible representations of your child's favourite cartoon or superhero movie characters or scenes.
Interaction: Add props and accessories to make the cake more dynamic and interactive. Adding props and accessories can make the cake more dynamic and interactive. For instance, you may make a cartoon cake with a small toy car or build on top of a superhero cake with a miniature action figure.
Use Vibrant & Colourful Icing: If your cake has a cartoon or superhero theme, vibrant and colourful frosting can help it stand out and convey the fun and excitement of the theme. For a more spectacular appearance, use bright, bold colours or a variety of frosting hues to create a rainbow effect.
Use Theme Cake Toppers: Using themed cake toppers is a simple way to give your cake a playful and fun feel. Popular cartoon or superhero cake toppers are readily available, or you can make your own using printed graphics or cardboard cutouts.
You can add a special touch to your child's birthday celebration by making their superhero or cartoon cake one of these imaginative suggestions.
At TemptationsCakes, we provide customised cakes. Feel free to step in and have a say in your child's birthday cake's design.
Making Your Child's Birthday Cake Memorable
Cartoon cakes are a common and enjoyable approach to making your child's birthday cake special. An excellent method to make the cake distinctive and unique is to use the theme of your child's favourite cartoon character like Into the Forest Cake. Cartoon cakes come in various alternatives, from straightforward designs with a single character to more intricate designs with many characters and situations.
You can include custom touches representing your child's interests and personality to make the cartoon cake more memorable. You may, for instance, have the logo of your preferred sports team or favourite pastime. Additionally, you can add unique accents like balloons, party hats, or even a miniature toy that goes with the cake's theme.
Using imaginative decorations is another technique to make the cartoon cake distinctive. To make a more dramatic exhibition, you can adorn the cake with props and accessories or use frosting to construct intricate character embellishments. You can use edible graphics or cake toppers to add more characters or scenes to the cake.
Using a cartoon cake to make your child's birthday cake distinctive is a beautiful approach to creating lasting memories. You may make the cake for your child's birthday party unique by adding personalised touches and using your creativity with the decorations.
Fun Ways to Incorporate Cartoon & Superhero Characters into Your Child's Cake
Cartoon and superhero figures can be included in your child's cake in several entertaining ways, such as by crafting 3D character toppers, edible image embellishments, themed cupcakes, scene-based cakes, and adding personalised notes. These original suggestions might add a special touch to the cake for your child's birthday party.
The Benefits of Choosing Cartoon and Superhero Themes for Your Child's Cake
To add fun and excitement to your child's birthday celebration, consider making their cake have a cartoon or superhero theme. One of its main advantages is the degree of personalization possible with this strategy. You may quickly adapt the music to your child's unique hobbies and preferences thanks to the variety of cartoon and superhero characters available. This can enhance the cake's feeling of specialness and individuality and build excitement and anticipation for the big event.
The familiarity it can evoke is another advantage of picking a cartoon or superhero theme for your child's cake. Including cartoon or superhero characters in the cake can help create a familiar and reassuring atmosphere for kids, who frequently have a deep affinity with these characters. This is very helpful for younger children who feel anxious or overawed by all the attention they receive on their birthday.
Choosing a cartoon or superhero theme for your child's cake might simplify planning and carrying out the design, in addition to individuality and familiarity. Various tools are available online and in stores to assist you in making the ideal cake, and there are many well-known figures to pick from. There are several ways to bring your child's favourite characters to life, including pre-made cake toppers, edible decorations, DIY tutorials, and inspiration boards.
Choosing a cartoon or superhero theme for your child's cake can be a satisfying and enjoyable approach to enhance the memory of their birthday party. You can make a cake that is not only aesthetically pleasing but also catered to your child's tastes and preferences with the appropriate approach and a little imagination.
Tips for Decorating Cartoon and Superhero Cakes
Cartoon and superhero cake decorating can be thrilling and fun, but it can also be difficult if you require to become more familiar with the techniques. Here are some ideas to assist you in making a cake that is both delicious and visually appealing:
Use reference pictures: It's important to have reference pictures to work from when designing a cake with cartoon or superhero figures. This will enable you to guarantee the accuracy and recognizability of your decorations. Reference pictures can be found online, in books, or on the licensed character item packaging.
Choose a colour scheme: A colour scheme can assist in tying the cake's design together. Choose a colour scheme that goes well with the characters you're utilising. Employ hues from the characters' attire or the surrounding area to create a unified look.
Create a focal point: Consider prominently including one or more characters to create a focal point on the cake. Creating a 3D character topper or employing an edible representation of the character as the centrepiece are two ways to accomplish this.
Use edible decorations: You can shape and colour edible embellishments like fondant or gum paste to create intricate details on the cake. These embellishments can be used to construct the characters' characteristics, attire, and accessories.
Try different textures: they can add depth and interest to your cake. You can pipe frosting in various patterns and designs or use textured fondant to do this.
Personalise the cake: Consider putting personal elements in the cake's design, such as your child's name, age, a favourite pastime, or interest.
You can make a cake that looks fantastic and tastes fantastic and captures your child's personality and hobbies by using the advice in this article. However, it might be troublesome to make a cake yourself from scratch, you might want to contact Temptations for more cake selections.
Making Your Child's Birthday Cake an Unforgettable Experience
In conclusion, making a personalised birthday cake for your child is a beautiful way to commemorate their special day and show them how much you care. You can add superhero and cartoon elements to their cake to make it exciting, engaging, and reflecting their interests. There are endless options to customise your child's cake, whether you design a 3D character topper or use edible decorations to add complex features. You can make a cake that looks not only fantastic but also tastes fantastic and leaves an impression on your child and their visitors with a bit of forethought and imagination. So go ahead and use your imagination—the opportunities are unlimited!
Temptations will put up a good show for your child's birthday. Fret not, leave it in our hands. Contact us now for any customisations you might want!
TemptationsCakes is a heritage cake shop in Singapore, where quality and perfection is heavily pursued here. Curious how different can cake taste with us? Order one now!
Track us down at 199 Sims Ave, Singapore 387503. Also, you can contact us at onlinesales@temptationscakes.com.sg or +65 9821 2666. Be sure to follow us on Temptations Cakes Facebook & Temptations Cakes Instagram.