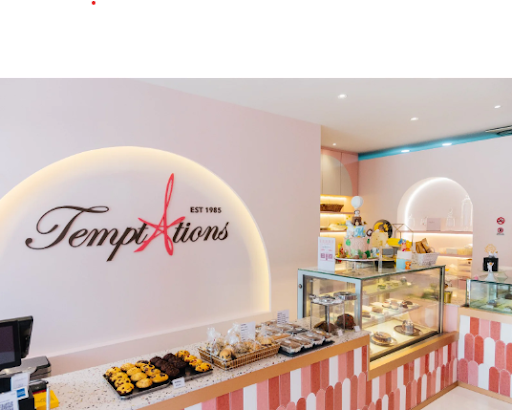 Cake! The mere mention of this delightful dessert can make you smile. A cake is essential to the celebration, whether a birthday, anniversary, or event. Finding the perfect cake can be challenging, but Jurong East Cake Shop: Temptations Cakes Delivery in Singapore makes it a breeze. With its wide array of options, exceptional customer service, and the convenience of online delivery, Temptations Cakes is the ultimate cake shop experience.
While you won't find a physical shop at Jurong East, we are thrilled to announce that Temptations Cakes now offers a convenient cake delivery service, bringing our delightful creations straight to your doorstep.
In this blog, we'll explore why Temptations Cakes should be your go-to cake shop and why online cake delivery is a game-changer for your celebrations in Singapore. So, let's dive in and uncover more about this fantastic cake shop!
Why Choose Temptations Cakes For Your Next Celebration
A Wide Variety of Delicious Cake Options
One of the top reasons Temptations Cakes is the best choice for your next celebration is the wide variety of available cake options. No matter your preference or dietary needs , there's a cake for everyone. From classic flavors like chocolate and vanilla to unique options such as durian and matcha, there's a cake that will satisfy your taste buds.
Not only do we offer a vast selection of flavors, but we also provide customizable designs. Whether you desire a simple, elegant design or a fun, themed cake, the skilled bakers at Temptations Cakes can bring your vision to life. This personalized touch makes your celebration even more special.
High-Quality Ingredients for Superior Taste
When it comes to cake, taste is everything. Temptations Cakes uses only high-quality ingredients to create our delicious masterpieces. Every ingredient, from the rich, velvety chocolate to the freshest fruits, is carefully chosen to ensure a superior taste experience.
Easy-to-use Website for Seamless Ordering
In today's fast-paced world, convenience is key. The user-friendly website of Temptations Cakes makes it easy for customers to browse their cake selection, customize their order, and complete their purchase in just a few clicks. The website's clean design and easy navigation create a hassle-free ordering experience.
Attentive and Responsive Staff
Whether you have questions about a specific cake, need assistance placing an order, or require help with a delivery issue, the attentive and responsive staff at Temptations Cakes is always ready to lend a helping hand. Our commitment to excellent customer service ensures your needs are met, and your celebration goes off without a hitch.
Competitive Pricing and Exclusive Discounts
You don't have to be broke to enjoy a delicious, high-quality cake at Temptations Cakes. Our competitive pricing makes it easy for customers to indulge in their favorite cakes without feeling guilty about the cost. With Temptations Cakes, you can have your cake and eat it too!
Promotions and Special Offers Available Online
Temptations Cakes offers exclusive discounts and promotions on its website to make its cakes even more enticing. Keep an eye out for these amazing deals to save even more on your cake purchase.
Benefits Of Online Cake Delivery In Singapore
Save Time with Door-to-door Delivery
One of the main reasons why online cake delivery in Singapore is gaining popularity is the time-saving aspect. With Temptations Cakes, you don't need to worry about picking up the cake yourself. Instead, we deliver it to your doorstep, saving you precious time on other aspects of your celebration.
Convenience and Ease
Ordering a cake online from Temptations Cakes is as easy as a few clicks. From the comfort of your residence, you can browse through their extensive selection, customize your order, and arrange for delivery. You no longer have to stress dealing with traffic, searching for parking, or carrying a delicate cake through crowded streets. Online cake delivery eliminates all these hassles and makes your life easier.
Freshness and Punctuality
When it comes to cakes, freshness is crucial. You want your cake to taste as good as it looks. With Temptations Cakes' online delivery service, you can rest guaranteed that your cake will arrive fresh and on time. Our reliable delivery service ensures your cake arrives in perfect condition, just in time for your celebration.
Temptations Cakes: The Ideal Choice For Online Cake Delivery In Singapore
Positive Customer Testimonials and Reviews
The mark of a great cake shop is the satisfaction of its customers. Temptations Cakes has garnered numerous positive reviews and testimonials from customers who have enjoyed their cake creations. From the quality and taste of the cakes to the excellent customer service, Temptations Cakes has established time and time again that they are the best choice for online cake delivery in Singapore.
Coverage of Various Locations in Singapore
Whether in the city's heart or a quiet suburban neighborhood, Temptations Cakes has you covered. Our efficient delivery service ensures that customers across Singapore can enjoy their delicious cakes without hassle. This broad coverage makes it easy to surprise your loved ones with a cake delivery, no matter where they are in the city.
Trusted Brand with Years of Experience
With years of background in the cake industry, Temptations Cakes has built a reputation for delivering amazing cakes that look and taste amazing. Our commitment to customer satisfaction is apparent in every aspect of their business, from their user-friendly website to their attentive and responsive staff.
FAQs
Q: Do you offer eggless or vegan cake options?
A: Temptations Cakes offers eggless and vegan cake options for customers with specific dietary requirements. Be sure to mention your preferences when placing your order, and they will accommodate your needs.
Q: Can I order a cake for a large event or corporate function?
A: Absolutely! Temptations Cakes can create cakes for large events or corporate functions. Contact our customer support to discuss your requirements, and we will work with you to create the perfect cake for your event.
Q: Can I order a cake for same-day delivery?
A: Same-day delivery may be possible, depending on the cake type and availability. Contact Temptations Cakes directly to inquire about the possibility of same-day delivery for your order.
Conclusion
In conclusion, Temptations Cakes brings the joy of delightful desserts and exquisite cakes right to your doorstep, even if there isn't a physical shop at Jurong East. Our commitment to quality, taste, and artistry shines through in every creation we offer. With a wide range of flavors and designs to choose from, there's something to suit every occasion and satisfy every craving. Whether you're celebrating a milestone, surprising a loved one, or simply treating yourself, our cakes are sure to make a lasting impression.
Our dedicated team of bakers and decorators pour their passion and creativity into every cake they craft, ensuring that not only do they taste exceptional but they also look like true works of art. We believe that every moment is worth celebrating, and our cakes are designed to enhance those special moments and create lasting memories.
While a physical shop may be absent at Jurong East, our convenient cake delivery service ensures that you can enjoy the Temptations Cakes experience from the comfort of your own home. Ordering is easy, and our team works diligently to ensure that your cake arrives fresh, beautifully packaged, and ready to be savored.
So, whether you're craving the classic flavors that never fail to impress or looking to explore new and unique combinations, Temptations Cakes has you covered. Our commitment to quality, attention to detail, and exceptional customer service make us the go-to destination for all your cake and dessert needs.
Ready to make your next celebration even more special with a delicious cake from Temptations Cakes? Visit our website to browse our selection and place your order. Remember to keep an eye out for exclusive discounts and promotions to make your cake experience even sweeter!