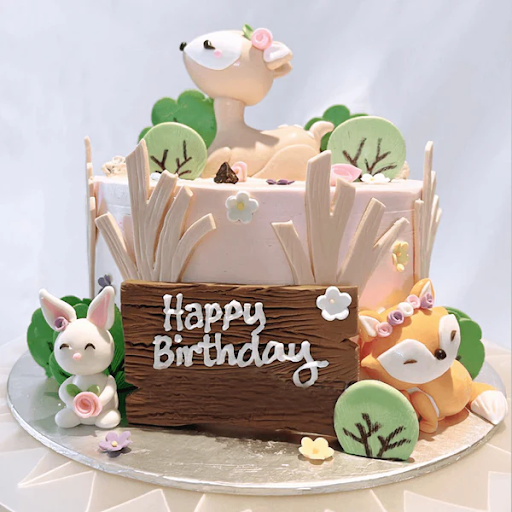 Customised cakes are usually the focal point at every party! The texture, appearance, and cake flavours contribute to the custom cake's distinctiveness. The appropriate cake can make everyone feel better and add joy and pleasure to any occasion. The option to customise these cakes only adds to their allure.
A cake has the power to make the event more cheerful and unique. Cutting the cake is one of the important occasions commemorating a birthday, anniversary, wedding, farewell, success celebration, or festival. Birthdays are always special, and when you include a delectable cake in the celebration, it makes it even more enjoyable. While everyone gathers various items for a party, a cake is always the top priority. Since the cake is one of the most excellent components of any celebration, it would be impossible to have a party without it. Everyone, regardless of age, expects a cake that looks good and tastes great! This article will help us to understand Why We Should Choose Customised Cakes for that one special occasion instead.
To make purchasing a cake quick and straightforward, we provide this step-by-step guide on this blog.
1. Order Early and Plan Ahead of Your Event
The customised cakes carefully created at Temptations Cakes would require at least 1 week. Hence, it would be better to reach out to us earlier to ensure we can prepare your cake by your preferred date.
2. Select the Cake Size
Choosing your cake size depends on the number of guests you have and our cake specialists will be able to advise. Do note that the size of your cake will impact the entire cake design; specific designs appear better with tall cakes, while others can only be used with tiered cakes.
As you converse with the event organisers, keep these smart questions in mind.
Is it for a private occasion or a party with lots of people?
How many people will be at your party?
Besides the main cake, do you need a dessert table?
Do your guests enjoy cake, or do they prefer bite-sized desserts?
Will other food or pastries be offered at the event, like cupcakes or macarons?
You can choose the best size by answering these questions to establish your cake size. Tiered cakes are advised for significant events like weddings or 21st birthday parties, and cakes are regarded as the event's centrepiece and the feature that impresses your visitors most.
If your party attendees like cake, we suggest choosing the exact cake pax from our cake menu since this would be the perfect portion size. We recommend reducing the size of your cake if your party also features other sweets like cupcakes or macarons. However, as our cakes keep well in the refrigerator for up to a week (though best eaten fresh on the day of course) and may be enjoyed whenever you choose the following day, there is no such thing as having too many cakes.
Commonly Asked Questions
What Distinguishes a Tall Cake from a Traditional Cake?
The towering cake will give the entire design a touch of class and beauty. A tall cake would better suit some bespoke cake designs, such as flower cakes. Ultimately, it will depend on how your custom cake is made.
Can I Select a Variety of Cake Flavours for Two or Three-tier Cakes?
Yes, you can choose a different flavour for each cake layer so your visitors can sample a range of treats!
3. Theme for Your Occasion
A customised cake goes above and beyond what is typically done with cakes. Examples include handmade fondant pieces, fresh flowers, different cake textures, or extra care with your cake's details. You can design a unique cake that incorporates your preferred flavours and suits the party's theme. Just ask our bakery experts to prepare the cake in such a manner.
The best and simplest present to give is a cake. Everyone likes cakes, so giving one as a present can always go right. None of the events, bringing a cake along is simple and shows thoughtfulness. Everyone is happy after taking their first slice of the cake, and they, therefore, represent the natural source of happiness.
Please tell us about the event you are honouring! We will be able to give your cakes extra thought if you let us know what you're celebrating, whether it's a parent's birthday, your child's first birthday, or your wedding anniversary.
Longevity Cakes For Elderlies 
We suggest browsing our Longevity Cakes collection, which features a variety of designs, for senior birthday celebrations. There are countless varieties, such as the Longevity Huat Huat  Cake. We even have cakes with lottery tickets gambling enthusiasts! Mahjong tiles and lottery tickets are all edible decorations. You will undoubtedly enjoy yourself powerfully with your loved ones.
Kid's Birthday Cake
Nobody will be as happy to get a pre-made cake as they will be to receive a personalised birthday cake that integrates a special memory for them. It is a terrific idea to make your children happy by designing a cake with cartoon characters or representations of their hobbies. The birthday cake is undoubtedly the most crucial feature of a children's birthday party, and they plan a unique event that includes all of their favourite things.
Celebrate your child's birthday with a selection of designs based on their favourite animal cake, variations from a cute panda and even an endearing pig! Thanks to our cake, your child's birthday celebration will certainly be memorable!
Wedding or Anniversary Cakes
Your wedding cake ought to reflect the character of your love story. A stunning wedding cake adds elegance to the once-in-a-lifetime event and gives your guests something to marvel over. On any occasion, the wedding cake is a show-stopper and frequently the centre of attention. Cakes with flower themes are ideal for a wedding or anniversary celebration.
Our wedding cakes come in sizes ranging from one to three tiers, and we're optimistic that your ideal wedding cake would be one of our best-selling flower designs, which are now fashionable. Our flowers are available in various colours and sizes for different floral arrangements! We don't skimp on quality and have chosen them to match your unique wedding theme. We are sure that one of our best-selling flower designs, which is currently fashionable, will make your ideal wedding cake. Our wedding cakes range in size from one tier to three tiers. For various floral arrangements, our flowers are available in a variety of hues and sizes!
You won't need to worry about anything because we will transport the cakes to your wedding location. Our skilled cake drivers will ensure they reach your place in good shape because they have years of experience delivering cakes.
4. Selection of Fondant & Cream Covering
Fondant and cream are both popular cake coverings, and each has its own unique benefits.
Fondant is a type of sugar dough that is rolled out and placed over the cake to create a smooth, sleek surface. It provides a clean and polished look, and is perfect for creating intricate designs and shapes. It also provides a strong barrier against heat and moisture, making it ideal for outdoor events.
Cream, on the other hand, is a softer and more natural-looking covering. It is made from whipped cream or buttercream, and provides a creamy and smooth finish. Cream is a good choice for those who prefer a more traditional or rustic look, and is often used for naked cakes or semi-naked cakes. It is also a good option for those who prefer a more subtle sweetness, as cream is less sweet than fondant.
The choice between fondant and cream will depend on personal taste, the design of the cake, and the conditions under which the cake will be served. We provide both flavours at Temptations Cakes so you can take your pick!
5. Yummy Variety of Flavours
We create cakes with designs that are delicious to eat as well as beautiful to look at. Before attaining these tender, moist, and delicious outcomes, our team spent more than a year honing these recipes. Our gourmet cakes, produced from the freshest ingredients, are frosted with either fresh whipped cream, fondant and cream cheese.  These are also some of the many flavours that Temptations offer. Some of Temptation's signature cakes you might want to consider are the Chocolate Mousse Etoile, Premium Durian Cake & the Black Forest Cake.
6. Choice of Self-Collection/Delivery
Because convenience is so essential, Temptations Cakes must aim to enhance the experience for our clients. What could be better than getting a cake you ordered online delivered to your door? If you rather opt for self-collection, we at Temptations can also do that. That's how versatile we are!
We know how crucial it is to get your cake for your Wedding/Birthday celebrations. High levels of client and customer satisfaction result from on-time deliveries. We want to ensure you are on time, so we will make every effort to deliver your cakes on time. 
7. Add-Ons/Extras
Selection of Candles
We add complementary candles to our cakes. However, you can also opt for numeric and firework candles that might spice up your celebration. With our specially created candles, including heart-shaped and number candles, you may add a little shine and happiness to your party.
How Can I Order a Cake?
We accept cake orders in two different methods. Place a straight order if the cake designs you like are available on our website. You should fill up this form if you would like to opt for a customised cake. Choose your cake's size, design, additional cake toppers, and collecting methods to get things going. We'll provide more guidance after that.
You can find us at 199 Sims Ave, Singapore 387503. Alternatively, you can contact us at onlinesales@temptationscakes.com.sg or +65 9821 2666. Be sure to follow us on Temptations Cakes Facebook & Temptations Cakes Instagram.
199 Sims Ave, Singapore 387503 | +65 6440 9200 | +65 9128 4171 | +65 9821 2666199 Sims Ave, Singapore 387503 | +65 6440 9200 | +65 9128 4171 | +65 9821 2666