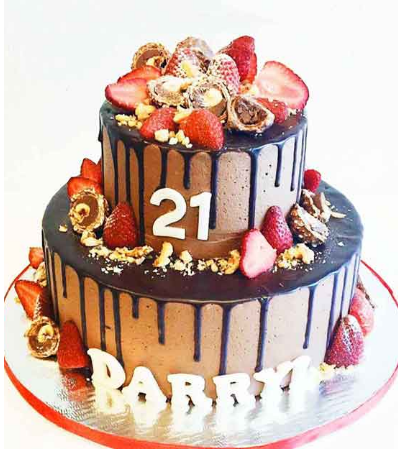 Customised cakes have been created and adorned to satisfy the client's unique requirements and tastes. To suit any taste or occasion, they can be manufactured in various flavours, sizes, and forms and frequently include elaborate designs and decorations. For special events like weddings, birthdays, and corporate gatherings where a unique touch is sought, customised cakes are a popular option. The art of custom cakes requires using premium ingredients and expert baking processes to produce an aesthetically beautiful and delicious cake.
The Art of Customised Cakes for Your Celebration
Whether it's a birthday, wedding, or business event, customised cakes have grown to be an essential component of every celebration. These cakes are an original and distinctive complement to any occasion since they are carefully created and adorned to suit the particular requirements and tastes of the customer. The technique of making personalised cakes involves making a cake that looks magnificent and making sure that it tastes just as wonderful.
A personalised cake can be constructed in several flavours, shapes, and sizes to accommodate any taste or occasion. A cake made by an expert baker will be aesthetically pleasing and delicious since they utilise premium ingredients and take their time to perfect the baking process. The cake can be embellished with exquisite motifs and embellishments, such as hand-painting, sculpture, or intricate piping, to transform it into a work of art truly.
Customised cakes are an excellent way to bring a unique touch to any event, whether it's a whimsical and colourful cake for a child's birthday or an elegant and sophisticated cake for a wedding. The options are unlimited, and with the perfect baker, you can make your dream cake come to life and leave a lasting impression.
Best Cake Shop for Customised Cakes in Singapore
Temptation Cakes is widely regarded as one of the top cake shops in Singapore for personalized cakes.. Some of the explanations are as follows:
Temptation Cakes has a vast selection of cake flavours, patterns, and sizes to tailor your cake to your requirements. They provide various tastes, including salted caramel, and traditional selections like chocolate. They can make cakes in multiple forms and styles to fit any event, and their designs are also very customizable.
Professional bakers: Temptation Cakes employs professional bakers passionate about making aesthetically pleasing and mouth watering cakes. They take great care to guarantee that each cake is perfectly prepared using only the best ingredients. Their attention to detail can be seen in their cakes' elaborate decorations and designs, which are frequently handcrafted and unique for each client.
Affordability: Temptation Cakes offers their cakes at a fair price despite their high quality and customization. They work hard to make their cakes affordable because everyone should have access to high-quality bespoke cakes.
Customer Service: The staff at Temptation Cakes is committed to offering exceptional customer service and goes above and beyond to ensure each customer is happy with their cake. Customers are welcome to collaborate with them to design a cake that precisely suits their requirements and preferences, and they are ready at all times to respond to inquiries or offer advice.
In conclusion, Temptations Cakes is Singapore's most fantastic cake shop for personalised cakes because of its extensive selection, talented bakers, reasonable rates, and top-notch customer service. Temptation Cakes is the best option for your upcoming celebration if you want a personalised cake.
A Guide to the Most Popular Cake Flavors, Designs, and Toppings
Temptation Cakes offers a vast selection of cake flavours, styles, and toppings for every occasion. This is a list of their most well-liked choices:
Cake Flavourings
Chocolate: Rich and moist with a robust flavour, Temptation Cakes' chocolate cake is a traditional favourite.


Red Velvet: The soft and velvety cake with a hint of chocolate taste and creamy cream cheese icing.
Cake Decorations
Floral: Temptation Cakes provides a selection of floral designs, including roses, peonies, and cherry blossoms, which are ideal for weddings and other formal occasions.


Cartoon Characters: Temptation Cakes can make cakes with well-known characters like Mickey Mouse, a cute and whimsical alternative for kids' birthday parties.
Cake Toppings
Fresh Fruit: Temptation Cakes offers a selection of fresh fruits to top their cakes with, such as strawberries, blueberries, and kiwis. This is a tasty and healthful option.
Buttercream: A traditional choice, buttercream frosting may be tailored to each occasion with various flavours and colours.

Fondant: A smooth, elegant choice that can be shaped into many different forms and designs, making it ideal for more formal events.
In conclusion, Temptation Cakes provides a vast selection of cake flavours, patterns, and toppings to fit any event. They have something to suit your preferences, whether you're seeking a traditional chocolate cake or a contemporary geometric design.
How to Choose the Perfect Customised Cake for Your Occasion
Selecting the ideal customised cake for your event can be troublesome, but it doesn't have to be. You can use the following advice to help you choose wisely:
The kind of occasion you're celebrating might significantly impact the cake you pick. A wedding cake, for instance, should be tasteful and classy, yet a cake for a child's birthday might be fanciful and joyful.
Count the number of visitors: You may choose the cake size by determining how many guests you need to feed. You should pick a cake that is the right size for your occasion because you want to stay supplied and have enough remaining.
If you're ordering a cake for someone else, consider their preferences. Do they have a preferred cake taste or type? Do they have a favourite design or character?
Inspiration: Browse various cake flavours and designs to find ideas for your unique cake. The website of Temptation Cakes has a wide range of possibilities, and their staff is happy to work with you to create the ideal cake for any occasion.
Consider dietary restrictions: It's crucial to select a cake that satisfies any dietary requirements you or any of your guests may have. Temptation Cakes offers a selection of gluten-free, eggless, and vegan cake options to ensure that everyone can indulge in a delectable treat.
In conclusion, considering the occasion, several guests, the recipient's preferences, season, inspiration, and any dietary restrictions can help you choose the ideal bespoke cake. With these considerations in mind, you can collaborate with Temptation Cakes to design a stunning and mouthwatering cake that will add even more specialness to your celebration.
Creative Ideas for Personalising Your Customised Cake
A unique method to enhance your celebration is to personalise your cake. Here are a few succinct suggestions for personalising and making your cake special:
Add a personalised message: A personalised note is a quick and simple way to make your cake unique. This might be as straightforward as "Happy Birthday" or more intimately worded to fit the occasion.
Include a preferred pastime or interest: Consider the recipient's favourite hobby or interest if you are designing the cake. This might be a musical instrument or the logo of a sports team.
Employ a preferred colour scheme: If the recipient has a colour that they particularly like, think about using it in the cake's design. Frosting, embellishments, or even the colour of the cake itself might be used to achieve this.
Make a themed cake: Adding a theme can help it stand out. Themes can be anything, such as a favourite book, TV show, or occasion.
Add a favourite treat or candy: Including a favourite treat or candy is another method to make your cake unique. This can be accomplished by adding embellishments or baking the dessert right into the cake.
In conclusion, many original ways to make your personalised cake unique exist. You can construct a distinctive and customised cake that will add even more significance to your occasion by including a special message, a favourite food or candy, a preferred colour scheme, a theme, or a beloved hobby or interest.
Conclusion: Making Your Celebration Even More Memorable
In conclusion, personalised cakes are an excellent method to enhance the significance of your event. You may make a cake that is not just tasty but also uniquely tailored to your particular event with the assistance of a knowledgeable and professional cake shop like Temptation Cakes in Singapore. With a wide selection of flavours, patterns, and toppings, you may make a cake that expresses your preferences for taste and flair. 
Also, you may add personalised notes, include special activities or interests, use preferred colour schemes, construct themed cakes, and have preferred sweets or candies to make your cake truly memorable and one-of-a-kind. Whether it's a birthday, wedding, or another special occasion, a bespoke cake is guaranteed to be the centre of attention, leaving everyone in attendance with priceless memories.
Temptations Cakes will be the perfect choice for you to celebrate with customised cakes! 
Order a cake of your choice now and opt for delivery! If you have any more enquiries, you can check our FAQs!
You can find us at 199 Sims Ave, Singapore 387503. You can also contact us at onlinesales@temptationscakes.com.sg or +65 9821 2666. Make sure to keep in touch with us Temptations Cakes Facebook & Temptations Cakes Instagram.